Want to build a membership site with WordPress, but you think it's too expensive or complicated?
If this is the case, MemberMouse, combined with our exclusive coupon code, will dispel your doubts quickly.
MemberMouse is a popular membership platform used by millions. It brings powerful features to your fingertips in an easy-to-use manner.
The top features include things like:
Easy installation in minutes.
Protect your content from unauthorized access.
Sell products with free and paid membership levels.
Manage members through an intuitive CRM tool.
Gather reporting and analytics data for developing your business further.
How Much Does MemberMouse Cost?
There are three pricing tiers you can choose from.
The least expensive option, Builder, costs $29/month. It gives you all the core features of the product.
If you want more features, like advanced reporting or enhanced employee roles, you'll land on the Advanced plan with $79/month.
Finally, pick the Premium plan if you want everything that MemberMouse offers (including phone support). This plan costs $199/month.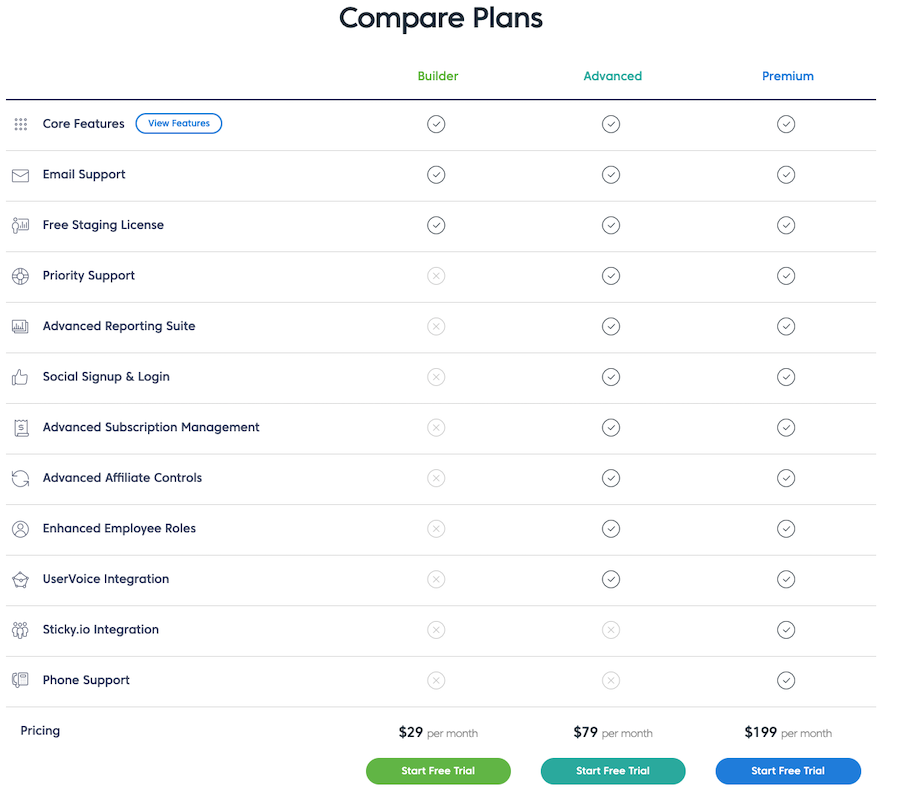 To get 25% off these plans, apply our special MemberMouse coupon on the checkout page. In the next section, I'll show you how to do that.
How to Use the Coupon
Take these simple steps to apply your coupon code.
Go to the MemberMouse pricing page and find the pricing tier you are interested in. Then choose the plan by clicking the Start Free Trial button.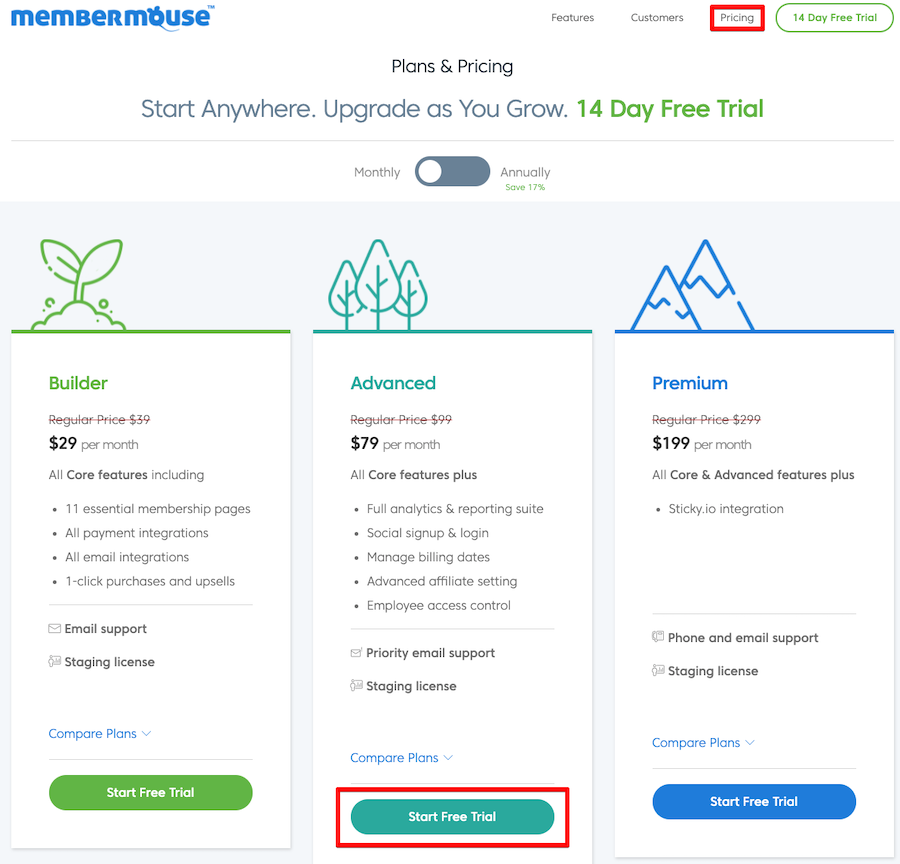 2. On the checkout page, enter your personal and billing information. When you want to apply the coupon code, enter WPKUBE_MM25 in the Billing Information field.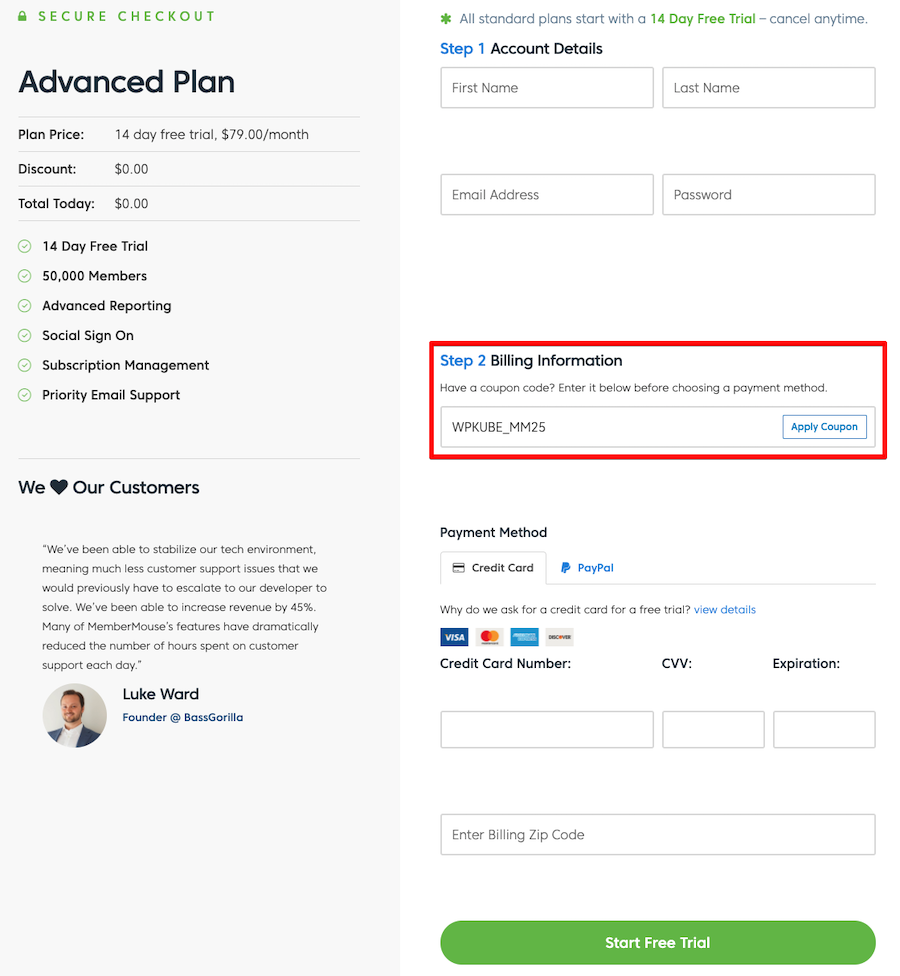 3. When you click on the Apply Coupon button, you'll see the message: "Coupon applied successfully."

4. Make sure you have entered the correct personal and billing information. Then click the Start Free Trial button at the bottom.
5. You'll see information regarding the reduced price on the next page in the Order Details section: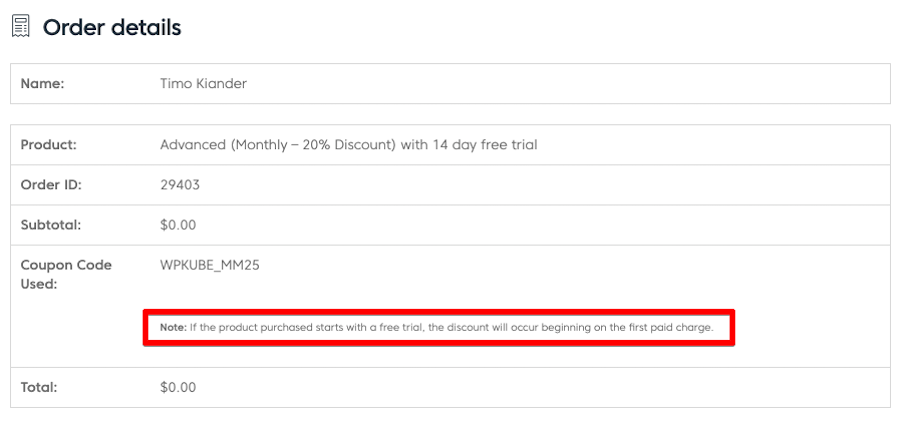 You won't see the discounted price right away; it will begin on the first paid charge.
That's it! You are now ready to build your membership site at a discounted price. Get 25% off MemberMouse
MemberMouse FAQ
How much can you save with a MemberMouse coupon?
You can save 25% on any plans.
Can I test MemberMouse for free?
Any plan has a 14-day free trial, and you can cancel it anytime. You can also test MemberMouse in their demo environment.
Are there any specific hosting requirements to run MemberMouse?
The MemberMouse team strongly recommends using either Virtual Private Server (VPS) or Dedicated hosting and stay away from shared hosting because of the performance (and other) issues.
Does MemberMouse provide customer support?
Their support personnel is available seven days a week, 9 AM to 5 PM PST. You can also access their knowledge base for more documentation regarding MemberMouse.
Can anyone help me set up MemberMouse?
MemberMouse has teamed up with MemberDev, who can build the MemberMouse sites for you.
Don't wait any longer – sign up with the exclusive MemberMouse discount code today!