Most of the world is on social media in some form, and Instagram takes up a big chunk of that traffic.
As a visual medium, it's great if you want to show off your status, products, services, and much more. Also, you can link your WordPress website to your Instagram feed with the right plugin in hand. With our SpotlightWP coupon code, you'll have one of the best plugins on the market at your disposal – for a cut down price!
We'll give you the full details later on, but before we do that, let's go over what SpotlightWP does, and how much it costs.
Introducing SpotlightWP
in a nutshell, SpotlightWP lets you embed automated Instagram galleries on your WordPress website. The developers, RebelCode, are the brains behind a number of other popular WordPress products, services, tools, and sites.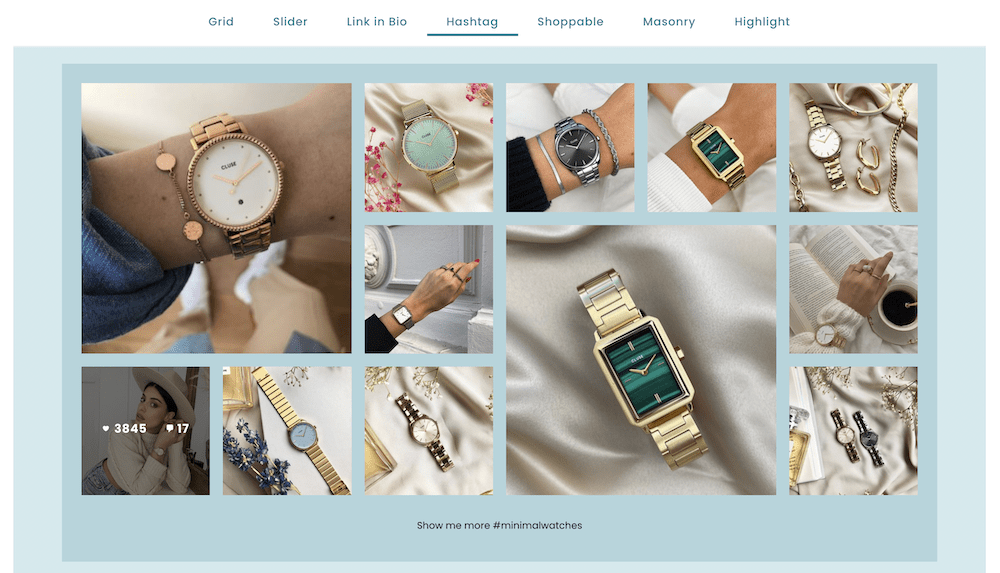 While there is a lot in the box (and you should definitely take a look at the full list of features,) here's what we think are the marquee pieces of functionality of SpotlightWP:
You're able to embed your Instagram feeds almost anywhere on your WordPress website, including public hashtag feeds.
If you want to embed a client's Instagram feed, you can do this using a secure access token – perfect if you build websites for others, or have another type of working relationship.
You can customize how your Instagram feed looks on your site using pre-built templates, and a whole host of design options.
There are lots of filtering options, so you can show only the most relevant posts in your feed. You're also able to access post moderation features on higher-tiered plans.
Depending on the plan you select, you can also embed Shoppable Instagram posts too.
Speaking of which, this is a good time to look at how much SpotlightWP costs. Next, we'll break down each tier.
SpotlightWP's Pricing
There are two primary plans for SpotlightWP. Here's the summary of each one:
Essentials. At $39 per year, you can add "unlimited" Instagram accounts and feeds to SpotlightWP. You have a batch of pre-built templates to choose from, full customization, and the ability to show comments and likes. Also, SpotlightWP includes smart optimization of your feed, automatic backups, and support for Instagram Stories and sliders.
Pro. This tier is $59 per year, and includes everything within the Essentials plan. In addition, you can create feeds of hashtags and tagged posts, filter by captions and hashtags, access WooCommerce and Shoppable Instagram integration, and can moderate your feed too.
Both of these pack in lots of features and functionality, but in the future, this won't be all. We know there's going to be a Performance tier for SpotlightWP soon, and this will include even more in the box (such as analytics.)
Even better, your SpotlightWP coupon code will wait, so you can either buy now and upgrade later, or step right up to the top level. This means your SpotlightWP coupon will let you save on the full experience the plugin has to offer!
How to Use Your SpotlightWP Coupon Code
The good news is it's simple to access your discount with your SpotlightWP coupon code. First, head to the website using our unique link. This will bring you to a pricing page: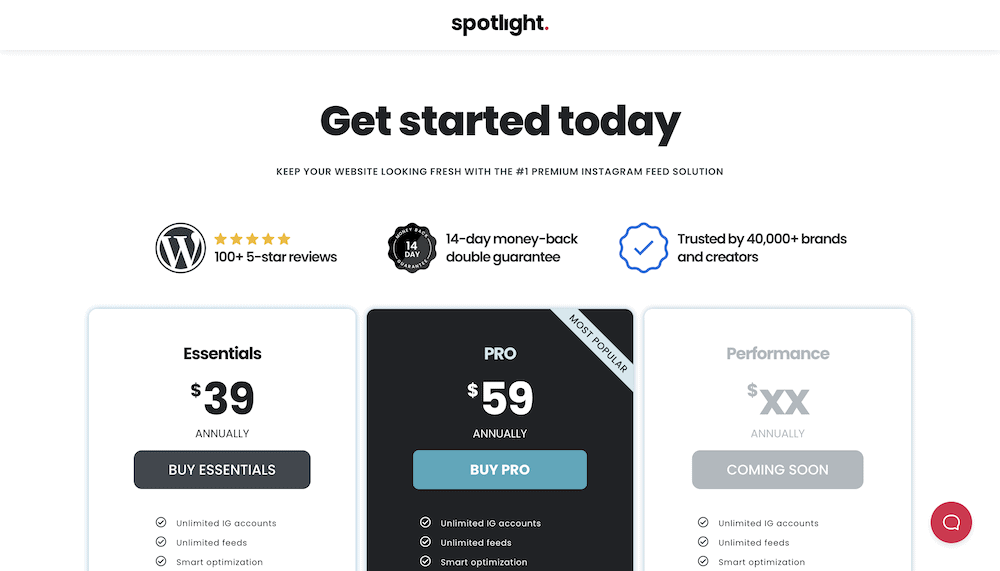 You're welcome to select any tier you like here, which will open a pop-up dialog screen showing your current amount: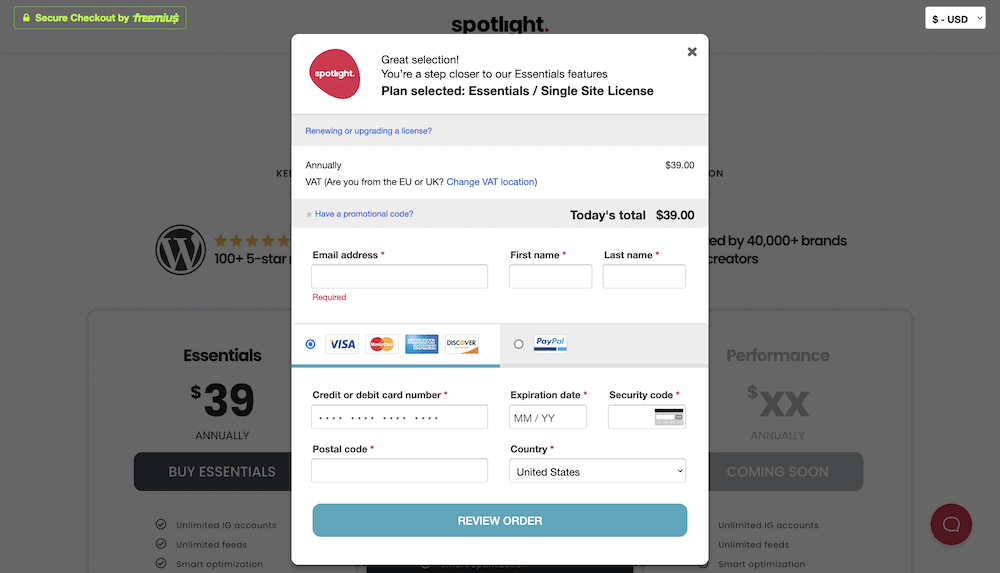 Here, click the Have a promotional code? link, and fill it in with WPKUBE15. Once you apply it, this will grab you 15 percent off of the current price: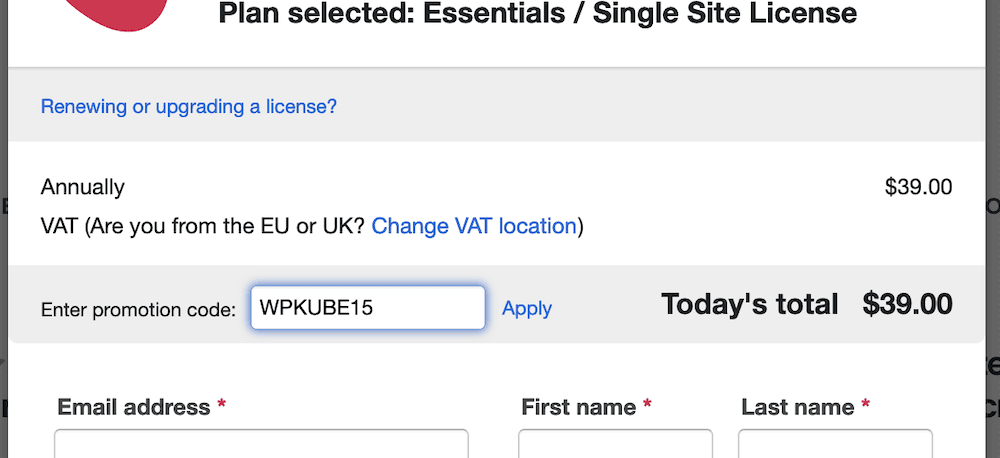 At this point, you can fill in your payment details and complete the transaction. Congratulations – you now have SpotlightWP with 15 percent off, thanks to WPKube!
Frequently Asked Questions (FAQ)
Now you know how to use your SpotlightWP coupon code, you might have questions before you pull the trigger. We've done some of the work for you here. Let's offer up some of the more common questions you'll likely have, and provide a full answer too!
Can I Use This SpotlightWP Coupon Code With All Plans?
Yes! You can snag 15 percent off of either the Essentials or Pro tier. You might even want to wait for the Performance tier, as the code will work for this too, once it arrives. However, we don't yet know when this will go live, so our advice is to make a purchase now, and upgrade in the future.
Is This Coupon Code Suitable For Other RebelCode Products?
Unfortunately, you can't use the SpotlightWP coupon code with any other RebelCode products. However, we do recommend you check out our review of WP RSS Aggregator, as it's a fantastic plugin if you want to combine RSS feeds for your WordPress website.
Does SpotlightWP Offer a Refund Period?
The developers RebelCode offer a full 14-day refund on all purchases, regardless of your reason. There's no questions asked, which means there's also no risk on your end. You can take SpotlightWP for a full test drive, and get your money back if it isn't right for you.
Does This SpotlightWP Coupon Code Expire?
No, your SpotlightWP coupon code for 15 percent off of the standard price will never expire. This gives you time to look over the features and functionality of the plugin, to decide if it's right for you.
Save Big With WPKube and Our SpotlightWP Coupon Code!
While social media isn't appropriate for every situation and site, for the majority, it's a vital component in order to bring new business your way. Instagram is now a major player among a specific demographic. If your audience skews younger than average, it's a channel you'll be on. Even better, a solution such as SpotlightWP can link your Instagram feed with your WordPress website.
What's more, our SpotlightWP coupon code can earn you 15 percent off of the typical price. Simply enter WPKUBE15 at the checkout, and you'll be able to extract even more value out of this fantastic WordPress plugin!