Website security encompasses a whole host of elements, tasks, and tools. However, knowledge is power, so having an insight into what happens on your site is important.
Our WP Activity Log coupon code gives you cheaper access to a plugin that can tell you how users navigate your site, and what they do on it.
We'll come to how to use your WP Activity Log coupon code shortly. First, let's talk about what the plugin offers, and how much it costs.
Introducing WP Activity Log
WP White Security provide a number of valuable tools to help with your WordPress security. Its flagship plugin is WP Activity Log.

The plugin helps you monitor the activity on your site, such as login actions, amendments to content, the creation and deletion of posts and pages, plugin and theme management, and much more.
The entire activity log is visible within WordPress, and also records activity for third-party plugins such as Yoast SEO and Gravity Forms. What's more, you can access notifications across a variety of different channels, such as email and SMS. Advanced settings also let you conduct file integrity scans, carry out comprehensive search and filtering, integrate with third-party business apps, and much more.
WP Activity Log's Pricing
WP Activity Log offers four different tiers, each with an increasing number of features. Let's detail each one in brief:
Starter ($99 per month.) You'll have a minimal number of additional functionality here: only email notifications, filtering, and search.
Professional ($139 per month.) This tier provides SMS notifications, basic reporting, and the ability to see the sessions for users who log in, along with everything in the previous tier.
Business ($149 per month.) This upgrade lets you see user sessions in real-time, provides the ability to mirror logs to other apps such as AWS, Loggly, Slack, and more.
Enterprise ($199 per month.) This is the full experience, and includes everything in the Business plan, plus priority support.
If you need more than a single-site license, there are options to buy more in bulk. You'll read details about this in the Frequently Asked Questions section.
How to Use Your WP Activity Log Coupon
Using your WP Activity Log coupon code is as easy as pie! First, head to the WP Activity Log website using our dedicated link. This will bring you to the main home page, where you'll want to use one of the buttons to buy WP Activity Log. It will either be the Get Premium Plugin button, or the Get WP Activity Log Premium one: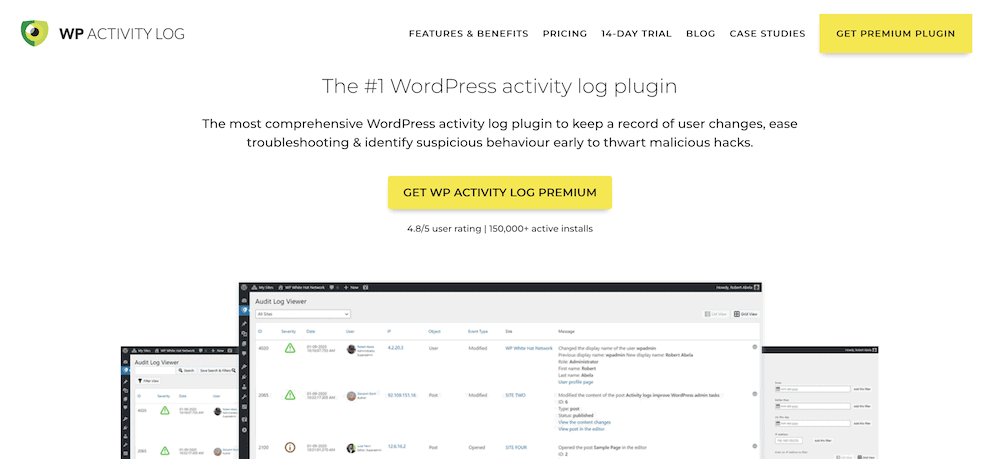 This will bring you to the WP Activity Log pricing page:
Here, click one of the Upgrade Now buttons, which will pop up a payment dialog screen: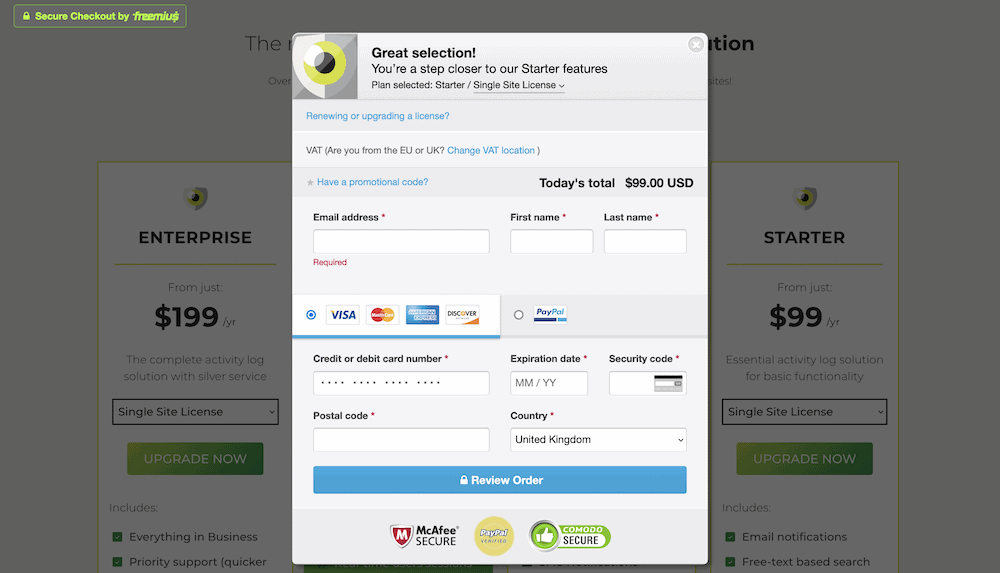 The important link here is, Have a promotional code? If you open this and enter WPKUBE20, you'll see 20 percent come off of the total price:

From here, you can complete the payment process and begin to use your plugin!
Frequently Asked Questions (FAQs)
While many of you will already be using your WP Activity Log coupon code, just as many will have some further questions. Below, we have some of the most common questions we hear about WP Activity Log, and accessing the discount.
1. Can I Save the Activity Log to an External Database?
You can do this, but no on every plan. The Business tier lets you save activity logs to an external database, along with a number of other valuable features.
2. How Can I Purchase More Than a Single Site License for Each Plan?
The main price for each tier is only for a single-site license. However, if you have more than one site to log, you can purchase extra licenses in bulk. To do this, use the drop-down menus on the WP Activity Log pricing page.

Here, each tier will offer the option to choose either five, ten, or 25 licenses and will offer an appropriate price. If you combine this with your WP Activity Log coupon code, you'll save even more money per license!
3. Will I Be Able to Receive Notifications on All WP Activity Log Plans?
You will have access to notification regardless of the WP Activity Log plan you choose. However, each tier provides different notification types. The Starter plan only gives you email notifications, while the Professional tier gives you SMS too.
4. Can I Get a Refund if WP Activity Log Isn't for Me?
Each and every purchase of WP Activity Log gives you a 30-day money-back guarantee, no questions asked. What's more, you have a 14-day trial period available too. This means you have minimal risk, and no reason not to give WP Activity Log a try!
5. Is There a Time Limit to Use My WP Activity Log Coupon?
Absolutely not! The partnership between WPKube and WP Activity Log is long-standing. This means your WP Activity Log coupon code is ready and waiting for when you need it. However, while we can't guarantee the offer will go away any time soon, we can never completely guarantee that this partnership will change in the future.
Save 20 Percent Using Your WP Activity Log Coupon From WP Kube!
If you can understand how your users get around your site and what they do in the back-end, you'll be able to spot some important situations. The two primary ones are malicious attacks and troubleshooting situations. WP Activity Log will record all activity on a website, and give you the ability to view this in the WordPress dashboard.
While the premium plugin is budget-friendly, WPKube can slash the price even further. If you use the WPKUBE20 WP Activity Log coupon code at checkout, you'll get 20 percent off of the typical purchase!