Webinars and virtual events are a fantastic way to connect and engage with your audience. Since 2020, virtual events have become even more popular, but they're not always easy to set up and run. You need a robust platform to help you set up and run your virtual event. This is where our HeySummit coupon can come in very handy.
If you've already done your research on virtual event platforms and know HeySummit is the one for you, we won't keep you waiting any longer. Click here to go to HeySummit and get your 15% discount.
If you want to know more about HeySummit and the features that can help you make a success of event marketing, keep reading for the full details.
What is HeySummit?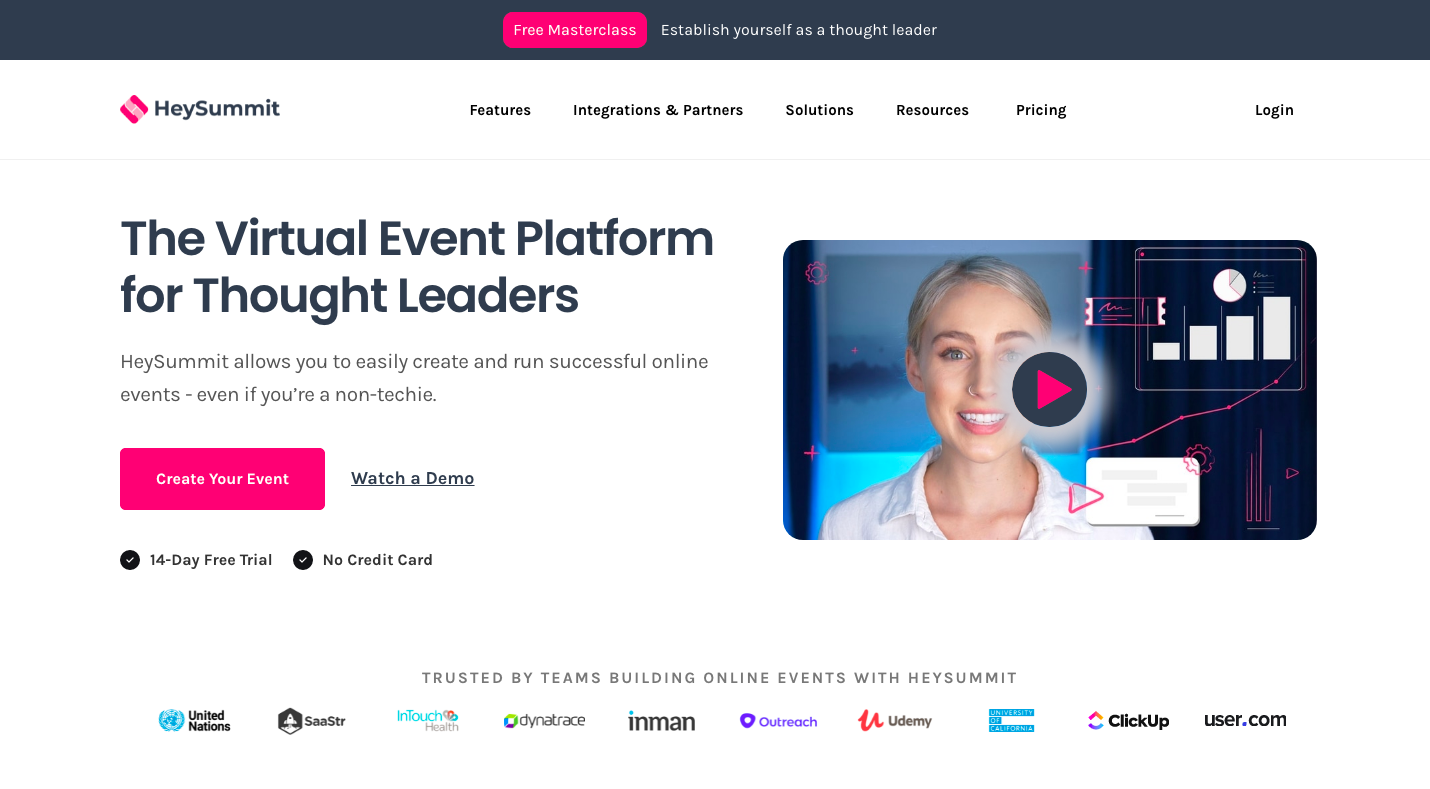 HeySummit is a virtual event platform designed to make it easy for you to run successful live or pre-recorded online events without any experience or technical skills.
The platform integrates with your existing tools and software like Zoom, Remo, GoogleMeet, Microsoft Teams, YouTube, Vimeo, and Facebook Live, so you can easily capture and engage with your leads, stream across multiple platforms simultaneously, and repurpose existing video content.
You can use HeySummit to run any kind of online virtual event including:
Webinars
Online conferences and seminars
Virtual networking events
Online training and workshops
Product launches
Virtual trade shows
Real-time Q&A sessions
Online music events & performances
Virtual meet & greet events
HeySummit Features
With the HeySummit platform, you can set up and manage all aspects of running your event from collecting leads and creating landing pages to managing ticketing and attendees and finally running reports and analytics to measure the success of your online event.
Here are some of the features that make HeySummit one of the best digital event platforms available:
Landing Pages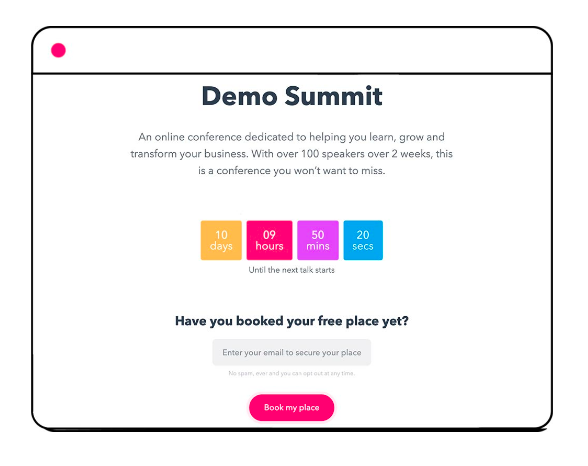 No need to pay for a separate landing page builder. HeySummit comes with an easy-to-use landing page builder that comes with pre-built templates, which you can customize to meet your needs.
You can even include dynamic components on your landing pages so that you can automatically update the content when you make changes to your event.
The simple block-based editor makes it easy for you to embed videos, add testimonials, display sponsors, and any other type of content you want on your landing page.
Speaker Dashboard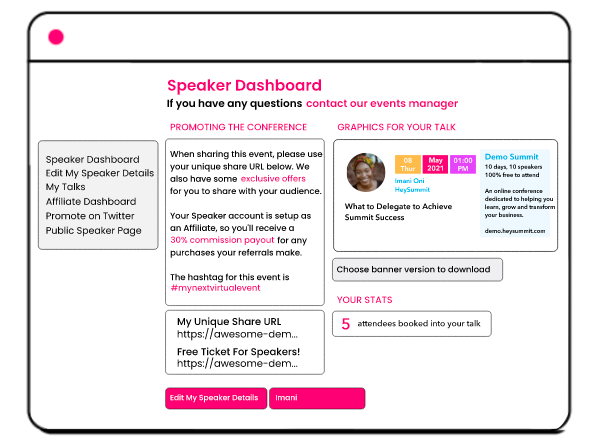 You can give each speaker at your event access to a personalized dashboard. From here they can enter their own personal and session details and add a profile photo, saving you time and effort.
Speakers can also log in to see how many people have signed up for their session.
The dashboard will auto-generate promotional copy and images for the event that your speakers can share with their audience. You can also activate a unique affiliate code within each speaker dashboard to further incentivize them to promote the event.
Custom Registration & Ticketing
A simple wizard allows you to choose text boxes, URLs, checkboxes, and dropdowns for your registration forms so you can collect the information you need from each attendee.
You can open pre-registration before your event is live and offer discounts and offers such as early bird ticketing.
Pricing, registration limits, and coupons are all easy to set from one central dashboard.
Reporting & Analytics
The HeySummit dashboard gives you a clear at-a-glance overview of your data including funnel performance, social shares, webinar performance, referrers, and more.
Speaker Directory
HeySummit comes with a free directory of speakers for virtual events, podcasts, and webinars.
You can easily find industry experts, influencers, community leaders, and experienced speakers from the directory of thousands of individuals and search by name, company, or topic.
HeySummit Pricing & Plans
HeySummit is available as three pricing plans depending on the number of events and registrations you need. The more expensive plans also include additional features such as the ability to remove HeySummit branding and to import attendees and speakers.
You can pay for all three plans on a monthly basis or get an additional discount by paying annually (remember, you get 15% off all plans when you visit HeySummit via our link.)
| | | | |
| --- | --- | --- | --- |
| | Starter | Growth | Success |
| Monthly price | $49 ($41.65 with our discount) | $203 ($172.55 with our discount) | $595 ($505.75 with our discount |
| Annual price | $420 ($357 with our discount) | $1,740 ($1,479 with our discount) | $5,100 ($4,335 with our discount) |
| Active events | 1 | 3 | 7 |
| Registrations (get more registrations with the annual plan) | 200 | 1,500 | 20,000 |
| Transaction fees | 9% | 4% | 1.5% |
| Advanced ticketing | ✗ | ✓ | ✓ |
| Manage affiliates | ✗ | ✓ | ✓ |
| Custom domain | ✗ | ✓ | ✓ |
| Import attendees | ✗ | ✗ | ✓ |
| Import speakers | ✗ | ✗ | ✓ |
| Custom payment gateway | ✗ | ✗ | ✓ |
| No HeySummit branding | ✗ | ✗ | ✓ |
HeySummit Coupon FAQ
Which plans is the coupon valid for?
You can use our special link to get a 15% discount on any HeySummit plan. The discount is valid for both monthly and annual payment plans and will recur for the full duration of your membership.
How long is the coupon valid for?
There's no expiry on our special discount but it could be withdrawn at any time, so make sure to sign up as soon as possible if you want to make sure you get 15% off.
Can you live stream with HeySummit?
Yes, with HeySummit you can run a mix of pre-recorded and live events. Just choose your preferred webinar platform to integrate your streaming talk into HeySummit.
How to choose a webinar platform?
HeySummit integrates with 5 webinar platforms: BigMarker, LiveWebinar, Zoom Webinar, Remo, and GoToWebinar. You can use any of these to host your live event. Choose the one that suits your budget and the number of attendees.
How to Use the HeySummit Coupon
To use the HeySummit Coupon, click here to go to HeySummit with our special link. Click on the "Pricing" link in the menu.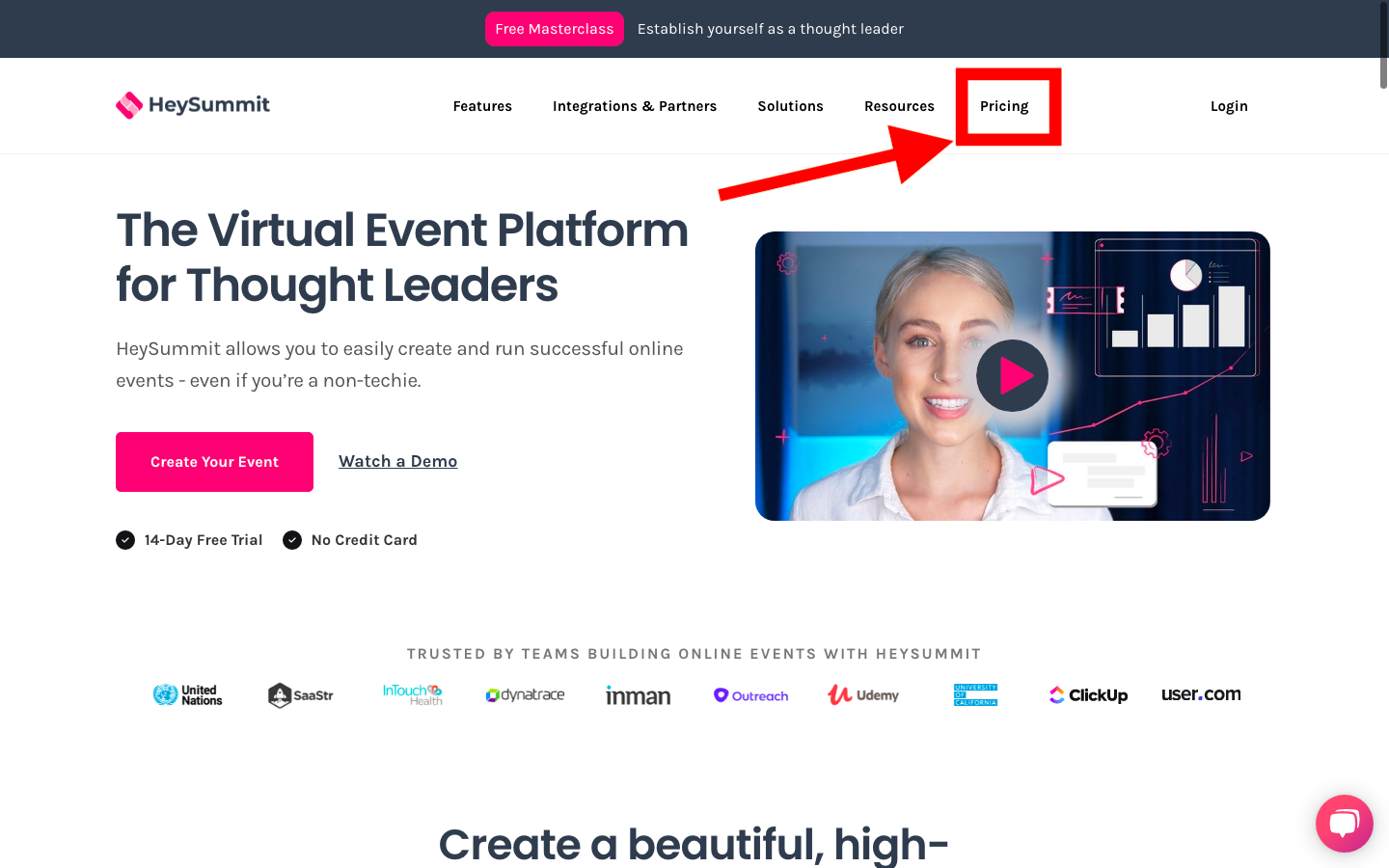 You should see a page like this that confirms you've accessed the site with our link and you're eligible for the 15% discount. Choose your plan and payment option and click the "Start a 14-Day Free Trial" button.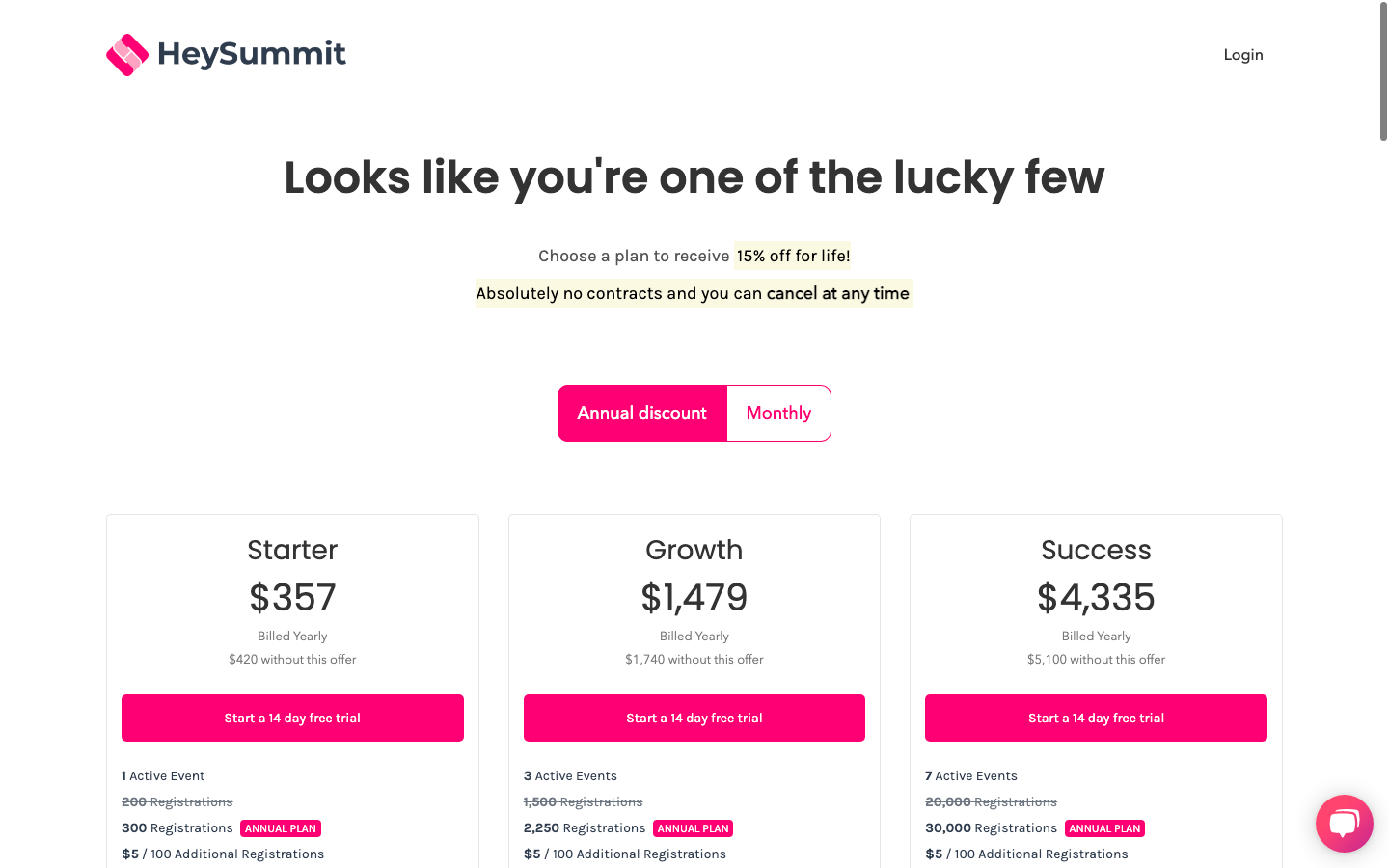 You'll be taken to a form to fill out your details and complete checkout. All plans start with a 14-day free trial so you won't be charged until the end of the 14 days.