If you want a site that steamrolls the competition for speed and performance, you must have great hosting as the bedrock.
However, the best hosting often costs a lot, which is tough if you have a smaller budget. After all, you'll still want stellar hosting, but at a more friendly price point. Our Hostinger coupon can help you out!
In a few moments, we'll share the exclusive deal WPKube and Hostinger have to offer you. First, let's take a look at what Hostinger can provide your site.
What Hostinger Offers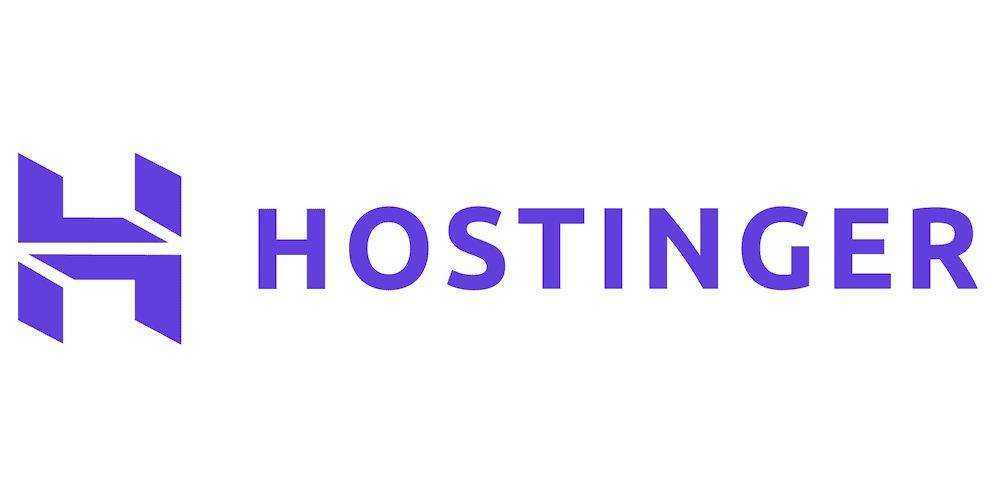 We don't have to go into too much detail with regards to Hostinger. It's a web host we cover a few times across WPKube.
Even so, there are a few key features we can highlight that can make it stand out among the array of cheap WordPress hosts in the space:
It uses a custom dashboard, tailored to the platform.
Hostinger uses LiteSpeed Web Server and LiteSpeed Cache. These are two of the fastest server technologies around.
You have access to multiple data centers, so you can serve your site as per your closest users.
If you are comfortable with the command line, you can access your site and server using the WP-CLI.
Each plan provides a free email account and Secure Sockets Layer (SSL) certificate. What's more, each tier provides managed hosting. This means you don't need to handle the server maintenance – Hostinger will do this for you.
Speaking of plans, this is a good time to talk about how much Hostinger costs. For this information, keep reading!
Hostinger's Pricing
Hostinger offers four different tiers for WordPress users. These cover a range of features based on how much you have for a budget: higher tiers come with more features and functionality. Here's a summary for what each one offers:
Single WordPress. For $9.99 per month, you can host one small website. However, you won't get a free domain name with this, nor access to other goodies, such as the staging tool, Secure Shell (SSH) access, a Content Delivery Network (CDN), and more.
WordPress Starter. While you still don't get access to the staging tool or SSH access, your $14.99 per month nets you everything else Hostinger offers. What's more, you can host up to 100 websites, get more resources, and can access "unlimited" bandwidth.
Business WordPress. This ramps up the resources and storage your sites get, so you can handle more traffic. For $16.99 per month, you get everything Hostinger offers, including staging, SSH, and CDN features.
WordPress Pro. The difference between this and the last tier is mainly price. It's $29 per month, and for this you can host up to 300 websites (and get greater resources to host them with.)
These tiers represent great value, even before you factor in the Hostinger coupon we'll discuss in the next section. In fact, you'll see the prices we mention here drop through the floor – combined you can get up to 87 percent off!
How to Use Your Hostinger Coupon
Before we get into how you use your Hostinger coupon, let's discuss how it will affect the price of your chosen plan. There are two parts to this: our coupon code, and an automatic discount. Hostinger will give every WPKube reader an 80 percent automatic discount on any plan. From there, you'll apply our coupon code to bring this up to 87 percent maximum!
However, to get this, you'll need to browse to the Hostinger website using our unique link. Once you're there, click on the Get Started button to begin: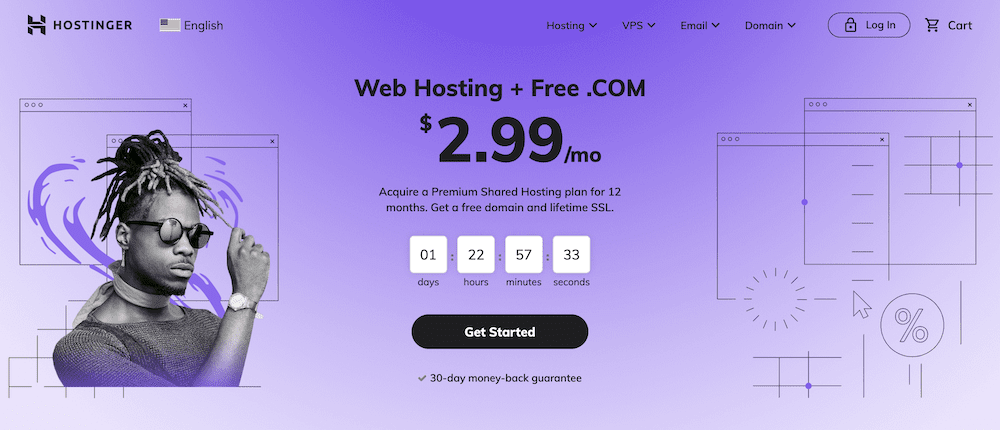 Next, select your plan. The Single plan offers the maximum of 80 percent, but the others also offer over 70 percent as a discount: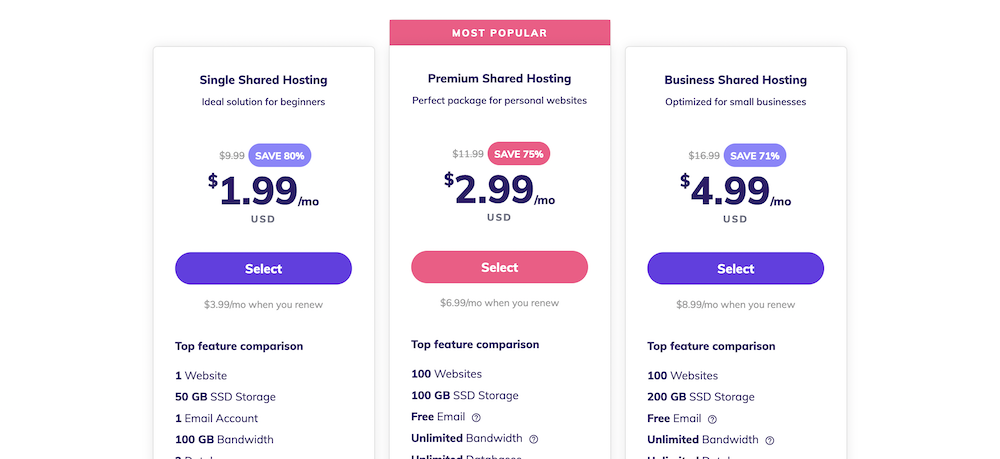 From here, choose a period length for your hosting. The greater the length, the more of a discount you'll receive: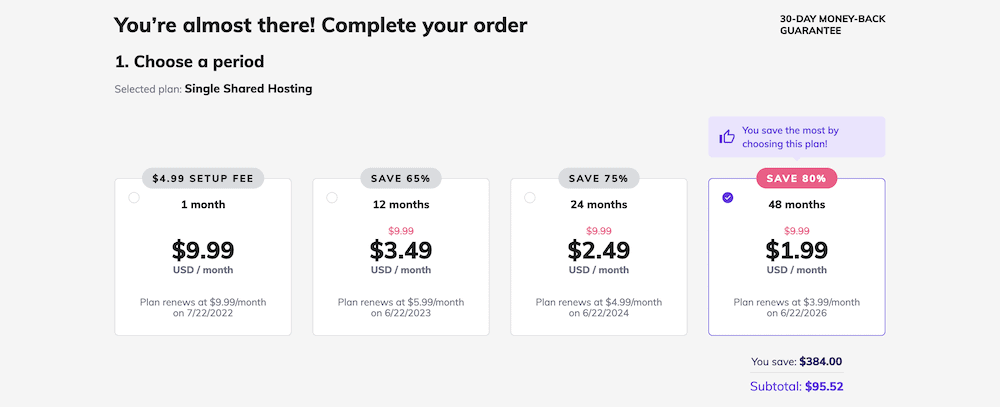 If you scroll down, you'll have the opportunity to set up an account, and select a payment type:

Next, scroll again and click the Have a Coupon Code? link. This will open a field, and it's here you'll enter our unique Hostinger coupon code: wpkube7. Once you add this and apply it, your discount will activate: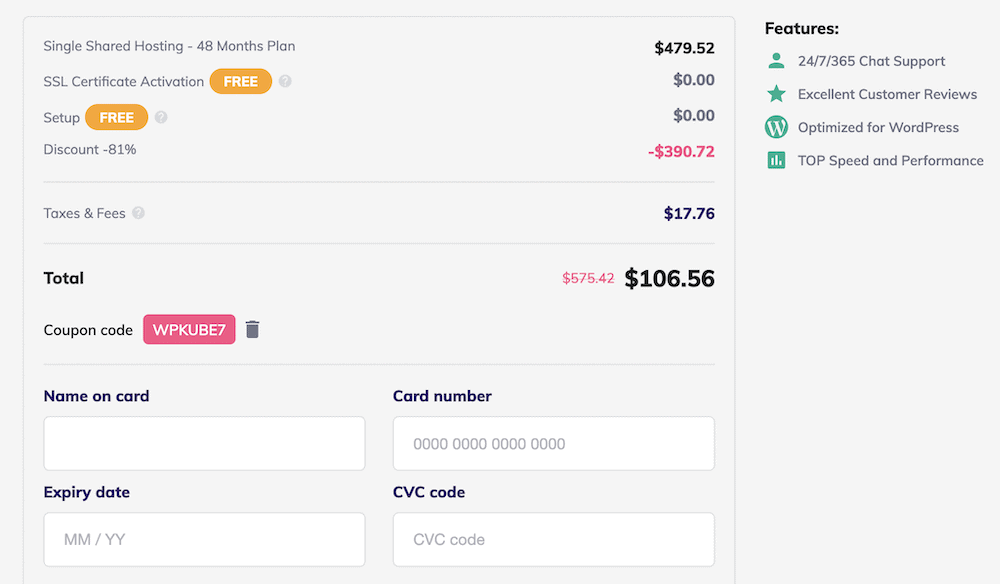 Once you enter your card details, you can complete the transaction and get to work on your site!
Frequently Asked Questions (FAQ)
While this Hostinger coupon offer is fantastic, unique to WPKube, and one of the best around, you might still have some questions. Next, we'll cover some of the most common ones we hear.
How Do I Get the Full 87 Percent Off Using My Hostinger Coupon?
You'll need to sign up to a Single WordPress plan for a four-year period. Once you enter wpkube7 at the checkout screen, the discount will apply and you'll be able to complete the transaction.
Which Plans Offer a Free Domain Name and SSL Certificate?
The WordPress Starter plan and greater offer a free domain, but each plan comes with a free SSL certificate (and other goodies.)
Does Hostinger Have a Refund Policy If I'm Not Happy With My Purchase?
Yes! Hostinger will offer a 30-day money-back guarantee on every purchase – no questions asked! This means there's no risk for you. If you don't like the setup, you can get your money back.
Does This Hostinger Coupon Expire?
Absolutely not – our unique Hostinger coupon code for up to 87 percent off of the standard price will never expire. There's no time limit, so you can take as long as you need to make up your mind.
Save More With WPKube and Hostinger!
If you want fast hosting, that performs well for your level of traffic, there are lots of options at your disposal. However, they won't all offer the same level of value as Hostinger. This WordPress hosting provider crams in so much functionality, we can't cover it all here. Regardless, we believe Hostinger is one of the cheapest, powerful hosts around – especially with our Hostinger coupon code.
With WPKube's help, you can knock up to 87 percent off of the price on any Hostinger plan – complete with a 30-day money-back guarantee. Simply use wpkube7 at checkout, and save!