MainWP is a free professional WordPress plugin that helps you to manage all your WordPress sites in one place. We're happy to offer WPKube readers an exclusive MainWP coupon code to get 15% off a MainWP Pro Lifetime package – a saving of over $59.
Ready to get your discount? Click here to visit MainWP Pro, select the Lifetime package, and enter the code "wpkube" at checkout.
Want to find out more about what you can do with MainWP and its extensions? Keep reading for the full details.

What is MainWP?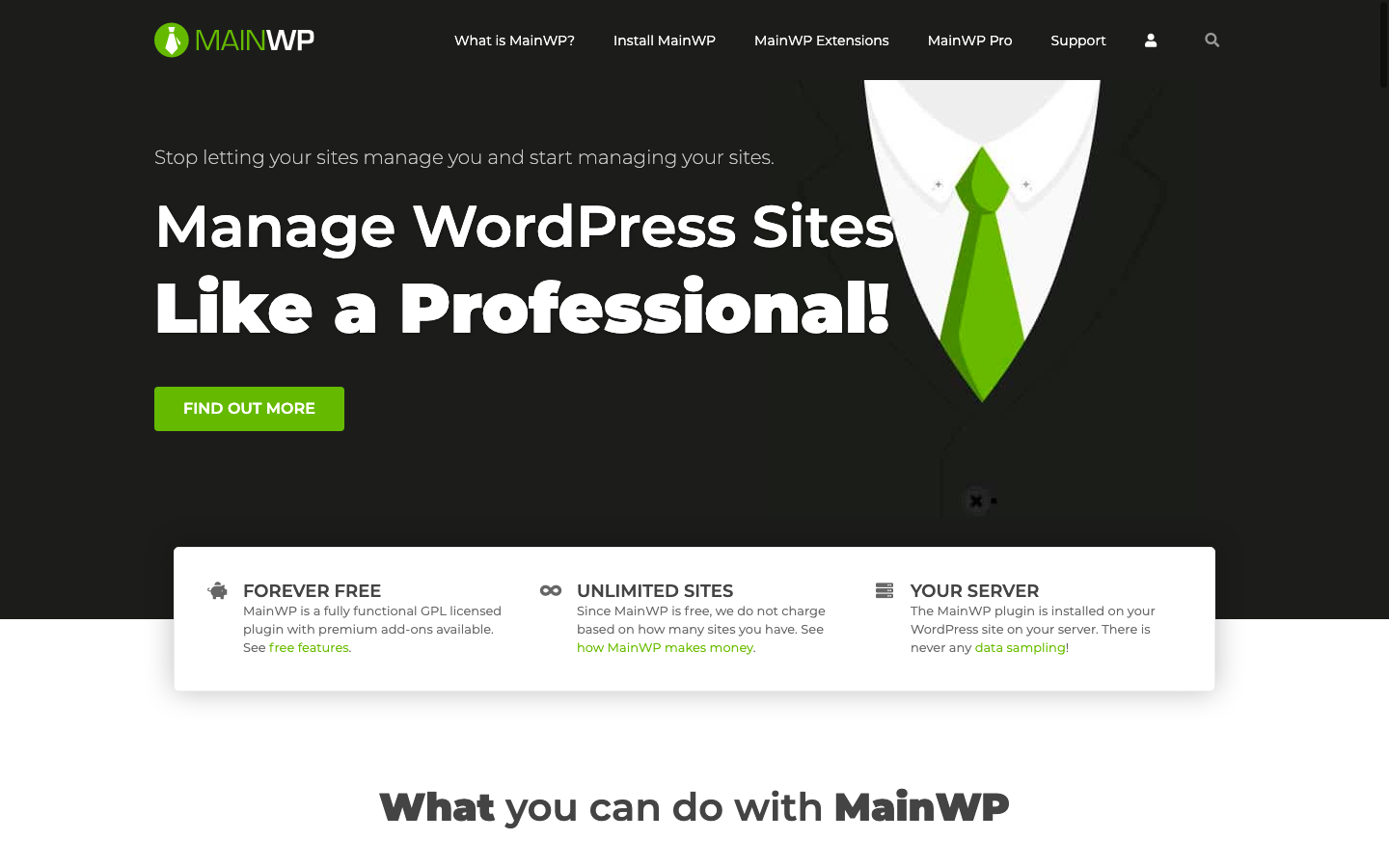 If you run or manage multiple WordPress sites, you'll know how much of a hassle it can be to stay organized.
Keeping track of usernames and passwords, logging in and out, installing core and plugin updates, and running backups can take up a significant amount of time when you're looking after more than one site.
MainWP is actually two plugins that allow you to connect to and control multiple WordPress sites from a central dashboard.
Simply install the MainWP Dashboard plugin on a fresh install of WordPress. This will turn it into your WordPress dashboard site, which you use to control all of your other sites. You can manage these sites even if they're on different hosts and servers.
The next step is to install the MainWP Child plugin on every site you want to control. This plugin enables your dashboard site to connect and communicate with the sites you want to manage.
Both the MainWP Dashboard and Child plugins are 100% free. These plugins provide the core functionality of MainWP and allow you to carry out management and maintenance tasks including:
Updating sites
Scanning for security issues
Exporting or importing sites
Installing/deleting and activating or deactivating plugins and themes
Running updates for WordPress core, plugins, and themes
Publishing, editing, and deleting posts and pages
Managing users
The Dashboard and Child plugins communicate via OpenSSL encryption so you don't have to enter your password. As the plugin is self-hosted, it's very secure and private.
Both plugins are open-source, so you're free to view or edit the code as you wish. As MainWP was designed as a developer-friendly solution, there are new third-party extensions being created all the time to extend its functionality.
MainWP Extensions
MainWP extensions add extra features to the core MainWP plugins. Some extensions are free, while you'll need to upgrade to MainWP Pro to access others.
Some of the available extensions include:
Uptime Monitor (free) – Checks your site every 5 minutes and sends you an email notification if something is wrong.
Article Uploader (Pro) – Enables you to bulk upload posts and pages from a CSV file.
BackWPup (free) – Lets you control the BackWPup plugin on your child sites and schedule all your backups from your dashboard site.
Boilerplate (Pro) – Quickly create commonly used pages and posts such as Privacy Policy and Terms of Use.
Branding (Pro) – Change the branding of the MainWP Child plugin and remove or disable functions to protect your clients' sites.
Bulk Settings Manager (Pro) – Allows you to change Core and Plugin settings across all your WordPress sites.
Clean and Lock (Free) – Remove unwanted sections from your MainWP Dashboard site and control who has access to it.
Clone (Pro) – Clone and replicate your sites including themes, plugins, and preset affiliate links.
Code Snippets (Pro) – Add code snippets to your child sites without having to manually edit php files.
Comments (Pro) – Manage all comments across all your sites.
Google Analytics (Pro) – View your Google Analytics data for all your sites from your Dashboard site
Maintenance (Pro) – Clean the databases of all your child sites.
Page Speed (Pro) – Monitor the speed and performance of all your sites from your Dashboard site.
Pro Reports (Pro) – Create custom reports to send to your clients.
Team Control (Pro) – Assign management tasks and responsibility for specific sites to different members of your team.
This is just a selection of some of the available extensions. You can see full details of all the extensions you get with MainWP Pro and the other free extensions here.
MainWP Pro
MainWP Pro is a bundle of all the MainWP Pro extensions plus additional support for the duration of your membership
The Pro package is available as either a monthly membership or a lifetime package for a one-off fee.
Monthly pricing: The MainWP monthly package costs $19.99 a month
Lifetime pricing: The Lifetime Package costs a one-off fee of $399, which includes lifetime updates and support and all new extensions. Our coupon wpkube will give you a 15% discount, bringing the total price to $339.15
If you start on the monthly package and decide to upgrade to the Lifetime package, you can use up to three months' worth of payments towards the cost of the Lifetime package. However, this offer cannot be combined with any other discounts (so you can't use it with our coupon).
MainWP Coupon FAQs
Is the MainWP coupon valid for the Monthly or Lifetime package?
The wpkube coupon code will give you 15% off the Lifetime package.
What is the MainWP coupon code with the highest discount?
MainWP doesn't offer special deals for Black Friday or Cyber Monday. However, you can get 15% off by using our coupon code, wpkube.
How many sites can I manage with MainWP?
You can manage unlimited sites and the MainWP Pro extensions can also be used on unlimited sites.
Can I still use Pro extensions if I cancel my Pro Monthly Membership?
Yes, you can continue to use Pro extensions on any sites you wish. However, you won't get access to any updates or new extensions after you cancel your monthly membership. If you have the Lifetime package, you will continue to receive all updates and have access to all new plugins.
How to Use Our MainWP Coupon
Step 1: If you're not yet using MainWP, you should download and install the plugins and connect your sites to get started. Once you're ready to upgrade to MainWP Pro, you can use our MainWP Coupon to get 15% off.
Step 2: Go to the MainWP Pro Signup page and click the green "Join MainWP Pro" button on the Lifetime package. This will take you to the checkout. Enter the code wpkube in the coupon code field and click the "Apply Coupon" button.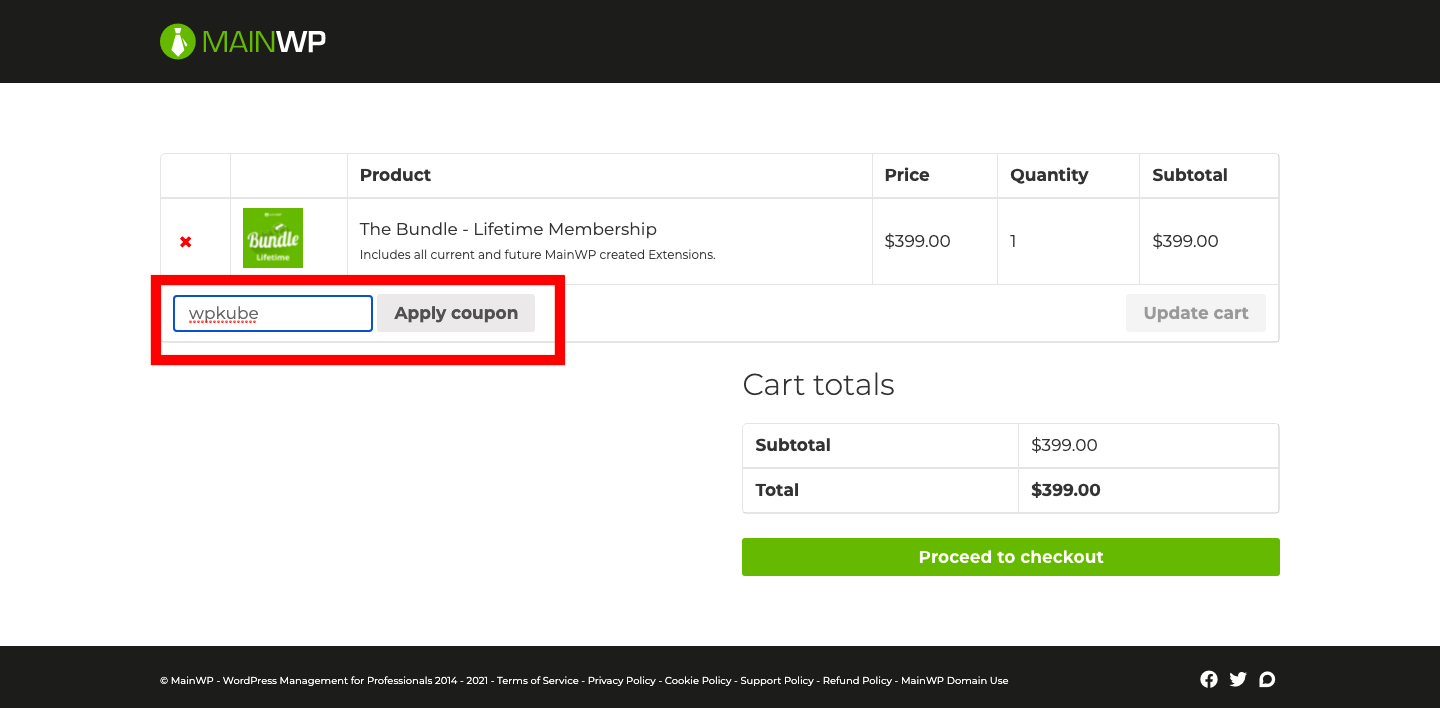 Step 3: You should see a message that the coupon code has been applied successfully and the total will reflect the 15% discount.