The Amelia booking plugin can convert your WordPress website into a fully functional event or appointment booking site. Make sure to use our Amelia booking plugin coupon to get 20% off any of the annual license plans.
Ready to get the discount? Click here to visit the Amelia WordPress booking plugin site and enter the code WPKUBE20 at checkout.
Want to find out more about this plugin and the features it can add to your WordPress site? Keep reading for the full details.
What is the Amelia Booking Plugin?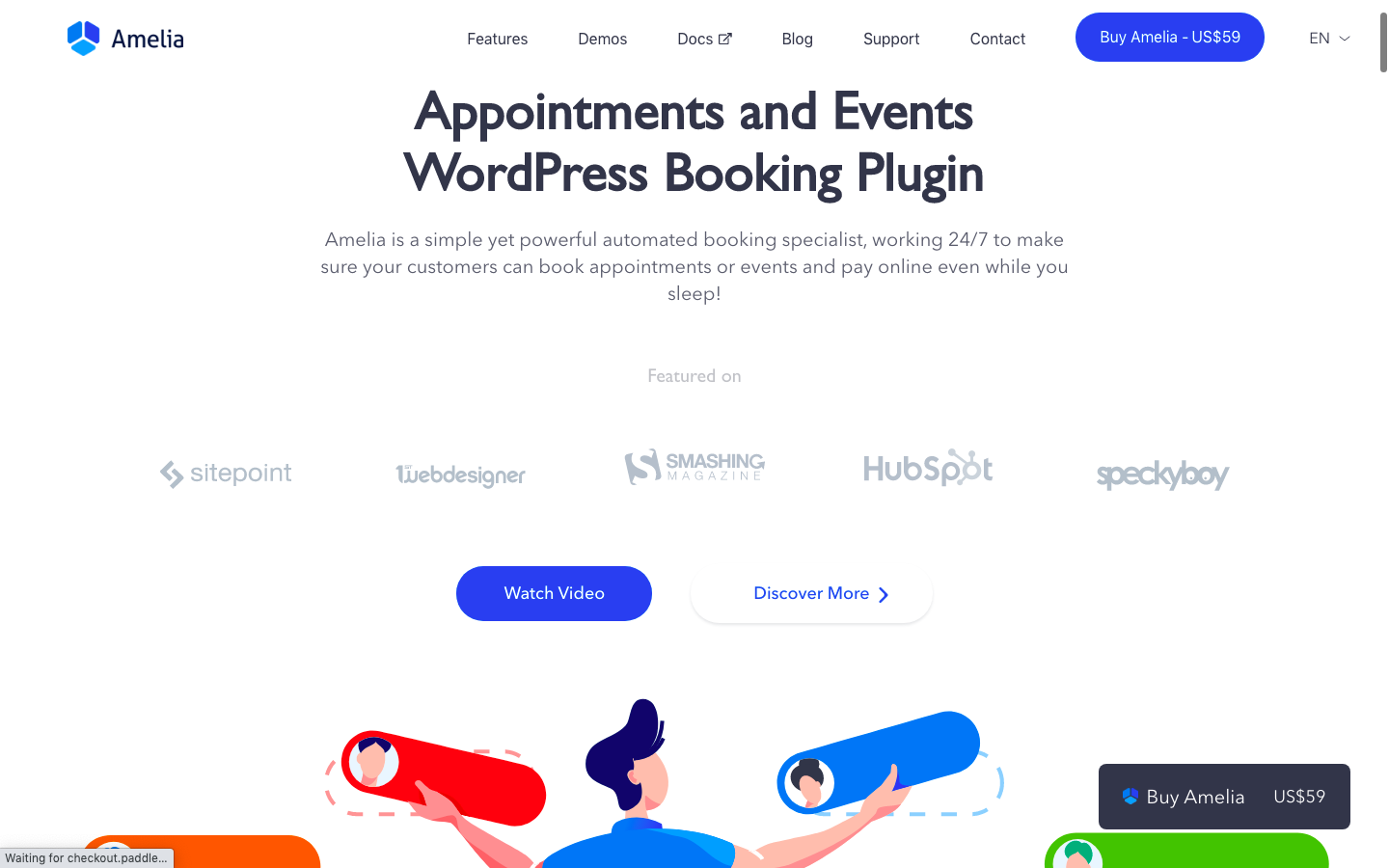 Amelia is one of the best booking manager plugins for any site that takes bookings for appointments or events including:
Law and consultancy
Medical appointments
Gym and personal trainers
Private clinics
Spas and salons
Repair centers
Event websites
The plugin automates your bookings, taking payments, scheduling meetings and appointments, and helping customers to choose the right service or employee.
Amelia will also send out booking reminders to customers via email or SMS, as well as notifications of canceled or rescheduled appointments. This helps to streamline and automate your workflow to save you time.
At the backend, there's an admin dashboard displaying business KPIs in charts and widgets and a calendar view that shows all bookings on a daily, weekly, monthly, or timeline view, filterable by employee, location, or service.
For more details, check out our Amelia WordPress booking plugin review.
Amelia Plugin Features
There are several WordPress booking plugins to choose from but Amelia is one of the most powerful and feature-rich.
Some of this plugin's standout features include:
Step-by-Step Booking Wizard
The Amelia plugin creates a user-friendly front-end booking wizard that takes the user through the process of choosing services, employees, location, date and time, and taking payment.
The booking form is compatible with Gutenberg blocks, the WordPress classic editor, and Elementor page builder.
Admin Dashboard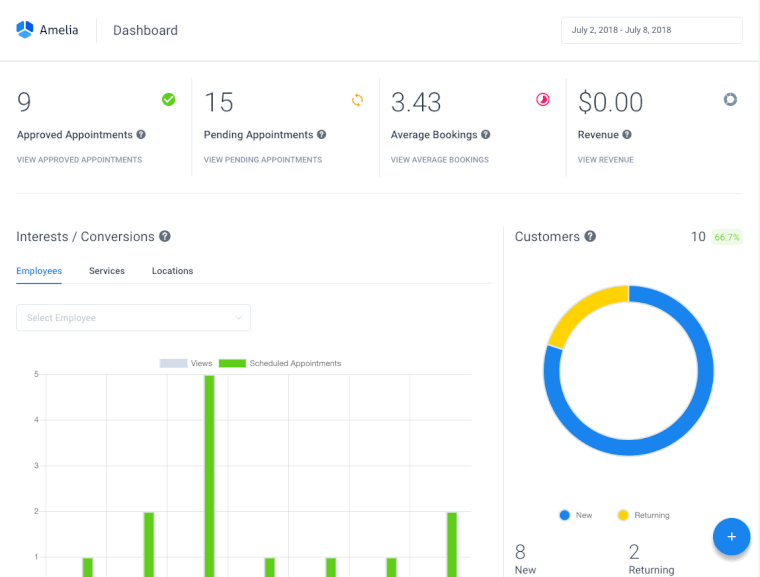 The Amelia booking plugin admin dashboard presents all data about appointments, bookings, customers, and conversions in an at-a-glance view of graphs and charts.
You can also add new customers or manually schedule an appointment from the admin dashboard, and see a filterable calendar view of appointments.
Search Booking Widget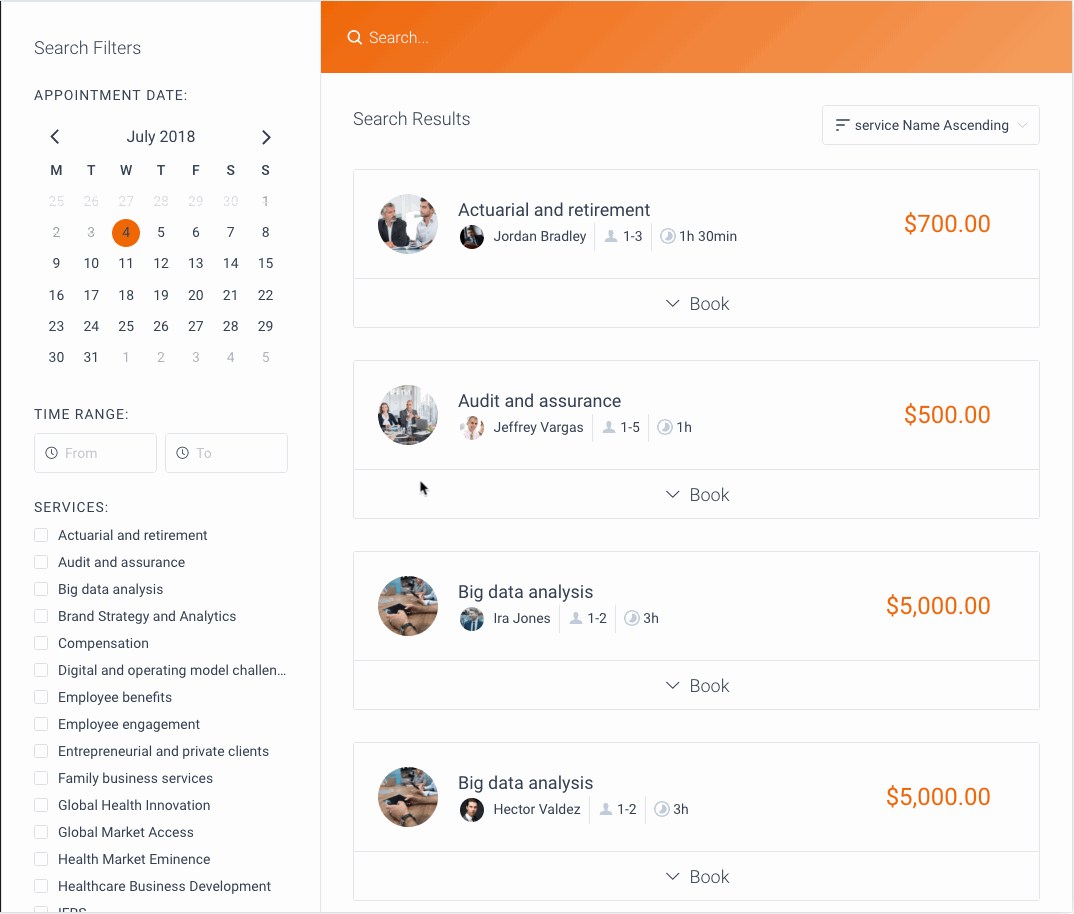 The Amelia search booking widget allows customers to search for services or time slots by preferred date, time range, service, or category.
Minimalistic Interface with Customizable Design
Amelia utilizes a minimalistic interface that is easy to integrate into any website design. You can quickly adjust the colors to match your branding and theme.
Integration with Calendars and Payment Providers
You can sync Amelia with Google or Outlook Calendar, integrate it with WooCommerce, or take payments via PayPal or Stripe.
Real-time SMS Notifications
Amelia will keep your employees and customers notified about bookings with SMS notifications for new bookings, cancellations, and rescheduled bookings.
Custom Scheduling
Amelia includes a custom service scheduling feature, which allows you to set working hours and breaks per service and employee.
You can also set special days with unique working hours and service schedules, and allow your customers to schedule recurring appointments daily, weekly, monthly, or yearly.
Manage Multiple Employees & Locations
The Amelia database allows you to store and manage employee data including individual load and performance, working schedule, and days off.
You can also manage bookings for multiple locations including contact data, address, and geolocation.
Amelia Plugin Pricing Plans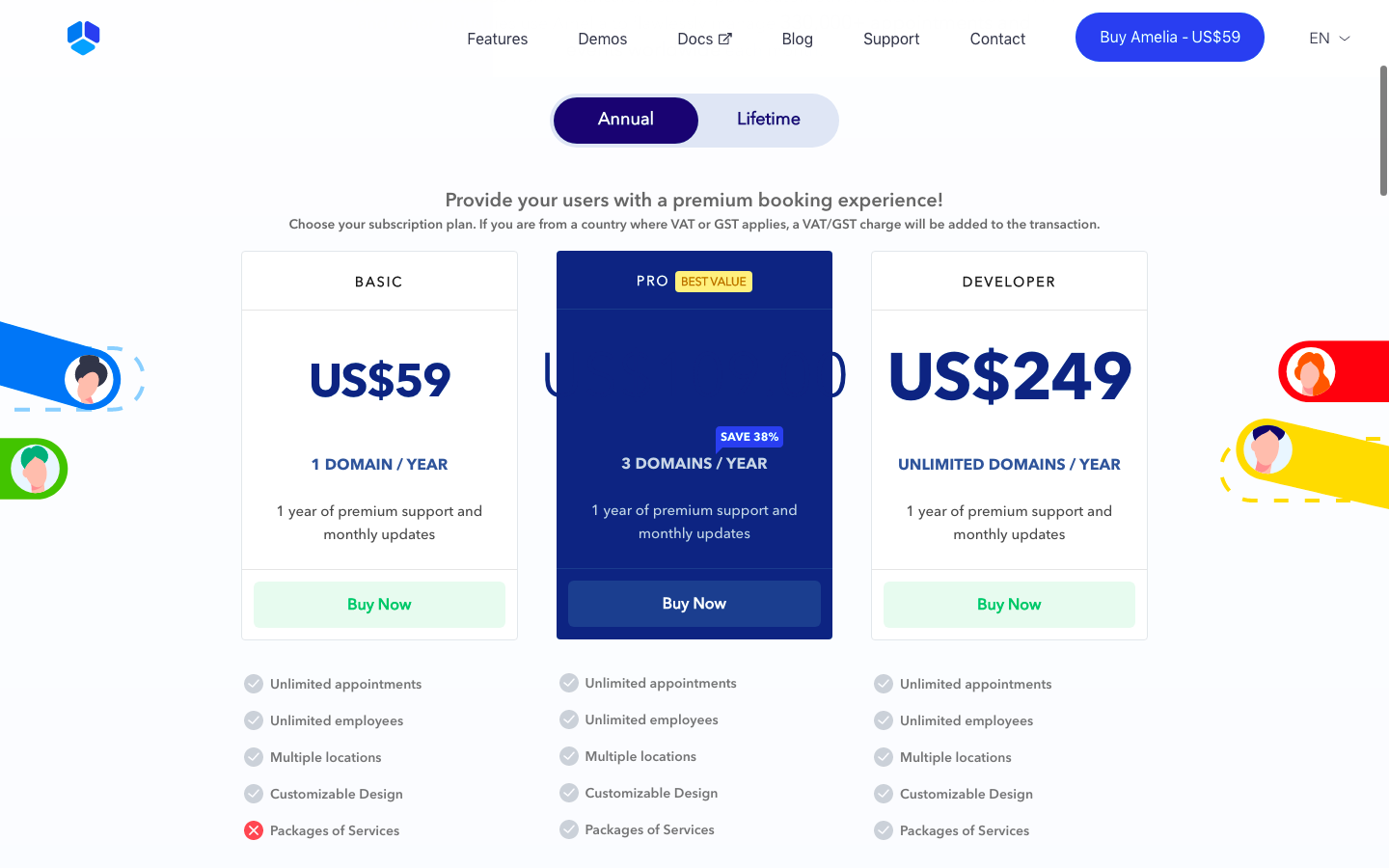 The Amelia booking plugin is available with a choice of 3 licenses, each of which can be purchased as an annual or lifetime (one-off) payment option.
Basic – 1 domain ($59/year or $189 one-time payment)
Pro – 3 domains and packaging services option ($109/year or $389 one-time payment)
Developer – unlimited domains and packaging services option ($249/year or $589 one-time payment)
You can get a 20% discount off the annual prices by using our coupon code – WPKUBE20.
Amelia Booking Plugin Coupon FAQ
Which plans is the WPKUBE20 Amelia booking plugin coupon valid for?
You can use the coupon code for the Basic, Pro, or Developer annual plans. It's not valid for the lifetime plans.
When does the coupon expire?
There's no expiry date on the coupon but the offer could be withdrawn at any time. So if you want to take advantage of the 20% discount, we advise you to use the coupon and make your purchase as soon as possible.
Will the plugin stop working if I don't renew my subscription?
If you purchase the plugin on the annual subscription, you can continue to use it as long as you like. However, you won't receive access to support or updates after a year.
Is there a trial or free version available?
There's currently no free trial available for the Amelia Pro plugin but there's a 15-day money-back guarantee so you can get a refund if the plugin isn't suitable for your site. You can also download the Amelia Lite plugin for basic booking and scheduling functionality without PayPal and Stripe payments and other limitations.
How to Use the Amelia Booking Plugin Coupon Code
Step 1: To get 20% off your plugin purchase, click here to visit the Amelia booking plugin website and click the "Buy Amelia" button in the menu.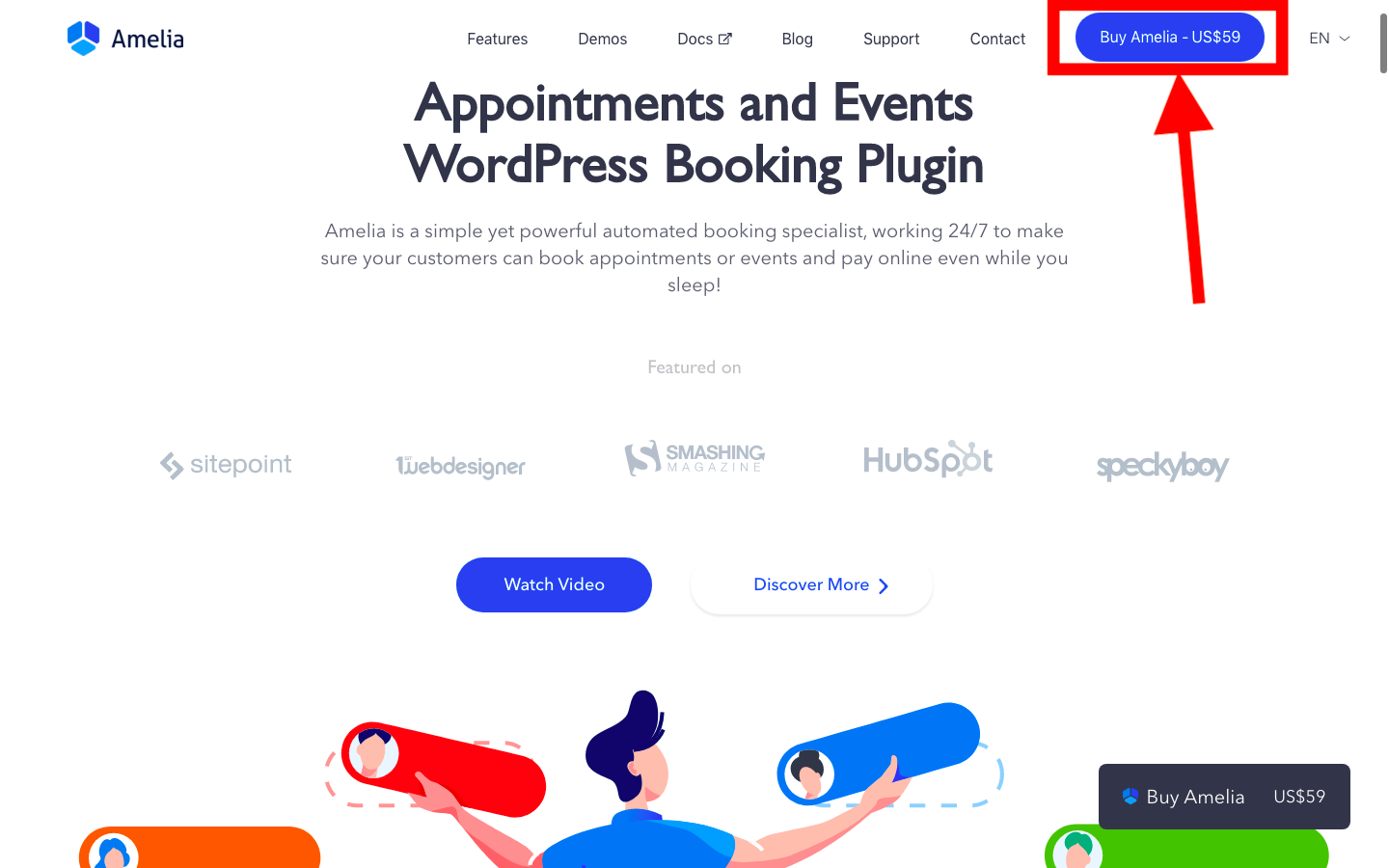 Step 2: Choose your plan (the WPKUBE20 coupon is valid for all annual plans) and click the "Buy Now" button for your chosen plan.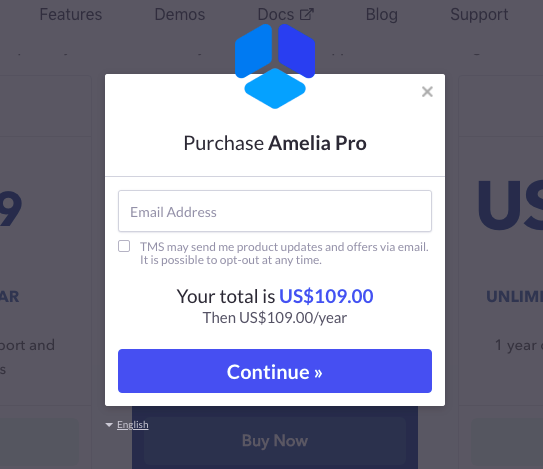 Step 3: You'll be prompted to enter your email address and location. Do this and click the "Continue" button. Then click the "Add coupon" link.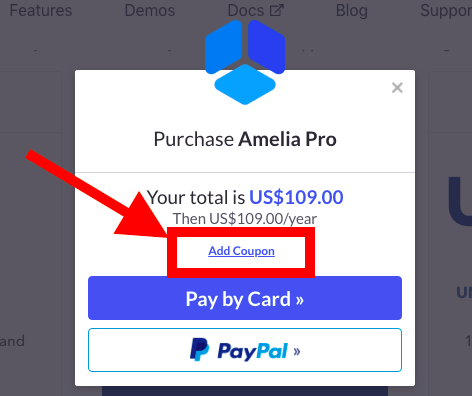 Step 4: Enter the coupon code WPKUBE20 and click the "Add Coupon" button. You should get a message confirming the coupon has been applied and shows the discounted price. You can then continue to add your payment details and checkout.