Choosing a theme is not exactly the easiest thing in the world. There is more than just looking over what a theme has to offer aesthetically. You have to think of the customization options, consider your level of expertise when it comes to handling a theme, figure out if the theme's back-end area is user friendly, and the list goes on from there.
With WordPress being such a popular platform, there are literally thousands of themes and theme shops to choose from. And like with most anything, when you are given too many options it can be hard to make a pick which isn't the best thing when you're searching for that perfect theme to launch your website.
Well, today, we wanted to take a bit of the hassle out of your search by taking a look at the popular WordPress theme shop ThemeIsle and we'll be giving you the chance to jump at a giveaway (the contest is now over).
A Bit About ThemeIsle & Our Review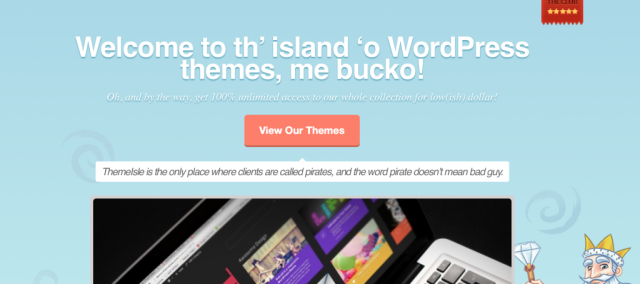 If you're looking for a theme shop with a solid background in WordPress and customer support, you can't do much better than ThemeIsle. Why is that?
Well, the minds behind ThemeIsle also happen to be behind the popular site CodeInWP — a site where you can take your own personal Photoshop designs, send them in, and have them turned into a full-fledged WordPress theme that rocks out.
On its own, though, ThemeIsle delivers great products and customer service which is a large part of its success in a growing and ever crowded WordPress market.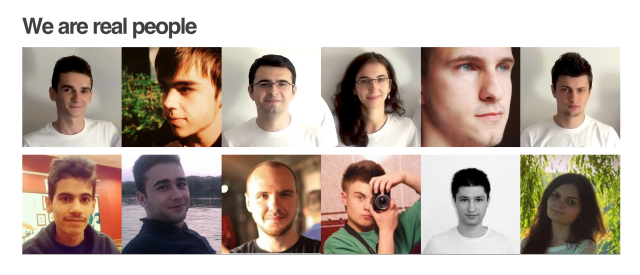 The other reason to love a theme shop like ThemeIsle is that they have a pretty clear level of transparency. The picture of the guys and gals above are the people who work to create the themes and plugins in the shop as well as some of the ones who help resolve any issues you may have.
Though I've never personally worked with the guys behind CodeInWP and ThemeIsle, it's become clear to me that they care about what they do, their customers, and they care about the WordPress community.
Thumbs up!
ThemeIsle: Features and Pricing
The nice thing about ThemeIsle is that they seem to have created a shop that they themselves would want to buy from if they were a customer. As a shop, they offer a few nice additional features that other theme shops lack.
For example, just about every premium theme they offer to buy in their shop also has a lite (free) version with limited features. This opens their products to everyone and gives people the chance to take their themes for an invested test run to determine if the theme is a good fit for them.
Another prime example of how they consider the customer are the two features they add in the Live Preview area of their themes.
When you click on the option to preview a theme live, not only do you get a feel for how the front-end of their theme handles, but you have the option to preview the Admin Demo (back-end) area of the theme to see the theme options inside each theme. On top of that, you also have options to view the theme in various screen sizes so that you can see what your site could potentially look like on mobile devices (includes a landscape preview, as well.)
Putting themes aside for a moment, ThemeIsle also has a few plugins that have become rather popular in certain circles within the WP community. They currently have 3 free plugins (all of which can be found in the WordPress Plugin Repository) and some of them have premium add-ons to boost the features:
Revive Old Post Lite (Pro Add-on Available)
WP Product Review Lite (Pro Add-on Available)
Custom Login Customizer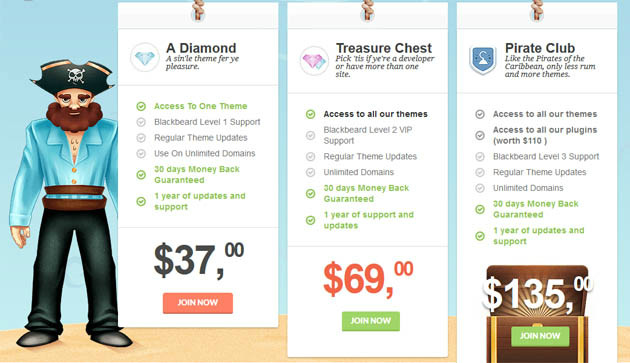 Pricing for themes in the ThemeIsle theme shop is simple, and thankfully, not as expensive when compared to other themes and theme shops out there. ThemeIsle has 3 different options when it comes to cost and what is included:
A Diamond Package – Price for this package is $37 which is for a single premium theme purchase and includes 1 year of updates, support (Level 1), and unlimited domain usage on the theme of you buy.
Treasure Chest – For $69, you get access to all their themes 1 year of support (Level 2 VIP), updates, and unlimited domain usage on all the themes you use.
Pirate Club – For $135 you can access all the premium themes and plugins in ThemeIsle's arsenal, a full year of updates, and their priority support.
All of their packages come with a 30-day money-back guarantee. ThemeIsle gives priority to Treasure Chest and Pirate Club package holders, but that doesn't mean that they brush everyone else off to the wayside.
Now let's take a look at the themes that ThemeIsle has packed inside their theme shop.
ThemeIsle Themes
As far as premium themes go, ThemeIsle currently has over 20 themes in their shop, and that doesn't include the free versions. There are a few categories to choose from in the shop and quite a few themes in each category.
Below are just a few what they have to offer.
Zerif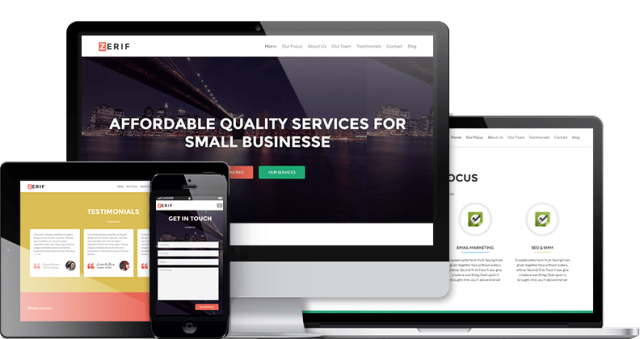 Zerif is a newer theme to ThemeIsle, but it is pretty awesome. It's a bold, one-page style theme that is fully responsive and super easy to use.
The vast majority of all the theme styling options are in the WordPress Customizer which means that you can make styling changes in the live preview mode of WP.
It's great for agencies, a personal portfolio and has a separate area for your blog and blog posts.
VIEW DEMO DOWNLOAD & MORE INFO
Lawyeria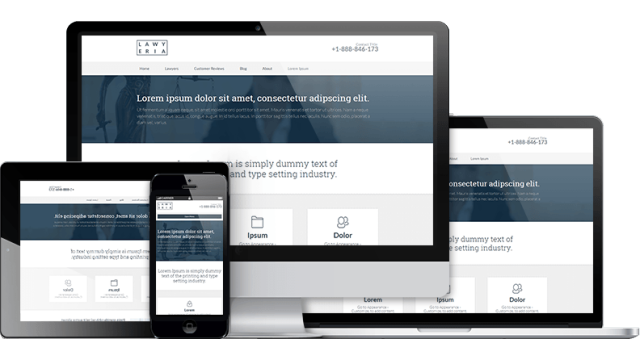 As the name would suggest, this theme was designed with a sophisticated feel that you would expect a lawyer or law firm would bring to the table. However, you don't have to be a lawyer to use the theme.
The Lawyeria theme is responsive, comes with custom widgets and designed with an opt-in contact form to help boost conversion on your site. The layout is clean and the colors are professional, but the theme options make it easy to change the color scheme.
VIEW DEMO DOWNLOAD & MORE INFO
Constructzine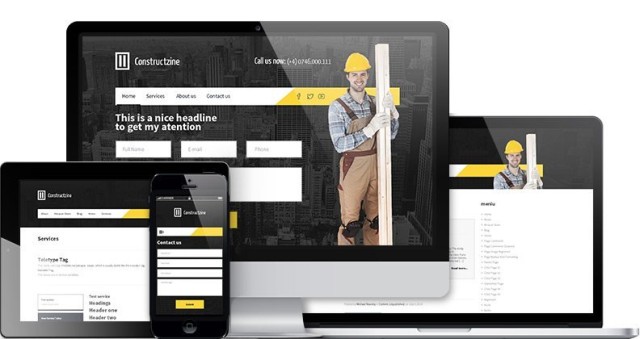 The great thing about this theme? It's obvious what it's about and should be used for — construction. If you're looking for a theme for a construction based business, then this theme is one of the best I've seen.
The design makes it clear what your business site is going to be about and the striking CTA contact form at the top of the theme means that you'll increase your leads (of the leads of a client) for work — always a good thing.
VIEW DEMO DOWNLOAD & MORE INFO
Arkitek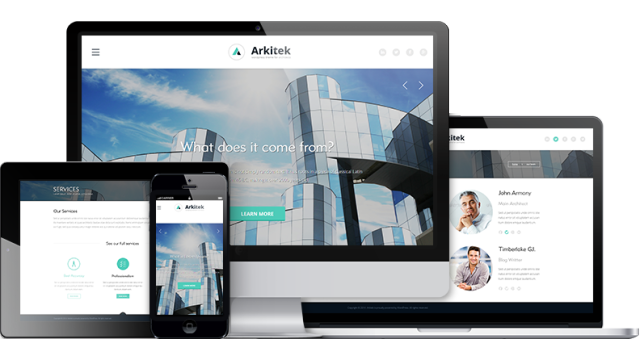 Arkitek is the multipurpose theme that does it all. The front page has a full-width slider and an overall clean design. Thanks to its multipurpose nature, Arkitek can be used as a business site, personal portfolio, or even a normal blog.
The theme is responsive, easy to handle in the backend and looks great no matter what the screen size. Unlike many other themes, the main menu in this one is subtle and is hid off to the side to prevent distractions.
Overall, it's a well-rounded theme that couples clean lines with bold calls to action.
VIEW DEMO DOWNLOAD & MORE INFO
Woga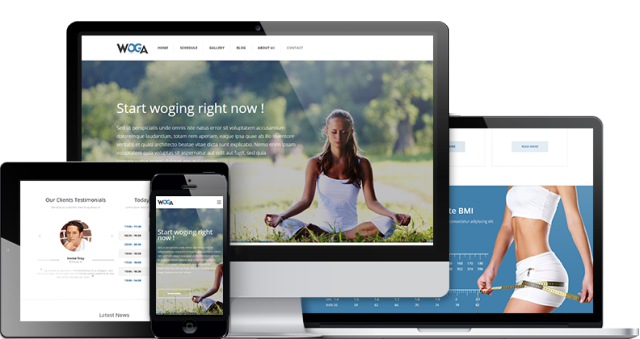 ThemeIsle knocks it out of the park again with a Yoga inspired theme that you can use for your business or health based blog.
The Woga theme lays out in a zen centric style that allows you to show a schedule (if you offer classes), testimonials, a responsive contact form, and a clean blog layout.
VIEW DEMO DOWNLOAD & MORE INFO
BookRev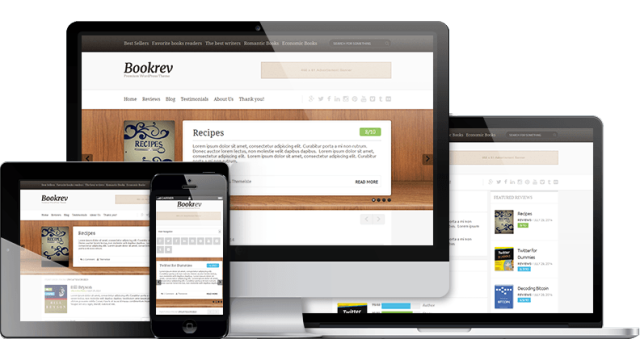 If you've been looking for a theme that would be great for reviewing products and displaying those reviews, then BookRev is one that you should definitely take a look at. The Live Demo of this theme shows how you could use the theme to review books, however, you're not limited to book reviews with a theme like this one.
You also have menu options below and above the main header which contains a section where you can place an ad banner if you so choose. The built-in slider is responsive (as is the whole theme) and makes it easy to display your featured reviews and ratings to help push traffic to a specific page on your site.
This is a great theme for affiliate marketing and blogging in general.
VIEW DEMO DOWNLOAD & MORE INFO

In Conclusion
ThemeIsle has some really great business-oriented themes and a great price for everything that you get out of them. I love the Zerif Pro theme and decided to use it to build my own personal writing portfolio site.
The theme options were easy to work with and I loved that fact that just about all the front page design aspects of the theme could be handled in the WordPress Customizer.
I look at the themes as a great looking as is, but many of them are also a good ground work to build on and create something truly unique and even fun. If you don't have the budget to buy the themes but you really like the look of one of them, the fact that you're given the chance to try the themes for free (the lite version of the theme) is really great.
Visit ThemeIsle (use our 20% off coupon)
Not to be forgotten about are the plugins that you can use for free, as well. If you want an amazing plugin to help make life easier, then I highly suggest taking a look at the Revive Old Post plugin. (you can thank me later.)
Want to know what's better than getting a great theme? How about winning a bunch of them for free?!
Yeah, I thought that would make you happy. If you're ready for your chance at winning the themes from ThemeIsle, then here is your chance.