Security should be at the forefront of all site owner's minds. However, there is only so much you can do on the back end of your site.
One of the most vital cogs in the wheel when it comes to security is helping the user keep safe. Two-Factor Authentication (2FA) is a fantastic way of doing so, as it gives the user a second layer of protection. As such, you'll want a WordPress plugin to help you – our WP 2FA coupon code will give you a stellar solution that's easy on the wallet.
We'll look at how to use your WP 2FA coupon code soon. First, let's see what the plugin offers you and your users.
Introducing WP 2FA
WP White Security is a developer who knows how to shore up a WordPress website. They offer a lot of different solutions, such as WP Activity Log, and WPassword. However, our focus is on WP 2FA. It's arguably one of the best ways to implement 2FA on your website.

Here's what you'll get within the plugin:
A choice of 2FA methods, which the user can specify based on their own needs.
There are plenty of supported authentication channels, such as Authy.
You're able to utilize 'trusted devices' so users won't need to use 2FA every time.
You can make 2FA a compulsory element of your site, and configure its related polices based on different user roles.
There's so much more with this plugin that we can't cover it all here. Regardless, WP 2FA is one of the most comprehensive and popular plugins on the market. It's an essential in our book, especially when you consider the price.
What WP 2FA Costs
There are four tiers on offer with WP 2FA, and each one comes with a default of five user licenses. From there, you can order more licenses, but the price differs depending on the plan.
While we won't include all of the various license upgrade costs here, we will tell you exactly how each plan will affect your wallet:
Starter. For $29 per year, you can set up different user polices per role, offer backup codes, and use either email or a mobile app to log in. It also offers the cheapest price if you need to add further licenses.
Professional. In addition to the Starter plan, Professional gives you the ability to set trusted devices, one-click login methods, and secondary backup functionality for $59 per year.
Business. This plan offers the entire feature set of WP 2FA for $69 per year. This includes analytics and reporting, white labelling, lots more 2FA methods, and the ability to sort users by their current log in status.
Enterprise. If you purchase this tier for $99 per year, you get everything in the Business plan, but also get priority support.
We'd suggest that the Business tier offers the most value, as you get the entire functionality of WP 2FA other than six-hour priority support. However, this deal becomes even better once you factor in your WP 2FA coupon code.
How to Use Your WP 2FA Coupon
Getting a discount on WP 2FA is straightforward. Your first step is to head to the WP 2FA site using our dedicated link. Once you're there, you can click one of the Get WP 2FA Now buttons on screen: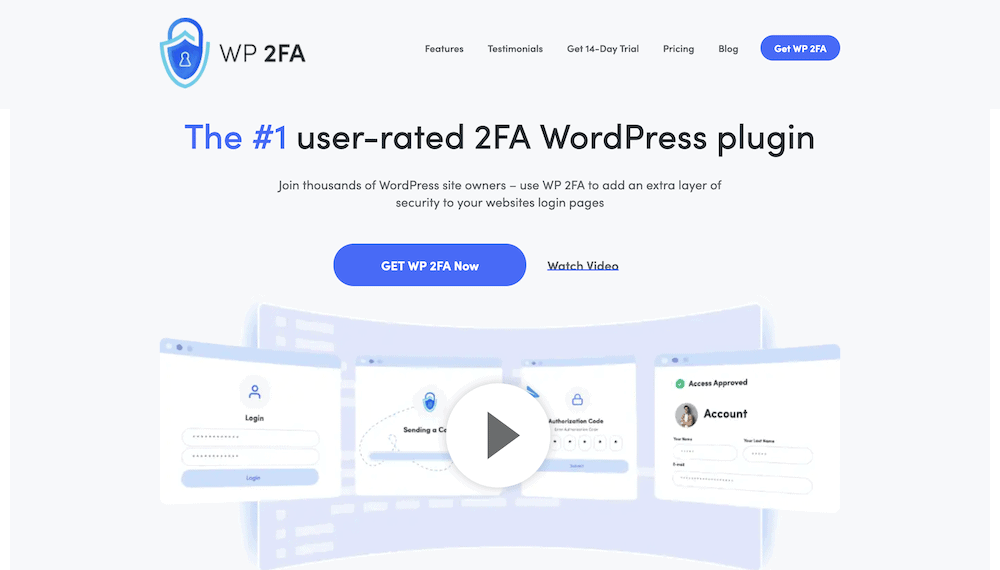 Doing so will bring you to the pricing page, where you can select the right plan using the Get Started buttons: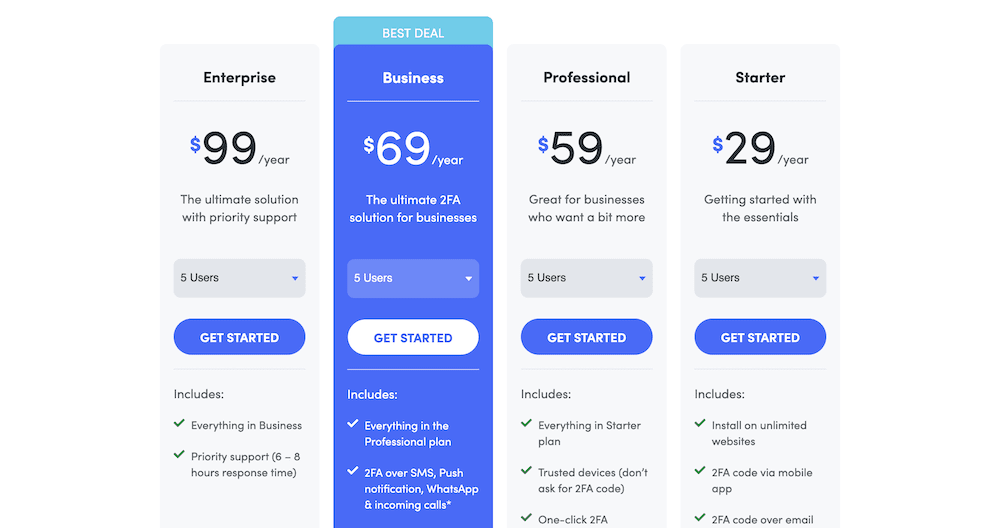 This will pop up a billing dialog screen, which should be straightforward to fill out: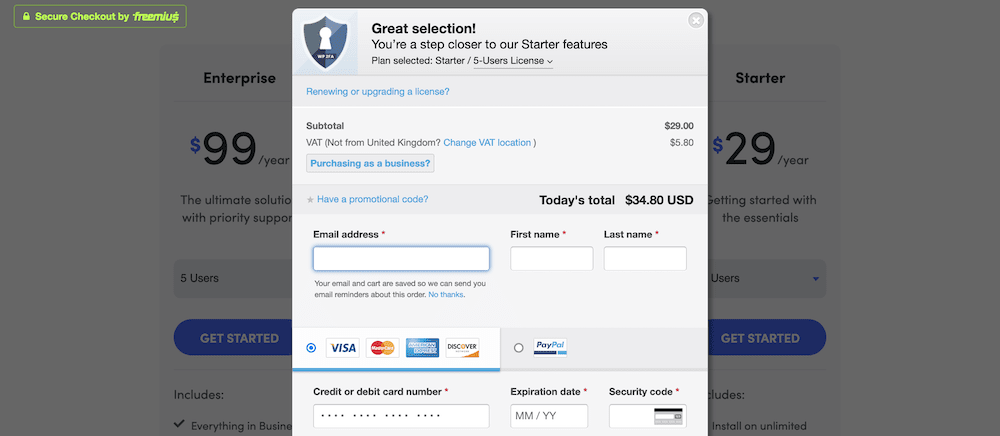 You'll notice the Have a promotional code? link just after the grand total. If you click this, you'll open up a coupon code field. It's here that you'll enter WPKUBE20 in order to save 20 percent off of the typical price:

Once you click Apply, you'll spot the total price change to reflect your discount. From here, you can complete the payment process and begin to use your plugin!
Frequently Asked Questions (FAQ)
If you can use your WP 2FA coupon code, you are 'home and dry.' However, you might have further questions. Next, we'll look at some of the answers to the most common questions we receive about using your WP 2FA coupon code.
Is There a Trial Period With WP 2FA?
Yes, you can use WP 2FA for 14 days before you'll need to make a purchase.
Can I Use WP 2FA Across Multiple Websites?
Because WP 2FA works with use licenses, this means you can use the plugin across all of your websites without penalty.
How Does the Plugin Calculate Active Users?
A user will need to register to set up 2FA on your site. As such, the plugin will note this as a user. If you reach this limit, no other users will be able to set up 2FA until you purchase further licenses.
Does WP 2FA Provide a Money-Back Guarantee
You'll have a 30-day window in order to ask for a refund. This is a no-quibble guarantee, without question.
Will This Coupon Code Ever Expire?
WPKube isn't in the habit of offering temporary deals. As such, we don't envisage the WP 2FA coupon code going away any time soon, although we can't always guarantee that the parent company will want to provide the same level of discount.
Save 20 Percent With WPKube and Your WP 2FA Coupon!
Every site needs to be as secure as possible. While you'll likely spend time trying to find the right WordPress security plugin for your needs, there's a fundamental feature you'll want to include. 2FA gives your users an extra layer of security that uses their device to verify a login. In implement this, you'll need a plugin. With our WP 2FA coupon code, you'll have a fantastic solution at a knock-down price.
To claim your 20 percent discount, enter your WP 2FA coupon code – WPKUBE20 – at checkout!