Do you have a WooCommerce site? Would you like to get more sales, streamline your admin tasks, and save time?
Then check out Booster.io! This feature-packed WordPress plugin helps you automate your store with powerful marketing, finance, and inventory tools.
Looking for a Booster.io coupon code? You're in luck! We've managed to negotiate a 10% discount for all WPKube readers. Just head over to Booster.io, and enter the code wpkube at checkout to get your discount.
Not sure if Booster WooCommerce plugin is the best choice for your online store? Keep reading to find out more about this powerful WooCommerce toolkit. We'll take a look at the features, pricing plans, and answer some of the most frequently asked questions about this eCommerce plugin.
What is Booster.io?
Booster.io is a WordPress plugin containing over 110 modules designed to replace multiple plugins you might already be using on your WooCommerce site.
As anyone who runs a WooCommerce site knows, the basic plugin doesn't do much when it comes to marketing and administration. You usually need multiple plugins to cover those tasks, which means more maintenance, costs, and technical debt.
That's why Booster.io is so useful – it combines all the features you need in one package, giving you a unified dashboard with everything neatly organized.
And all this is available for a low monthly fee, making it accessible to online stores of all sizes. So let's take a look at what you get with Booster.io…
Booster.io Features
Booster.io contains over 120 modules, organized into several categories:
PDF invoicing
Prices & currencies
Products
Shortcodes
Payment gateways
Cart & checkout
Button & price labels
Orders & shipping
Emails & additional tools
Here are some highlights from each category:
Prices & currencies
Best price buttons and links
Wholesale pricing
Multi currency
Open pricing (name your price)
Currency exchange rates
Role-based pricing
Price by formula
Global shop discount
Products
Variation swatches
Extra fees
Upsells and cross-sells
Product availability
Custom product visibility
Stock management
Orders & shipping
Shipping methods by min/max order quantity
Shipping methods by city or postcode
Shipping time & descriptions
Shipping methods by product
Minimum and maximum order quantity
Cart & checkout
Cart abandonment email notifications
WooCommerce wishlist
One page checkout
Frequently bought together
Coupon code generator
Checkout & cart customization
EU VAT number validation & standard rate calculation
Payment gateways
Payment gateways by currency
Payment gateways by shipping
Payment gateways by country or state
Payment gateways by min/max amount
Custom payment gateways
Booster.io Discount & Pricing Plans
Booster.io plans start from just $11.99 a month (and remember, you get an extra 10% discount by using our Booster.io coupon code, wpkube.
There are 3 price plans to choose from, based on the number of sites you want to use it on: Personal, Agency, and Freelance.
Personal
The Personal plan is suitable for WooCommerce store owners who run a single site. This plan includes all modules, features, and shortcodes, plus VIP support.
License: 1 site
Price: $11.99 a month (paid annually) / $10.80 a month using coupon code wpkube
Freelance
The Freelance price plan is designed for WordPress developers and freelancers who manage several sites for clients, or people who run multiple stores of their own.
Licence: 5 Sites
Price: $15.99 a month (paid annually) / $14.40 a month using coupon code wpkube
Agency
The Agency plan is for agencies and teams managing a lot of WooCommerce stores. This plan also gives the added bonus that any features you request will go straight to the top of the list.
Licence: 50 sites
Price: $24.99 a month (paid annually) / $22.50 a month using coupon code wpkube
The agency plan is excellent value for money for those who build or run multiple sites, offering a saving of over $5,000 compared to the single license price.
How to Use the Booster.io Coupon Code
1. Click here to go directly to Booster.io
2. Click the "Get Booster now" button in the middle of the homepage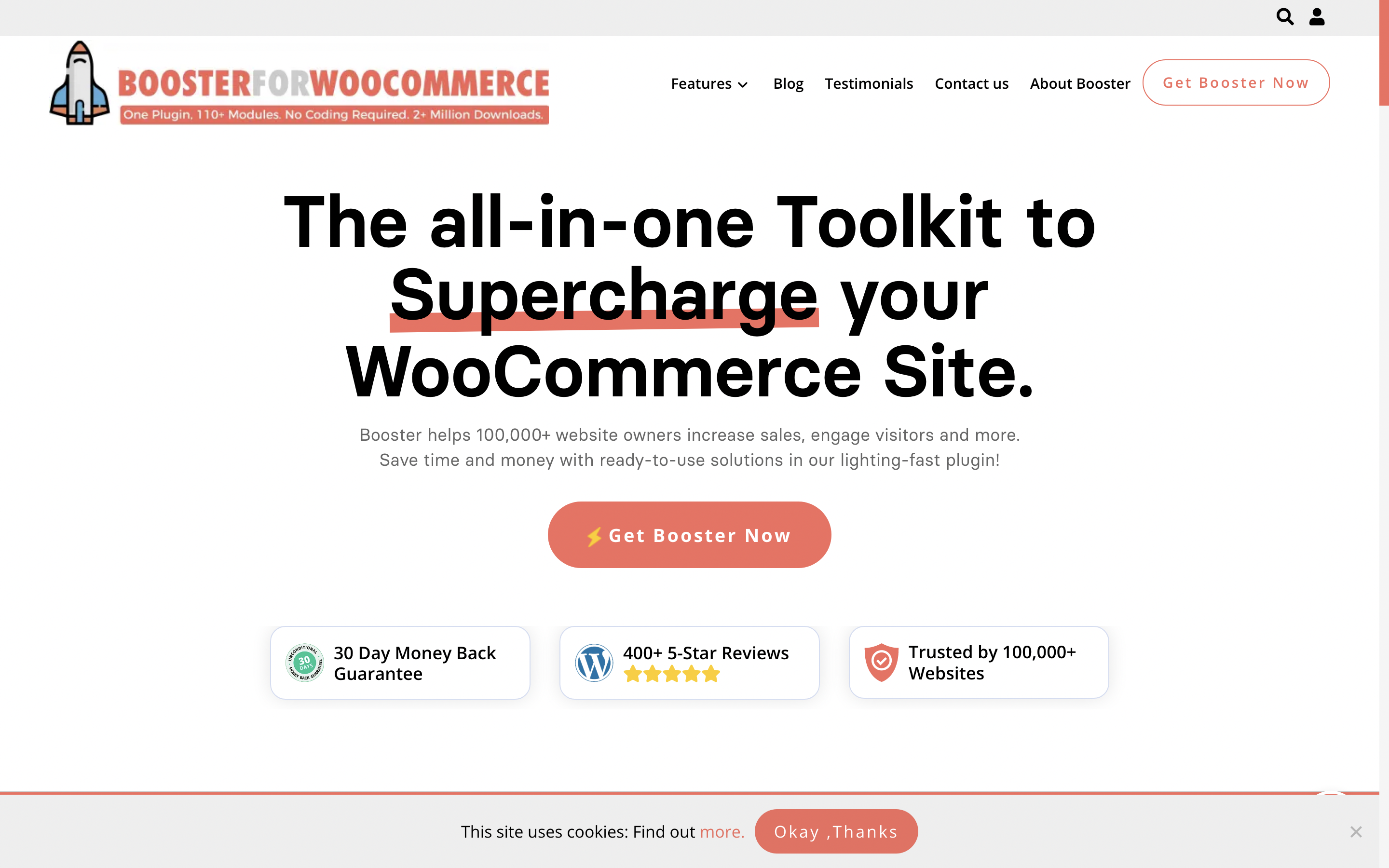 3. Choose your plan and scroll down to click the button "Get Personal/Agency/Freelancer"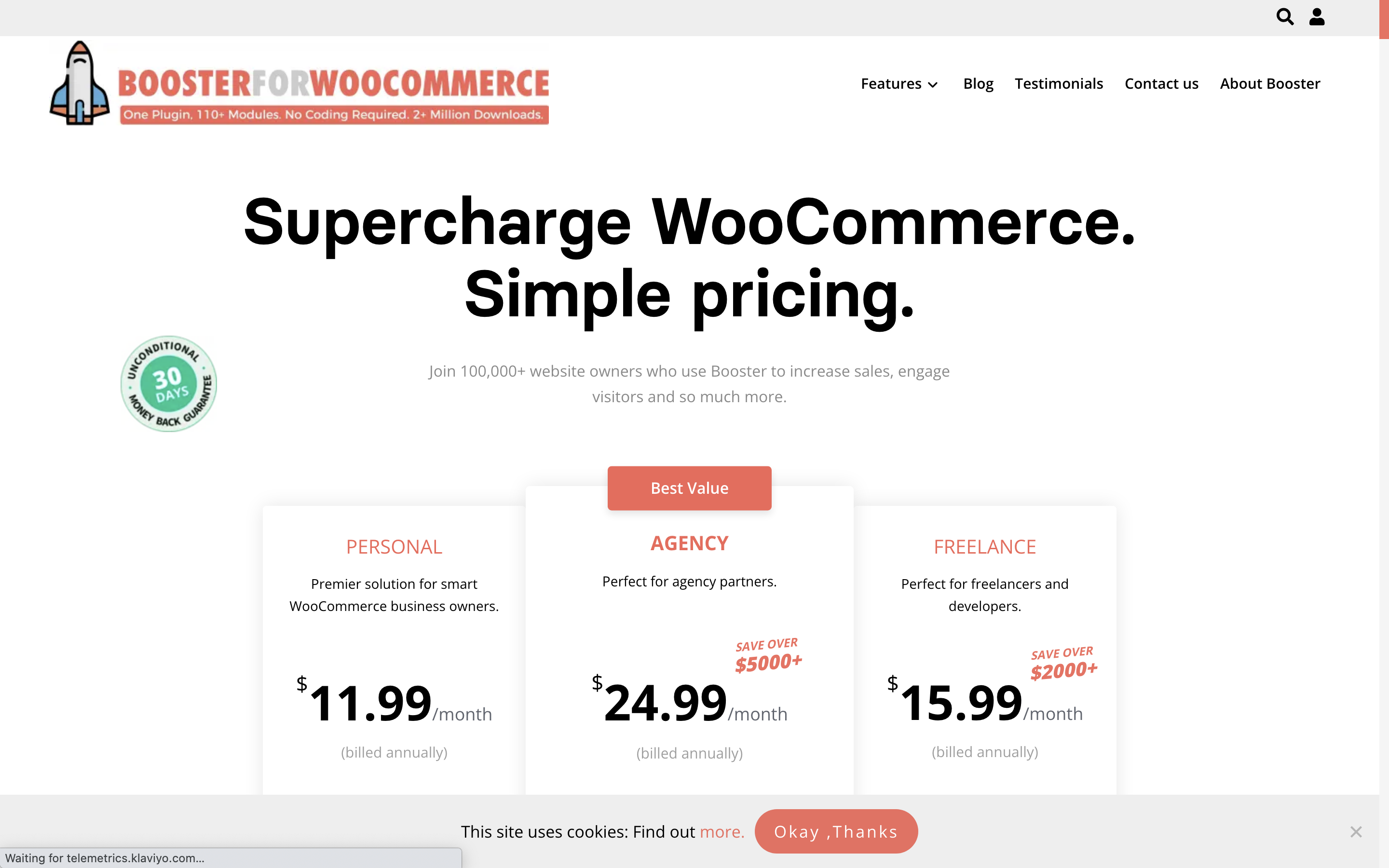 4. Fill out your personal and payment details to complete checkout. Remember to use the coupon code wpkube to get 10% discount on your choice of plan.