With so many all-singing, all-dancing multipurpose WordPress themes to choose from these days, the humble blogging theme can be easily overlooked when it comes to selecting a new design for your website.
However, as we'll soon see in this Zillah review, there are plenty of great reasons to choose this single-purpose, highly focused WordPress blogging theme over the more general multi-purpose themes out there.
So, let's take a look at how this newly released WordPress blogging theme can help you build a stylish website in our hands-on Zillah review.
Zillah Review: Theme Overview
It's fair to say that Zillah is a simple WordPress blogging theme. That's not to take anything away from Zillah, in fact, its simplicity is one of its highlights.
As we'll soon see in this Zillah review, this simplicity extends to all aspects of the theme, from its design and appearance to its installation and setup process. If you want to start a blog with WordPress today, the freely available Zillah theme is a great option.
On the other hand, if you are seeking a feature-packed theme, one that gives you countless demos and integrated tools to make use of, then Zillah probably won't be the best choice for that.
So with that in mind, let's start this Zillah review with a look at what this blogging theme has to offer, before walking through the installation and setup process to demonstrate whether this theme really is easy to use or not.
Zillah Design and Appearance
Zillah features a modern, clean, and minimalist design. This theme is all about letting your content do the talking, without overwhelming you or your visitors with fancy features and unnecessary details.
When using Zillah, your visitors can either use the drop-down header menu to find content on your site or use the featured content slider to scroll through your best blog posts. There's also a search field embedded into the header too. Furthermore, if you've chosen to enable the optional sidebar, your visitors can also click on the links in this area, as well as interact with the content in the footer to find more of your posts and pages.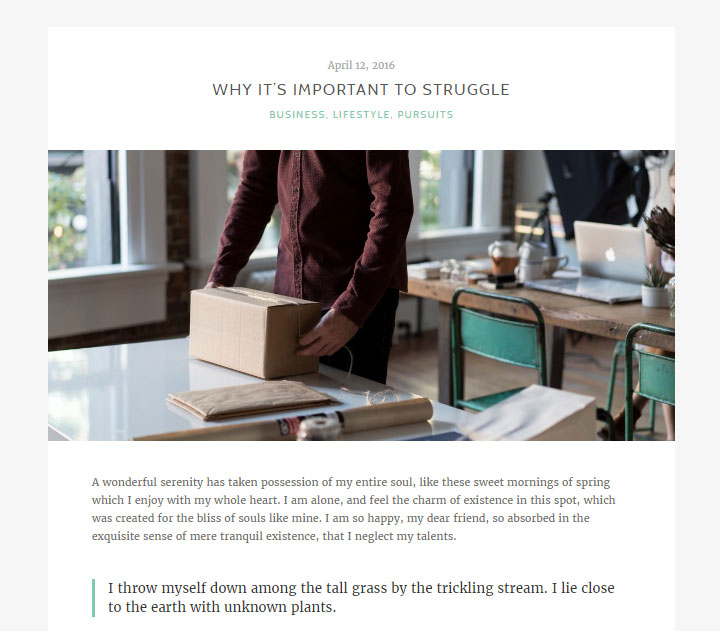 To help your content draw in readers, the individual blog post layout includes a large featured image. There are no sidebars on display when using the default blog post layout, so your visitors won't face any unwelcome distractions when trying to read your content.
Once a reader does reach the end of a post, they can either use the navigation buttons to scroll to the next or previous post, leave a comment, or follow any of the links you've chosen to display in the footer area.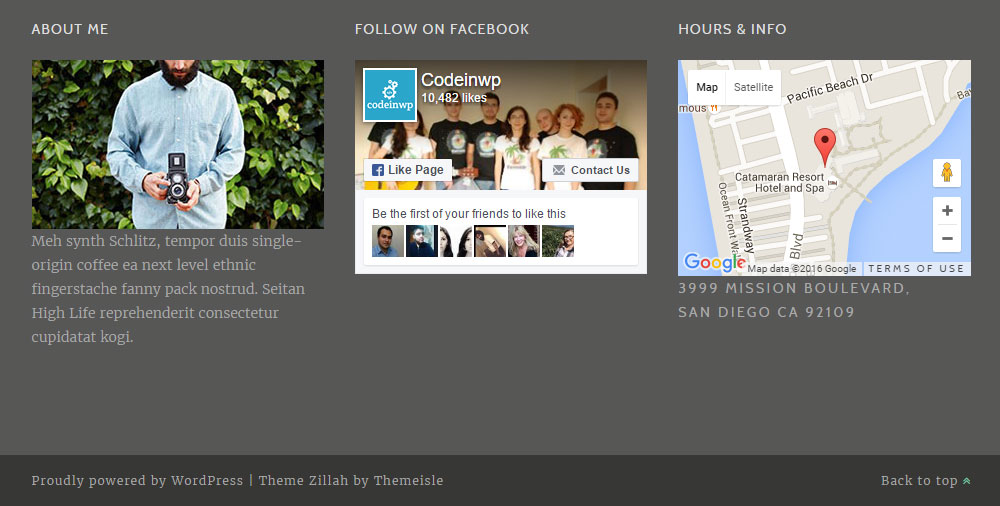 Despite its minimal design, thanks to the navigational features, including the floating header menu, there's always somewhere for your visitors to go next, no matter where they are on your site.
Sidebars, Footers, and Widgets
As well as the main sidebar area, the Zillah blogging theme gives you three footer widget areas to use. There's also a custom "About Me" widget that can be added to any of the four different widget areas that make up this theme.
Fully Mobile Responsive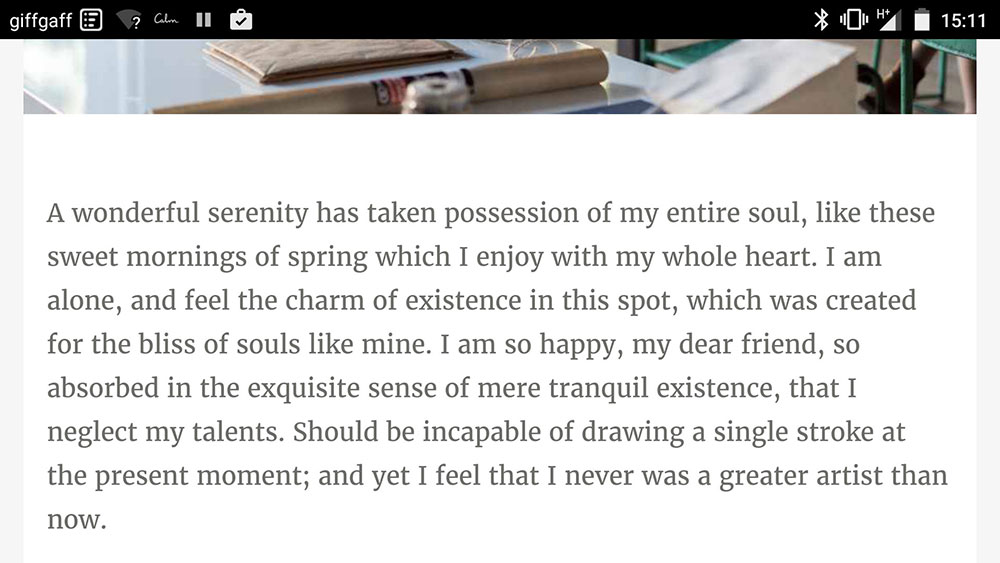 If you do choose the Zillah WordPress blogging theme, your entire website will be fully mobile friendly, thanks to the fact that this theme is based on the responsive Underscores starter theme.
Not only does this ensure that your visitors will be able to access all areas of your website, but this will also help you avoid a negative search engine optimization rating from Google.
As you can see, Zillah has a lot going for it. Not only is this blogging theme pleasant to look at, with a set of useful core features, but it's also free to download from the ThemeIsle website.
Zillah Review: User Experience
Now that we've covered the theme features, let's take a look at the user experience offered by this theme in this section of our Zillah review. This will demonstrate how easy (or not) it is to use to create a stylish WordPress blog.
Zillah Theme Installation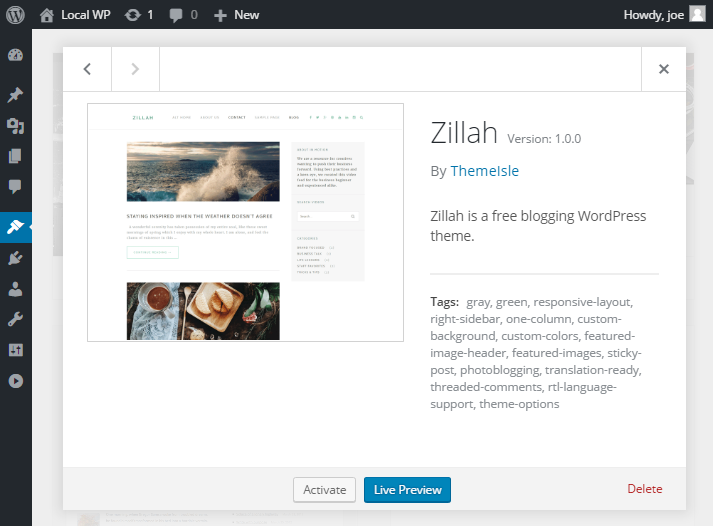 One area where single-purpose themes tend to have an advantage over their Swiss army knife-like brethren is their installation processes. Typically, one size fits all, multi-purpose themes will feature an installation process with many steps.
This can include a range of required plugins that need to be installed, demo content files to be imported, and many more tasks to take care of. This can all make applying the new theme to your WordPress website a time consuming and sometimes, frustrating experience.
Thankfully, installing the single-purpose Zillah blogging theme on your WordPress website is very straightforward. After uploading the small (my review copy was a mere 801 KB in size) theme archive file, you can activate the theme and then start customizing your WordPress website.
Zillah Website Customization Process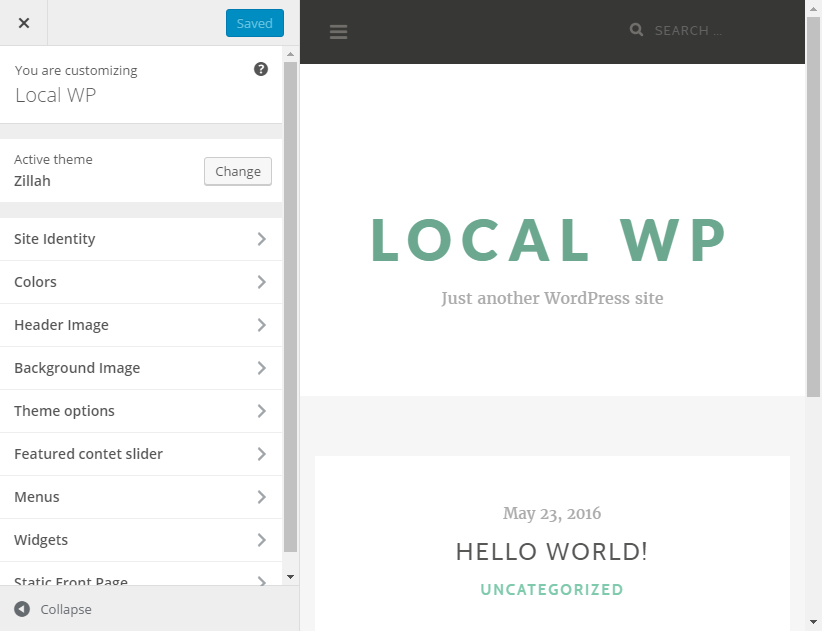 The Zillah theme doesn't feature a theme options control panel or add another type of settings page to your WordPress admin dashboard, helping to keep your website as lightweight and clutter free as possible. Instead, any changes you want to make to your website take place through the WordPress Customizer tool.
This is great, as instead of having to work in your admin area, then save your changes, switch browser tabs, and refresh windows to see how your changes will look, you can simply take advantage of the live preview feature of the Customizer. This allows you to instantly see what effect your changes will have, without any of those extra steps being required.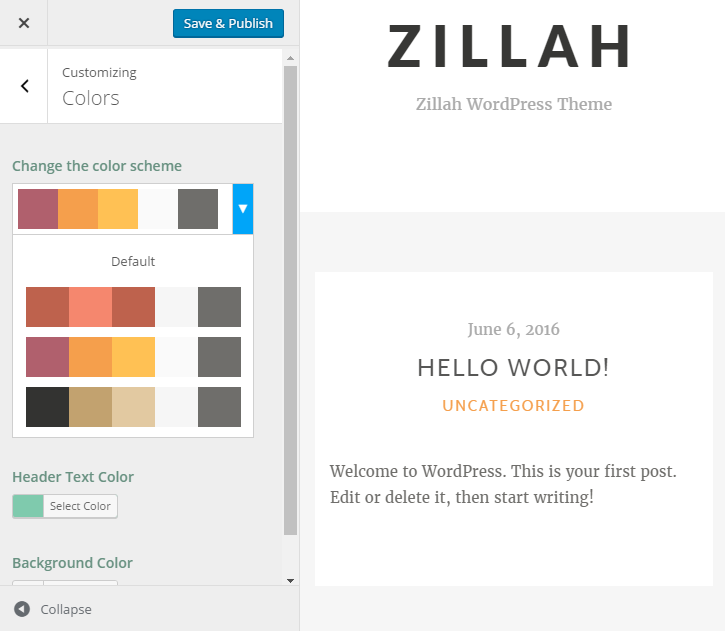 Thanks to the use of the WordPress Customizer, it means that you'll not only save time when setting up your site, but you'll also be able to prevent your changes from being visible to your visitors before they're ready for public consumption. Not all theme developers choose to make full use of the WordPress Customizer, so it's great to see it's been embraced by the ThemeIsle team for Zillah.
When it comes to using the WordPress Customizer to personalize your website, the Zillah theme allows you to modify the following aspects:
Choose one of the color schemes
Change the header text and background colors
Set the header image
Upload a website background image
Decide whether to display a sidebar or not
Choose which, if any, slider to display
Setup the site navigation menus
Configure the sidebar, footers, and their widgets
Enable the optional static homepage
Through the Customizer, you can also preview your site through a number of different viewports, helping you to see how your content will look on small screen devices, such as smartphones and tablets.
If you do want to make use of the Zillah "About Me" widget, in order to display a brief bio and photo in the sidebar or other widget-friendly areas of your site, then you can do so either through the Customizer, or the Widgets area of your WordPress Dashboard.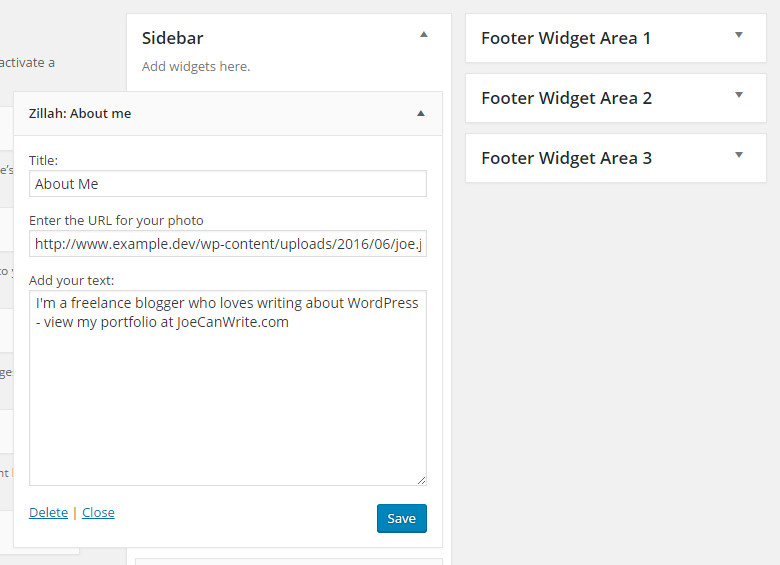 Although you can't upload a photo file directly to the widget, you can easily add one to your WordPress Media Library, and then copy and paste the URL of the file, into the appropriate field in the widget.

Just remember to activate the setting that will display sidebars on your website!
Setting Up the Zillah Theme Content Slider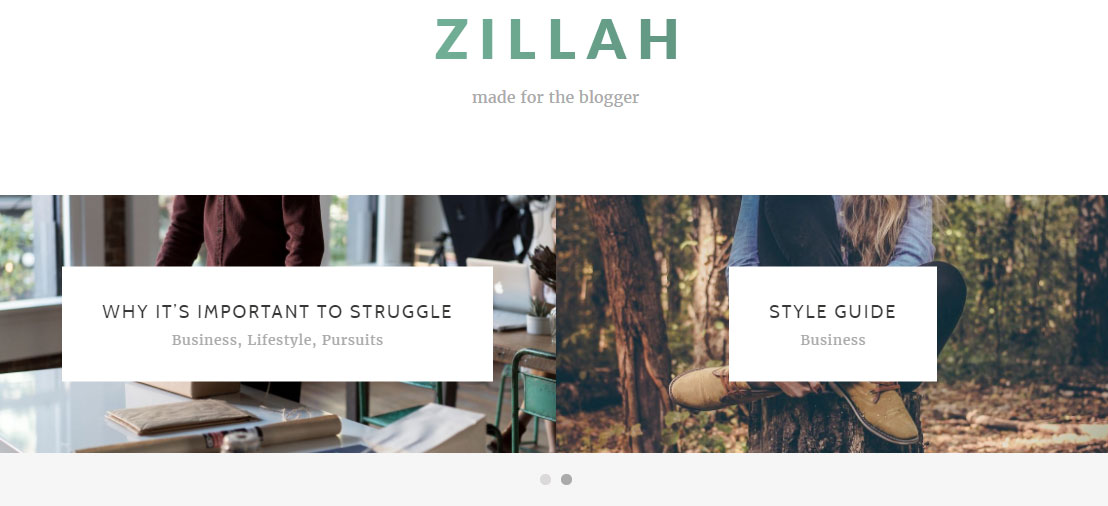 As mentioned, the Zillah theme gives you the option of displaying a content slider at the top of the homepage of your WordPress website. The slideshow will display slides that link to the posts from a category of your choice. These slides include the post title, its featured image, and the name of the category the posts have been drawn from. Your visitors can then click on those slides to be taken to the corresponding piece of content on your blog.
Like the rest of the Zillah blogging theme, setting up the content slider is very straightforward. Simply go to the Featured Content Slider section of the WordPress Customizer.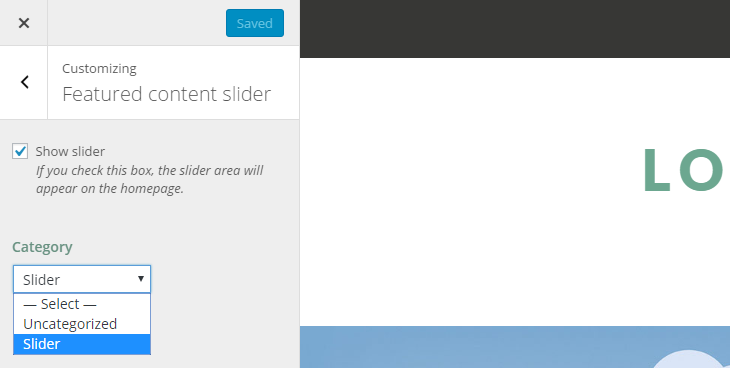 From there, choose which category you'd like the slider to display posts from. At this point, you might want to create a new category called slider or simply choose from one of your existing categories – it's up to you!

Now, providing you have some posts assigned to that category, they will be displayed in the featured content slider, atop of your WordPress website's homepage. This is a really impressive feature of Zillah, as it looks great, is very easy to setup, and will help your visitors find more of your best content.
Configuring the Menus and Social Media Links

The Zillah theme makes it easy to add links to your social media profiles to the header of your WordPress website. These social media links automatically display the appropriate icons for each network.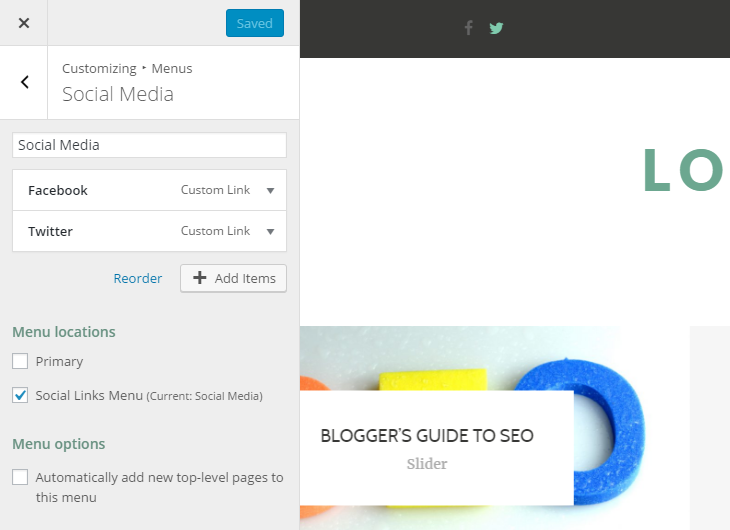 To use this feature of Zillah, simply visit the Menus section of the customizer and create a new menu. Add links to your social media networks of choice to the new menu. Then assign this menu to the Social Links Menu, and it will be added to the header area of your website.
You can also create a second menu, which will be displayed in the middle of the header area. This menu can contain links to the other content on your site or external web pages.
Once you've set up your website, all that's left to do is start creating posts and pages and begin publishing your content.
Zillah Review Final Thoughts
The Zillah theme not only looks great but is also very easy to use. This all helps to make this freely available theme an excellent choice for anyone who wants to create a stylish and modern blog with WordPress.
Thanks to its responsive design, you can easily create a mobile-friendly blog with this theme. The set of customization options will help you give your website a personal touch, without overwhelming you with countless settings and options that you have to work through before you can get your site online.
If you value style and simplicity, the Zillah WordPress blogging theme will appeal to you.