With a majority of internet users switching to mobile devices, it's important not to leave them out in the cold. What do you do when a responsive web design just doesn't cut it anymore? Smartphone users are increasing every day and what better way to increase user experience than through your site's exclusive app?
An app complements your web presence and helps you develop a loyal user base and increase traffic to your site. With 2 billion smartphone users worldwide, there's a fair chance they'd prefer accessing your site through a dedicated app.
In this article, I'll review a plugin that enables you to create an app for your WordPress site – Mobiloud. We'll cover everything you need to know about it and walk through a tutorial that will help you get an idea of how you can leverage it.
Let's get started.
Mobiloud Overview
Mobiloud is a WordPress app creation service that creates real, native apps for your WordPress site on iOS, and Android. The resultant app is designed and optimized explicitly for the operating system that they're being used on which enables it to take full advantage of its features.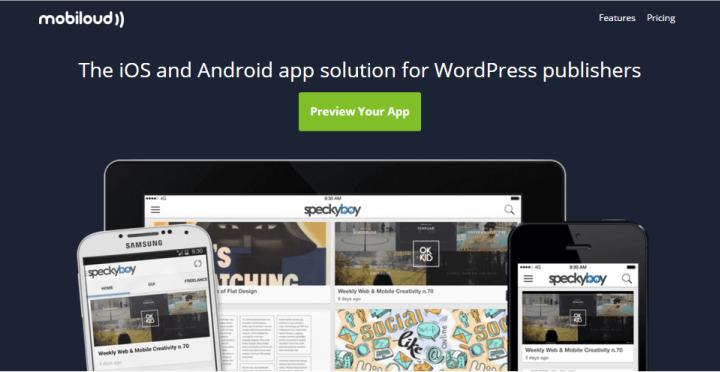 The benefits of this functionality are two-fold – it adheres to the design standards of both systems and guarantees smooth and reliable operation.
Features
Once you install the Mobiloud plugin, it will automatically load the content new content you publish on your site to your app. It even lets you send push notifications to your subscribers notifying them of the new content.
Mobiloud enables you to display income generating advertisements within your app through which you can monetize your mobile traffic. You have several options to pick from such as iFrame, HTML, JavaScript, Google DFP, MoPub, and AdMob units.
You can add social sharing buttons to your app that lets your visitors share your content on social media platforms and add it to their RSS feeds.
Visitors can comment on your blogs by logging into their social media accounts or Disqus with their mobile devices. Mobiloud powers your app to store user information to make their commenting experience better.
App users can also bookmark pages from your site and make the most of its swipe-able image galleries and touchscreen navigation. The app can cater to a multilingual audience as well. You can check out their full list of features here.
Installation
In this section, I'll walk you through a tutorial on how to configure your WordPress site's app with Mobiloud.
Install the free version of Mobiloud from the WordPress Repository and activate the plugin. Once the plugin is activated, you will be re-directed to the plugin's screen where you will be asked to enter your name and email address.
Configuring Your App
There are four steps to configuring your app with Mobiloud.
Step 1: Create A Custom Design
Here's the fun part. The Mobiloud screen lets you create a custom design for your site's mobile app. You can upload a logo and try out several menu colors to create the design that complements your site's current template.
In the Home Screen Settings area, you can select what you'd like to display on your app's home screen. Selecting Article List displays your site's posts with the most recent one at the top. If you want your app users to view a specific page such as the About Us page or Features page, you can select the Page radio button. It also lets you redirect your app users to a custom URL.
From the Article List Style section you can choose from different thumbnail sizes for your post's featured image on your app – extended or compact.
The changes you make with customizability are reflected on the Live Preview (which is shaped like a mobile device) to get a better idea of what the end product will look like. You can choose to view it on an iOS device or on an Android device.
Step 2: Menu Configuration
In this step, you can customize your app menu by adjusting what it should display. Mobiloud lets you create a structure for your app's menu items by adding Categories, Custom Taxonomies, Tags, Pages, and Links. Once you've added the items in each section, you can rearrange them by dragging and dropping them to their respective positions.
At the bottom of this screen you will find two checkboxes which are selected by default:
Show Favorites in the app menu
Show categories tab menu at the top of the screen on Android
Once you're done creating your custom app menu, click Save Changes.
Step 3: Test The App
Now that we're done designing the app and customizing its menu item list, we can move on to the testing phase. The Mobiloud plugin lets you check out your app in their built-in simulator using its See Live Preview feature.
If you'd like to test it out on your own mobile device, follow these five steps provided by the developers:
Download the Mobiloud app from the App Store or the Android app from Google Play on your own device.
Open the Mobiloud app. You'll see the contents and design of the Mobiloud blog.
Now shake your device.
A screen named Preview your app will become accessible.
Now enter your own site's URL, the app will reload so you can see your own design and content on your device!
Step 4: Publish Your App
By now you've created a custom design for your WordPress site's app and tested it out with Mobiloud's simulator. If you're pleased with the results you can sign up for one of their pricing plans or purchase a lifetime license.

Click on the See Pricing & Publish Your App button in the Publish Your App tab.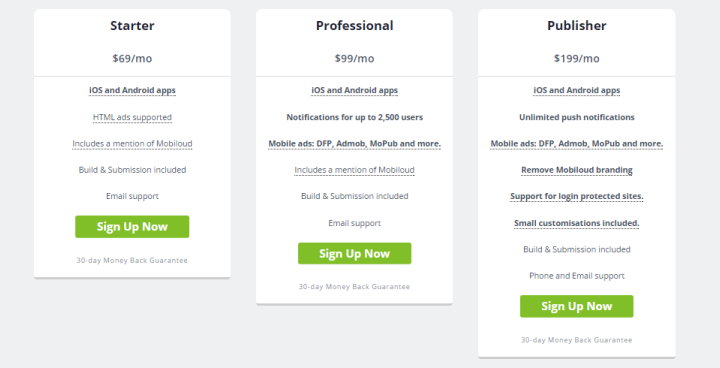 Mobiloud has a 30-day money back guarantee. If you don't like the app then you can take them up on their money back offer and get a refund.
That's all there is to it.
Should You Get Mobiloud?
Supplementing your site's web presence with a mobile app is important as the number of smartphone users increases every day. Mobiloud is one of the best apps I've come across that lets you create and preview your app before you purchase it.
At first glance, the prices do seem a bit steep but if you consider the amount of revenue your site will generate from the app itself than it basically pays for itself. If you have a ton of subscribers then opting for Mobiloud's Lifetime Plan is a good idea. However, if you're just starting out then perhaps it's best that you sign up for the $69/month starter plan.
Final Thoughts
Mobiloud is one of the best services out there that will help you create an app for your WordPress site. It's fast, it's easy, and it's reliable. In a few clicks, you can target 2 billion smartphone users by granting them the convenience of browsing your site from their mobile device.
In my personal opinion, Mobiloud offers an awesome deal and you should consider giving their service a try. If you don't like the app, you can request a refund within 30 days of purchasing a license.
Have you tried other plugins to publish apps for your WordPress site? Let us know in the comments section below.