Starting your own website or a blog is an exciting adventure, one that can help you find your audience, establish your authority in a certain niche or help you get more clients and customers for your business.
However, once your site is up, your job is not done. In fact, it has just begun. There is a lot involved in running a successful site. On top of coming up with fresh content ideas on a regular basis, you also have to take care of the technical details, such as updating WordPress installation, themes, and plugins, making sure your site is backed up, runs fast, and more. For most site owners, all of these tasks can feel overwhelming.
In addition to making sure your site works as intended, you also need advice on growing and marketing your site. Sometimes, you might need to modify your theme's files to add a line of code or change something in your CSS file. If you are like most site owners, you simply don't have time to do the research on your own and want a straightforward answer. Wouldn't it be great if you could have a team of experts on your site who could help you out when you need it most?
Enter WP Live. WP Live is the newest service offered by MOJO Marketplace and in this post, we'll take a look at what all it offers, how it can help you, and discuss the benefits of the service.
What is WP Live?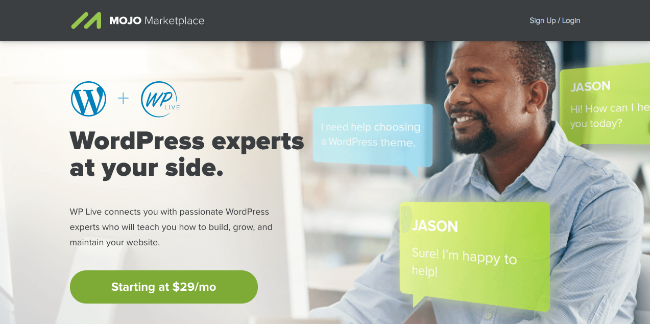 WP Live aims to connect you with WordPress experts who are there to teach you how to build, grow, and maintain your site. The service is available as a monthly subscription and is much easier on your pocket than hiring a WordPress developer every time you need advice and help.
WP Live offers several benefits for site owners which include WP Live Journey, access to support, and various member perks.
How to Get Started With WP Live
To get started with WP Live, you'll need to decide on the appropriate plan. During the signup process, you'll need to select the duration of your subscription. You can choose between a monthly, yearly, quarterly or bi-annually billing term.
You'll also need to provide your hosting information or use your existing MOJO Marketplace account. If your host isn't listed, you can enter your FTP details after your WP Live account has been created.
Once you've filled out all the details, you can enter your billing information and your account will be created.
Now that we've covered the signup process, let's go over each of the features below more in-depth.
WP Live Journey

After you have successfully signed up for the service, you can access the WP Live area inside of your account. The first thing you'll notice is the Journey section. The Journey is divided into 4 stages and is, in fact, a phased strategy for creating, growing, and maintaining your site.
While this may seem like a service geared for beginners, it's rather useful for existing website owners who would like to grow their audience and their website.
During the first phase, WP Live's experts will help you determine the goals for your website as well as help you configure and setup your site. They will provide you with advice on choosing the best theme as well recommend specific plugins that can help you grow your site and add the desired functionality. They will guide you through the process step by step and they can even install the chosen theme and plugins for you.
In the launch phase, WP Live agents can help you test the site as well as help you come up with a regular backup solution and suggestions on what you should improve before you announce that your website is live. You can ask them to help you test your forms to make sure they are working as well as to look over the images to ensure they are the correct size.
During the growth phase, you can reach out to the Live agents and get answers to questions related to SEO and marketing. They will help you make sure that the analytics tools have been installed properly, you're using the correct keywords for your business, and more.
Finally, during the maintenance phase, WP Live agents are there to make sure that your themes and plugins are up to date as well as help you resolve potential update conflicts. They will also perform continuous security checks and ensure search engines are indexing your site while also equipping you with the knowledge to perform these checks yourself.
Support

Aside from helping you set up your site the right way and providing you with a growth roadmap, WP Live offers support Monday through Friday from 8 AM to 5 PM MST. You can reach out to them and get assistance via Live Chat, schedule a phone call, open up a ticket, or simply give them a call.
Member Perks
WP Live subscription also comes with exclusive member perks. The available perks depend on the plan you choose and include benefits such as 50% off one purchase per month for as long as you remain a member, access to exclusive promotions for WP Live members only, a free theme, configured like the theme demo, and a theme training.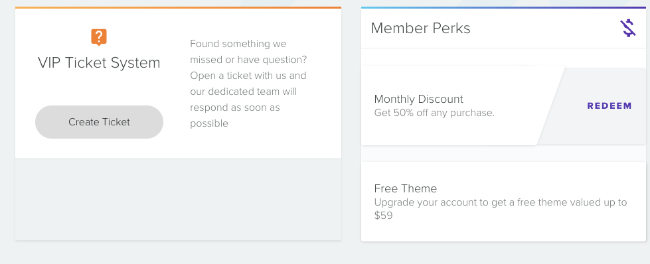 Pricing
WP Live is available in three plans: WP Live Lite, WP Live, and WP Live Pro. The plans and pricing to all types of WordPress website owners; from first-time bloggers to small business owners as well as established online businesses who need ongoing maintenance.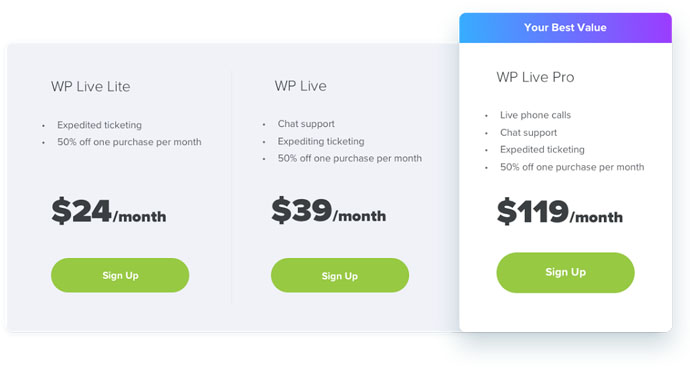 WP Live Lite is priced at $29/month and offers expedited ticketing and 50% off one purchase per month.
WP Live is priced at $49/month and includes benefits mentioned above as well as access to chat support.
Finally, WP Live Pro is priced at $149/month and adds live phone calls on top of features from the previous plan.
Benefits of WP Live
WP Live Pros has quite a few pros. The service is aimed at small business owners and entrepreneurs who need ongoing help with their site, without having to resort to hiring a WordPress developer.
The Live Agents are prompt to reply when you contact them and have helpful recommendations for managing your site on a day-to-day basis. Once you initiate the chat, you will not only get specific advice but they will also provide you with helpful links and resources that can help you learn even more about WordPress.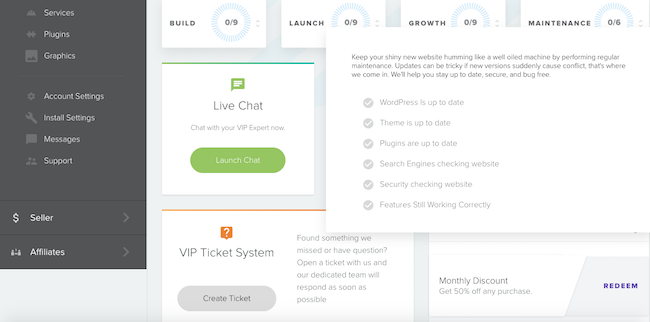 The ability to schedule a call when it's convenient for you eliminates the need to wait for help and allows you to get advice when you can focus on it instead of being interrupted during your working hours.
The fact that WP Live's experts are knowledgeable not only in showing you how to properly setup your site but can assist you with uploading content or making sure your SEO is on point, only makes the service more attractive.
Finally, the price is another factor to consider. Even their most expensive plan is more affordable than hiring a developer with the added bonus of not having to worry whether the developer can fit you in their schedule.
Are There Any Drawbacks?
The only potential drawback with WP Live is the fact that there is no free trial to see if the service is the right fit for you. However, the fact that the cheapest plan is available for $29/month and that you can cancel at any time, the lack of the free trial is not really an issue, given the amount of help and support the service provides.
Final Thoughts
WP Live is a great choice for any website owner, whether small business owner or blogger, who needs ongoing support when it comes to WordPress. The primary goal of the service is not only to fix minor issues but to empower you to confidently manage and run your site by showing you how to fix those issues so you can become an expert yourself.
Don't forget to use our exclusive coupon code "WPKUBE25" to get 25% off.
Thanks to their "Journey", WP Live is suitable for both new WordPress site owners as well as those who already have their website but are ready to start the next stage in their online journey and optimize their site for SEO. Keep in mind that the using Journey is not required and you can still access the support and get on the phone with WordPress experts when you need to.
All things considered, if you want an added peace of mind and helpful guidance as you grow your site, give WP Live a try.