Managing a WordPress site in a cloud server requires a certain degree of expertise and can be a tedious task. The most significant one being the unpredictable outcome when a particular plugin is activated or a new feature (like WordPress Multisite) is implemented.
You can run into a host of new problems. Sure, you can fix them with the help of customer support, forums, and question-answer communities like StackExchange. But at the end of the day, the process is cumbersome. It consumes your time and creates unnecessary headaches. As a result you miss out on the two most important aspects that do get you money – Quality Content and Targeted Promotion.
What if you had a middleman to manage your cloud server for you?

Enter Cloudways! With just a few steps, you can configure your WordPress installation in a cloud server and devote the rest of your time to your content.
A Brief look at Cloud Hosting
I've prepared this note for our readers who are new to the concept of cloud hosting. If you're already familiar with the concepts, I suggest you to move on to the review.
Cloud hosting is one of the most significant advancements in the web-hosting industry. In order to fully comprehend the main advantage of cloud hosting, we must recap our knowledge about the traditional hosting systems. Traditionally, we've known three major hosting forms:
Shared Hosting
In shared hosting, 'n' number of clients (or accounts) housed inside one server. The server's resources are shared by all the clients. Today's shared hosts have very strict acceptable usage policies which strives to guarantee equal resource distribution to all its clients. Shared hosting is still very popular mainly because of their simplicity and low price. Examples include BlueHost, HostGator, iPage, etc.
Problem: If one client overused the resources of the server, the others naturally suffered a performance setback.
Virtual Private Servers
Virtual Private Servers use an advanced virtualization technology that divide a server's resources into discrete logical units called virtual servers. Each of these virtual servers have a fixed amount of resources. Anyone using a virtual server cannot exceed the maximum allocated resources. This prevented resource overuse and gave rise to fair usage. VPS hosting is gradually losing popularity and is taken over by cloud hosting.
Dedicated Servers
Dedicated servers is like your very own powerful computer, located miles away from your home. The concept is simple – you own the whole server. You're free to use the server in any way your application demands. Dedicated servers are quite expensive and range from $100+/month.
Cloud Hosting:
Cloud hosting combines the "best of both worlds"
It is like a virtual server located in massive servers with very powerful resources. The main advantage of could servers is high availability through redundancy. This means that cloud servers rarely go down. Even if they do, they are restored in seconds. You don't realize this, nor is there any data loss.
How is this achieved?
The data that you have in your server is replicated onto other servers in the datacenter. Thus there exists multiple copies of the same data in multiple places. In case one server goes down, the data is served from the next available server. A complex switching algorithm is used quickly switch between servers.
How is Cloudways different?
Cloudways is like a "middleman" between you and your cloud server.
Cloudways supports three cloud hosting providers – Amazon Web Services (AWS) and Digital Ocean (DO) and Google Compute Engine (GCE). You can configure the specifications of your server directly from the Cloudways hosting panel. Cloudways panel provides you with the tools you need to setup, maintain, and update your WordPress installation in your cloud server
In essence, it helps your deploy, configure and manage multiple apps on multiple cloud servers, from a central dashboard. It secures your cloud server preventing it from malicious attempts. It takes regular backups of your cloud server and configures it with advanced caching tools to boost your website's speed.
3 Finely Tuned WordPress Images

Cloudways offers an amazing combination of three ready-made WordPress images, each of optimized for speed. Each of these images have the W3 Total Cache plugin installed and configured to best suite your server. They are –
Standard WordPress hosting with pre-configured caching tools
WordPress with WooCommerce hosting
WordPress Multisite
In our review, we've covered all three offerings.
Getting started with Cloudways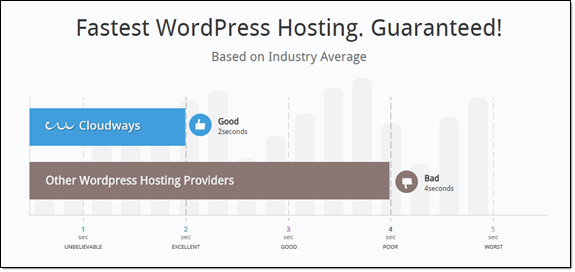 To conduct our review, we've used the 14 day the free trial. For our cloud server, we have chosen a Digital Ocean droplet with 5GB HDD and 512MB of RAM. Getting started with the Cloudways platform is cloud hosting is quite intuitive. Follow the steps carefully and you'll have a server setup in no time!
Setting up a Cloud Server
In case you're using the trail account, you need to carefully choose your cloud provider. This is because you cannot change the cloud provider in a trial account. If you're new to the cloud hosting scenario, I would suggest you to choose a DigtalOcean droplet since it is very simple for beginners. Follow the screenshots below to setup the server with WordPress:
Step 1 – Select DigitalOcean as your cloud provider

Step 2 – Select WordPress as your application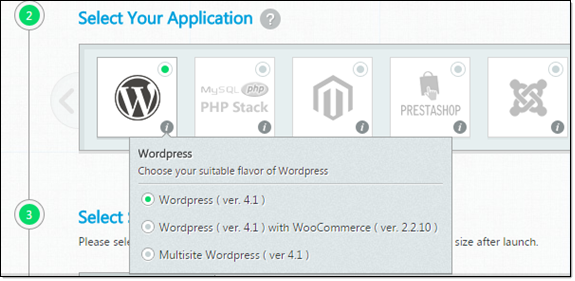 Step 3 – Drag the slider all the way to the left so select the smallest server. Alternately, you can select one depending on your traffic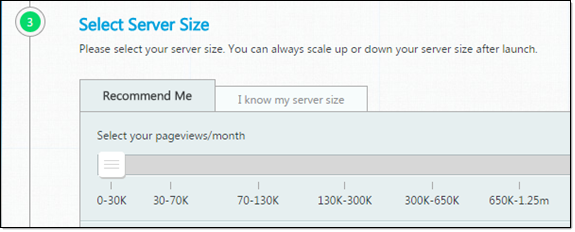 Step 4 – Check out Google Analytics to learn the geographical location of the majority of your visitors. Select a server location accordingly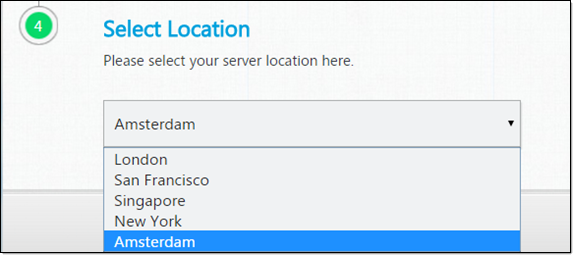 Step 5 – Select the Start 14 day Free Trail button to create your server

The server will now be setup and configure your DigitalOcean cloud server. This process usually takes around 4-5 minutes.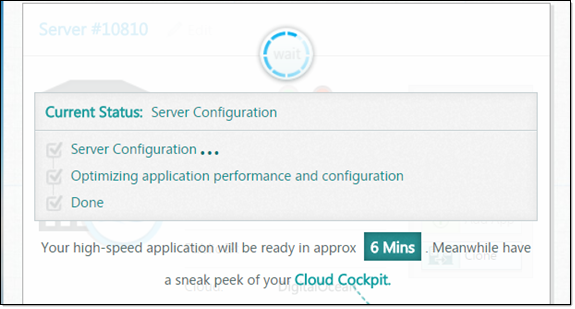 Once the server setup is complete, you are given the access details of the server.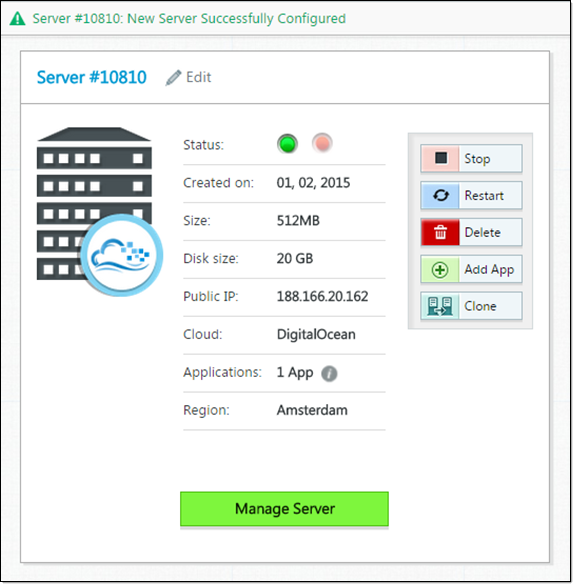 If you're using the trial account, you can see the amount of time remaining.

Fantastic Feature Set
Cloudways provides us with a fantastic feature set, each of which I've described below.
#1 Security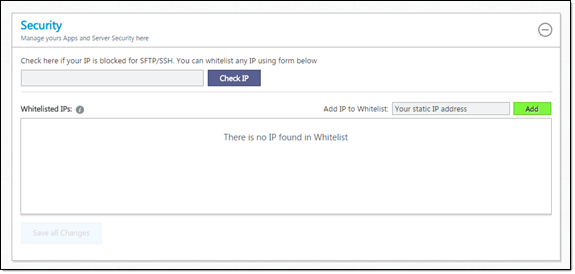 Allows you to add a list of whitelist IP Addresses so that requests from only these IPs will be allowed entry to the server. If you have a broadband connection, with a dynamic IP, you shouldn't use this feature.
#2 Backup

Cloudways helps you schedule automated backups of your cloud server's images
#3 Vertical Scaling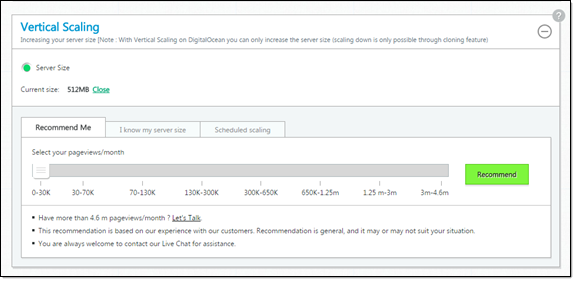 With vertical scaling, you can amplify the resources allocated to your server in case you're expecting a traffic surge
#4 Server Monitoring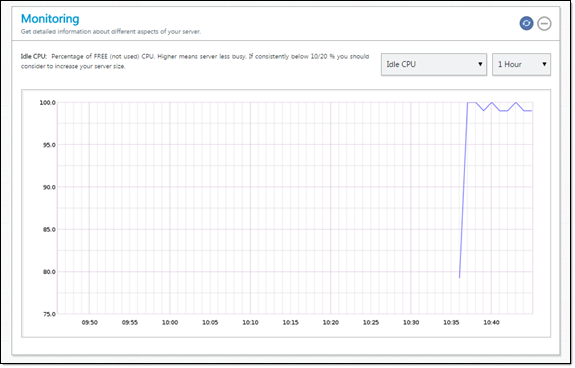 This feature helps you closely monitor the load in your cloud server. It displays the percentage of CPU that is currently free or unoccupied. If you find that the number is always below 15%, you should consider upgrading your server.
#5 Domain Management Tools
This set of tools help you map your domain to your cloud server.
#6 Migrator Tools

The WordPress Migrator plugin helps you migrate the setting from your previous WordPress site to the freshly installed WordPress site in your cloud server. It is worthwhile to mention that Cloudways also offers one free migration of your old site to your new server.
#7 Other Tools

Cloudways also provides a host of other tools like Cron Jobs manager, Git integration, SSL Certificate management and Backup restoration in your cloud server
#8 Add-ons

Cloudways also offers a list of premium add-ons in their cloud platform. Examples include:
Application specific add-ons such as Application Migration, Application Monitoring and Application Load Test
Email providers like Gmail SMTP, Rackspace Email Addon
Transactional email provider services like SendGrid SMTP Addon
DNSMadeEAsy Add-on for easy DNS management
#9 Caching Services

Perhaps the most important of all features, these pre-configured caching services in Cloudways give its WordPress sites the unique advantage.
Standard WordPress Hosting

We chose the basic WordPress setup when we initially setup our server. The next screenshot shows the access credentials to our WordPress site. You'll notice that Cloudways' internal subdomains have been used. You can easily map your domain to your installation with the help of the Domain Management Tool.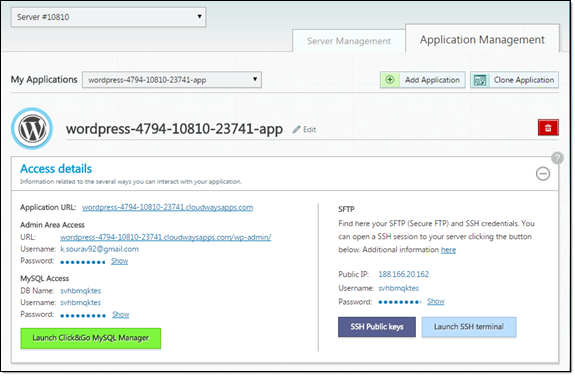 The next screenshot depicts the WordPress dashboard.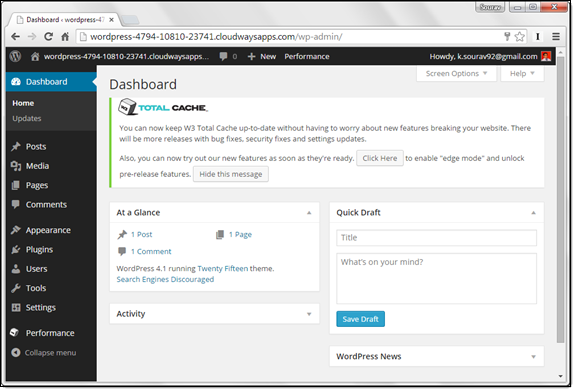 Themes and Plugins Installed:
W3TC Plugin, configured in Community mode
Default Twenty Fifteen Theme
The W3 Total Cache plugin did not have the following two caching elements enabled – Minify and Database Cache. We recommend you to enable them in your server. This final screenshot depicts the frontend.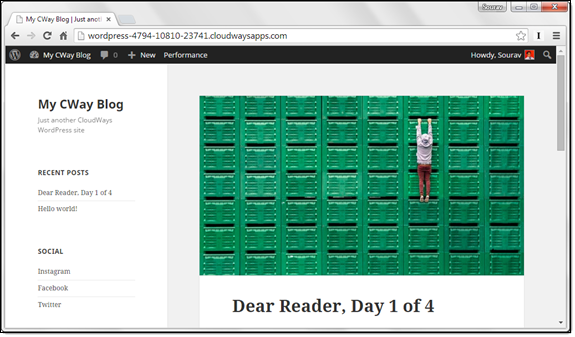 Performance:
As usual we used Pindgom and gtMetrix to benchmark the site's performance. We found the load times to be incredibly fast. However, it is important to note that the WordPress site is practically empty with just one post.
Pingdom Performance:
Load Time: 199 milliseconds
Preference Grade: 76/100
gtMetrix Performance:
Page Speed Grade: 90%
YSlow! Grade: 88%
WordPress + WooCommerce Hosting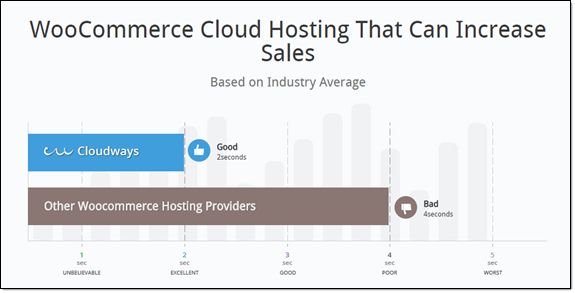 It is worthwhile to note that Cloudways is the first ever hosting provider of Varnish powered WooCommerce hosting as standalone app. This gives the user (us) a major advantage in terms of speed, and keeps us ahead of our competitors. We tried the WordPress+WooCommerce 1-Click installer in the same server and were impressed by the results. Following is a screenshot of the access details: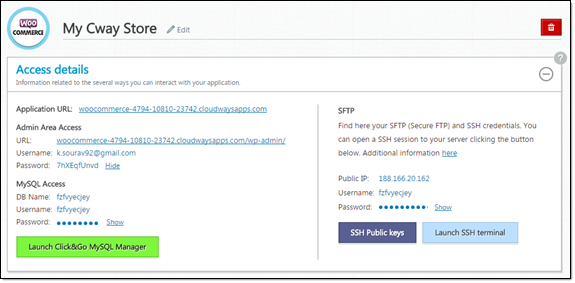 Themes and Plugins Installed:
WooCommerce Plugin
W3TC Plugin, configured in Community mode
Storefront Theme
In order to make this a real-world test, we imported the dummy data from the WooCommerce plugin to our site. This is what our frontend looked like: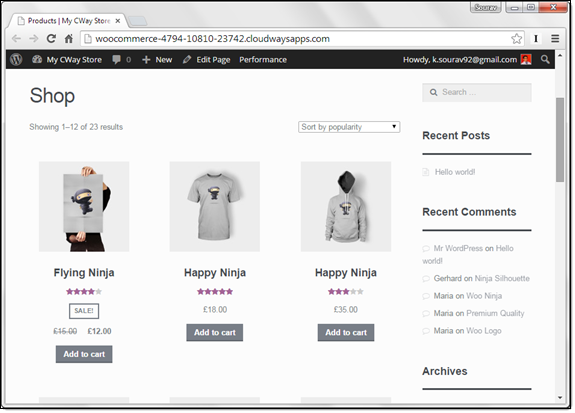 Performance:
With the added weight of the store, the overall website performance was quite good.
Pingdom Performance:
Load Time:2 seconds
Preference Grade: 88/100
gtMetrix Performance:
Page Speed Grade: 97%
YSlow! Grade: 84%
WordPress Multisite
Finally, we tried the WordPress Multisite installer. This is screenshot of the access credentials panel. You'll note that it is similar to the last two ones.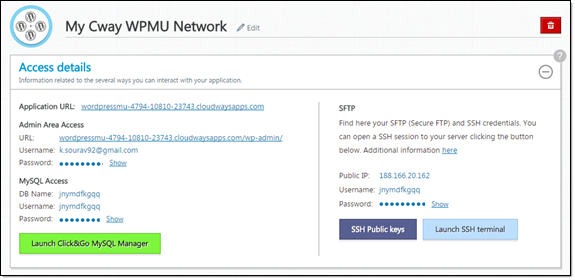 We now try to enable Network Mode in our WordPress Multisite. Before we beign, you'll have to deactivate all plugins, including W3 Total Cache before activating Network Mode.
Step 1 – Go to WP Dashboard > Settings > Network Mode. Enter the details and click Install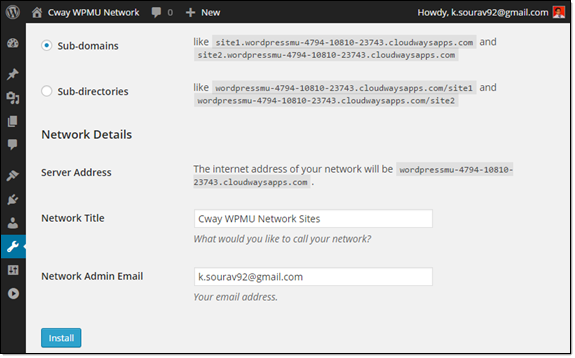 In all probability, you'll be greeted with the following warning message: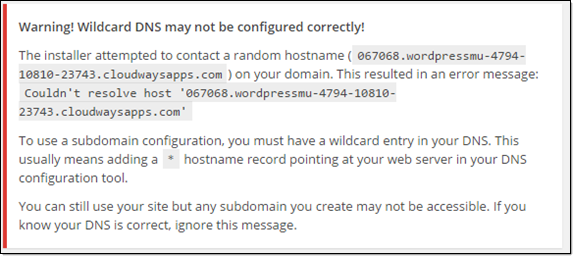 Step 2 – No need to panic. Simply log in to your FTP account (detail available in the access credentials screenshot) and edit the wp-config.php and .htaccess files.

Once done, the Network Mode will be successfully installed.
Step 3 – Add any number of sites you want from the panel.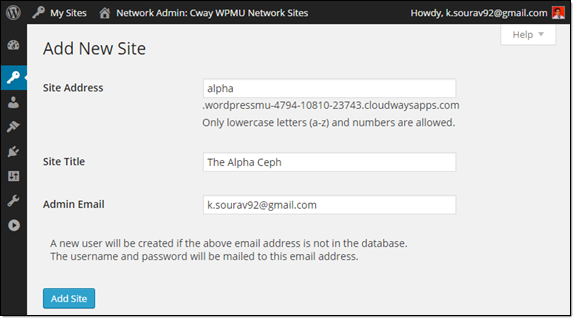 Once done, you'll find that the newly created site is available in the My Sites panel.
We haven't performed any performance benchmarks on the multisite network since the performance would be similar to the first test.
Pricing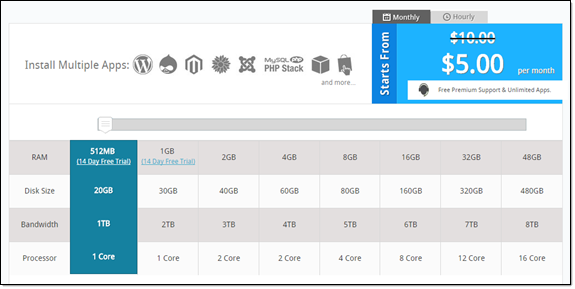 Cloudways offers a 14 day trial window on 2 of their Digital Ocean droplets and a 3 day trial on the AWS servers. Plans start from $15/mo and employ a highly scalable pay-as-you-go model, which ultimately depends on the amount of resources your site requires.
Support:
Quintessential to any business, Cloudways offers 24/7 live chat support for any billing, sales or technical queries.
3 Cloud Providers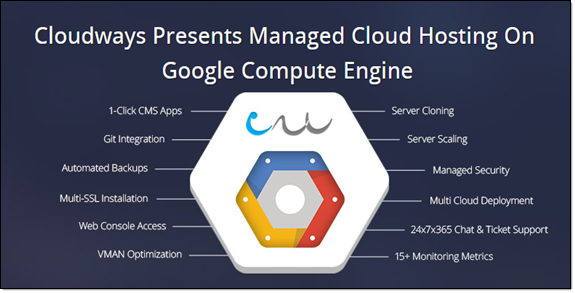 Cloudways took their offering to the next level with their recent addition of Google Compute Engine (GCE). This caught the attention of industry leaders like Forbes Magazine and VentureBeat. Currently they support three major cloud providers viz., Amazon Web Services, DigitalOcean, and Google Compute Engine.
It would be interesting to see the next cloud provider that's going to be integrated at Cloudways.
Summing it up
Cloudways Managed Cloud hosting platform is the perfect balance between retaining control over your cloud server with the added supervision of an advanced and automated administration panel.
However, as I've mentioned this earlier, handling a cloud server does require a certain degree of expertise. If you want to completely avoid the technical details, we would suggest managed WordPress hosting providers like WPEngine or Flywheel.
What are your thoughts on Cloudways' unique solution? Would you prefer to have complete control over your cloud server, or delegate some of it to take the pressure off you? Also, would you prefer AWS or DO? Let us know in the comments below!