Websites pushing curated content have become quite the internet sensation in recent times. From huge websites such as BuzzFeed and Product Hunt to instant hits such as ViralNova and ViralForest among others, webpreneurs are profiting left, right and center using a business model that's everything but conventional. What I mean is most content curation sites don't create products or even their own original content.
At the same time, these brilliant sites don't just fall from heaven like manna; the owners have/had to invest time, skills and big money to get where they are today.  Yet, there are multiple ways of killing a rat as my english teacher used to quip every so often.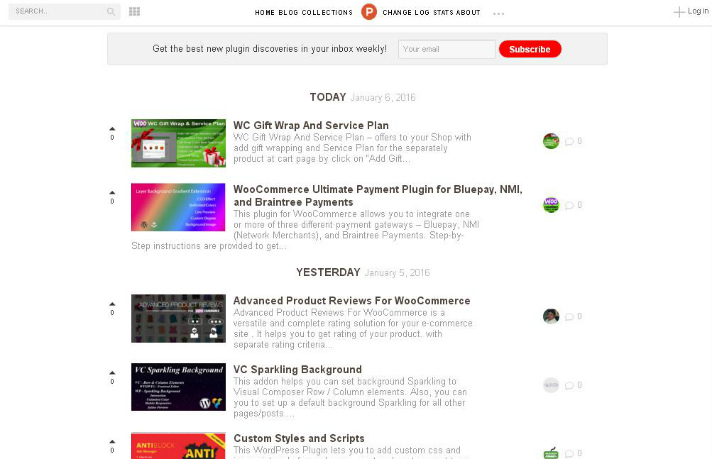 You needn't struggle; you can create your own Product Hunt-style site from the ground up using the highly rated Plugin Hunt theme and of course, our favorite CMS, good ole WordPress. The obvious benefits? You save time, money and build a one of a kind site that will make you money for years to come.
Don't worry if you've never heard of Plugin Hunt theme before. Similarly, don't sweat one bead if you've never built a site using WordPress. In this post, we strip the Plugin Hunt theme to its bare bones, showing you its benign beauty and sheer power, so you can build the content curation site of your dreams. In other words, we are helping you to build a site similar to producthunt.com cheaply and in no time.
Without further ado, let's get this over and done with.
What's Plugin Hunt Theme?
Obviously, you can already tell Plugin Hunt is a WordPress theme. More precisely, it's a premium content curation WordPress theme built by Mike Scott of Epic Plugins. Sorry folks; we looked hard but could not find a free version.
This theme gives you all the features and power you need to build a content curation site in a matter of minutes, but we've sort of said that already.  With your site in place though, you can then post your own content or "harvest" content from sites such as YouTube, Instagram, Tumblr, Vimeo, and Twitter among others.
On top of that, your users can submit content from the front end easily. All the content you and/or your users post to your site is then grouped by the day of submission. Chronological ordering. How cool? That's not the end of it; in the features section, we will explore all the exciting options that make Plugin Hunt stand out from the crowd.
In short, Plugin Hunt is:
A premium content curation WordPress theme that helps you to create a website similar to Product Hunt
NOT a WordPress plugin
NOT a WordPress theme framework
Now that Plugin Hunt doesn't sound like some mysterious something (hic) from Lord Of The Rings or Star Wars, let's look at the features that will help you to convert a mere WordPress blog into a powerful site that accepts posts, links as well as embeddable content from over 30 websites.
Plugin Hunt WordPress Theme Features
If you're looking to build your own Product Hunt-themed website, you will definitely love this section. The developers behind Product Hunt built the entire site on Ruby on Rails in order to accommodate their diverse needs. For the perfect beginner, Ruby on Rails doesn't sound like something you'd want to touch with a 10-foot pole.
Lucky for us, we don't need a skilled Ruby developer or a budget of biblical proportions; Plugin Hunt brings you all the features you need coupled with the extensibility and versatility of WordPress. As such, you get much more power for a tiny investment in terms of costs and effort. Here's the juice.
Front End Content Curation
Building a website using WordPress is easy peasy work. Just choose a domain name, the best WordPress hosting, a great theme (Plugin Hunt in our case), and your work is done. Beginner and experienced WordPress lovers build websites all the damn time.
Creating content, on the other hand, is quite the uphill task. You might launch a blog, post on it a few times before finally setting down the tools and disappearing into oblivion. Well, don't beat yourself up, creating great content on the regular is quite a challenge even for the best of us.
Which is why you'll love Plugin Hunt's front end content curation feature. This nifty tool eliminates the need to create content as it lets users submit posts without ever logging into the back end. By all means, each user must register and login to your site before submitting any content.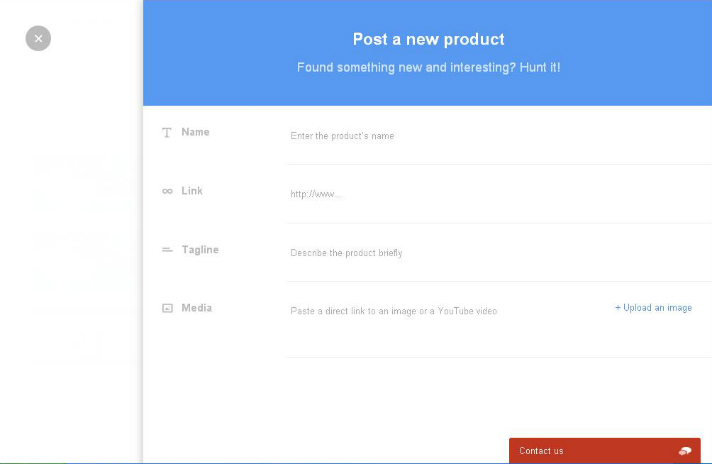 But…how do you moderate the content your users submit? Does every submission show up on your site? How do you control what users publish? Well, you don't. Every submission made is queued pending review. I mean, each submission is typically a blog post. Every post a user submits is held as a pending items until you approve it.
You can further edit every submission without breaking a sweat. You can add tags, featured image, categories etc just like you would a typical blog post.
Side Note: Plugin Hunt allows users to create an account or sign in normally or using Facebook or Twitter. This means in just a click, the user could start posting away on your site.
Put Freshest Content First
Content is king, right? Fresh, relevant, and valuable content that is. On the other hand, design is its throne. When you combine great content with awesome design, you get a winning formula.
In our case, this winning formula is the very subject of this review; Plugin Hunt.
The theme utilizes design architecture that ensures your best and hottest content comes at the top of the list/grid. Can you think of a better way of promoting new content to your web visitors? The rest of your content is automatically ordered on a day to day basis.
When the reader visits any of the posts, the content loads in a beautiful "pop out panel" that carries the body of the post, media, comments, and a couple of widgets including social sharing, similar products and upvotes:
Organize Content in Collections
The internet is a fast-paced environment. In a short span of time, creators all over the globe produce a massive volume of content. For this very reason, you need a way of organizing and presenting content on your site. Enters the Collections tool and your day is saved.
With this feature, you/your users can click on the Save icon (see image above), create a collection and add new content to the collection. This makes it easy for the readers to remember and view posts/products later on. That's right, you have to take care of returning visitors too because, well, that's where the big money is.
Additionally, you can feature your best collections on a separate hub, giving you new ways of promoting your content.
Note: Collections are not equivalent to the categories you create for your posts.
Amazing Profile Pages
Beautiful content and design will pull in the readers, in turn boosting engagement. But how do you get users to go a mile further and connect more intimately? Simple; you offer them the chance to form a community around your brand.
With the amazing profiles, your users can track all their activity on your site from a central point. You can view content you submit, upvote and collect. Additionally, you can see who follows you and follow other users all from a central page.
Plugin Hunt's amazing profile pages are WordPress author pages on class 1 steroids.
Two Layout Styles
Don't we all love WordPress themes that ship with multiple layouts? Oh yeah, we do since this way you get more design freedom. Plugin Hunt spots two layouts namely list view and grid view. According to the developer, Mike, "…grid is perfect layout for images driven content but you can choose whichever you like."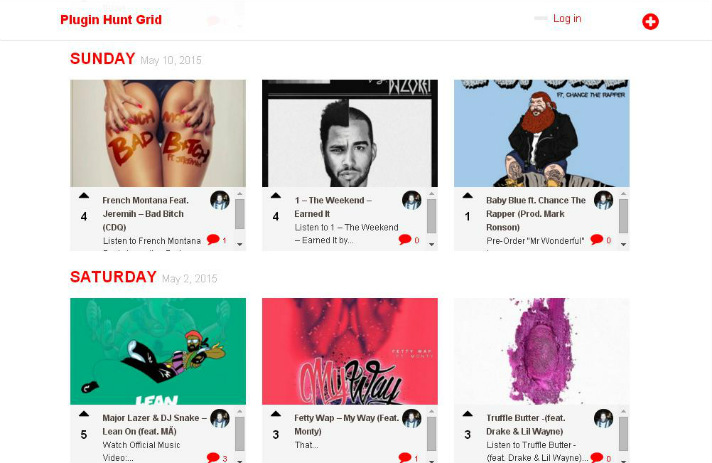 Further, users can easily flick between the two views from the front end using a button placed at the top of the site, just like you would do on Instagram. As we hinted earlier, Plugin Hunt features the Flash Post View that allows you to load content in the "flash view" or "pop out panel". This keeps the visitors on your site longer seeing they can browse your content without ever leaving the home page. That's UX genius at work right there.
Oh by the way, Plugin Hunt is 100% responsive which means your site will look incredible across multiple devices.
Intuitive Admin Interface
Plugin Hunt is quite easy to setup and use. The admin controls are easy to find as well. After installing the theme and the required plugins, it adds a number of items to the WordPress admin menu. We have the Waiting List where you can view who wants to join your community.
Then there's the Chat Console that lets user to contact you easily. You can also get the Blog and Collections where you see the posts and your collections of content in that order. Towards the bottom, you should spot the WPeddit menu item, which is responsible for the upvoting functionality of Plugin Hunt.
Awesome Support + Extensive Documentation
Setting up your content curation site using Plugin Hunt is pretty straightforward we don't expect you to run into any trouble. But if you get stuck, you can read the documentation that is bundled with the theme.
If that doesn't help, you can contact the support team or check out Plugin Hunt forum. You can even contact Epic Plugins, and hire them on a freelance basis if you need feature additions or modifications but don't want to wait for future updates.
And even more features…
We are just scratching the tip of the iceberg here, Plugin Hunt comes with many other nifty features such as an invite system, custom redirection, security and themed profiles among others. All these features come in handy when building your curation site.
Moving on, let's talk dollars.
Plugin Hunt Pricing
How much can you expect to shell out for a piece of the Plugin Hunt action? Mike & Co. offer you four price plans each tailor made for varying purposes. You have the Personal 1-site licence plan that goes for $79 bucks, the $129 Plus plan for three websites, the Professional package at $199 for unlimited site licences, and the Ultimate plan at $499 as shown in the screenshot below: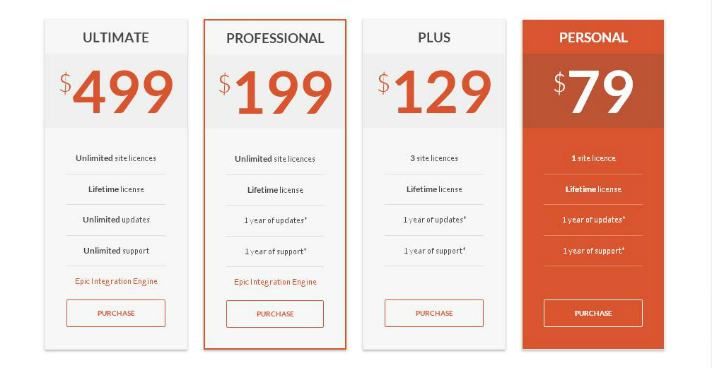 Please choose wisely and go with a plan that will work for you. You have nothing to lose anyways, the Epic Plugins team stand 100% behind their products and offer you a 30-day money-back guarantee if you aren't satisfied.
How to Install Plugin Hunt
If you ever installed a WordPress theme before, this part should be as easy as pie. If you've never installed a WordPress theme in the past, worry not, it's easy to learn. In fact, we will install Plugin Hunt just to show you the ropes. Deal? Cool.
Download the Plugin Hunt theme from Epic Plugins
Login to your WordPress site and navigate to Appearance -> Themes
At the top, find and click the Add New button
On the next screen, Add Themes, click the Upload Theme button found that the top
Choose your pluginhunt.zip archive and hit the Install Now button
Activate the theme
Install and activate all the required plugins as directed
Modify Plugin Hunt by navigating to  Appearance – Customize. You can change everything from layout, colors, menus, blog settings, logo, social settings and site identity among others.
You're good to rock the party
Satisfied Customers
Real people all over the place are raving about Plugin Hunt. But what else would you expect with all the sweet features and great support? Well, you can expect more testimonials such as:
Great Theme. Great Team. I now have a great website. Thanks for creating this and keeping it up to date with amazing features. The theme is SERIOUSLY easy to setup and a joy to create content with. – @flashmurphy

The Plugin Hunt Theme for WordPress is one of the most amazing applications of WordPress coding I've seen. It makes creating a content submission website a piece of cake! – @commadelimited

My website looks amazing now thanks to this fantastic theme. With great new features all the time. I'm not looking back. I LOVE IT. – @victorerixon
Final Words
What are you waiting for? Do you want to write your own success story using Plugin Hunt? If that's a yes, the amazing power of Product Hunt is way closer than you think. It's in a box. It is Plugin Hunt. How about we go hunting? What say ye?