The sidebar is one of the most under-appreciated things on the WordPress site of many beginners. They might even still have the meta widget and the standard blogroll.
Something very simple, that can be very useful, is adding a form of navigation to your sidebar. Just a little something to help your visitors find their way to the content they really want to read.
While adding a few links to the content in your sidebar in widgets is nothing new, it's still a good way to get first time or returning visitors to check out more of your content.
Most people just opt for a standard popular or most recent post plugin that lets them showcase their most recent, or most viewed or commented on blog posts.
But what might be a better choice, is using a tabbed widget where you can for example, quickly help users find content about topics they are most interested in, by letting them browse posts based on tabs.
In this post, we compare 7 different tabbed widget plugins and share our choice.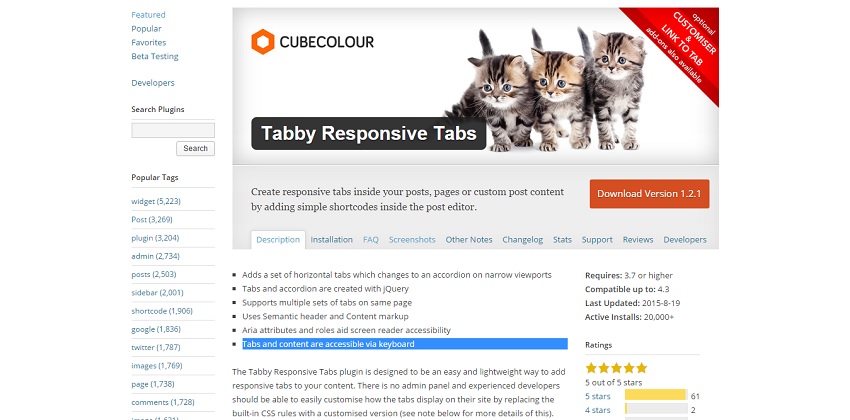 Tabby Responsive Tabs is a plugin that helps you add tabs anywhere you want on your site using shortcode. (Although you will have to add a single line of code to a file to be able to add the tabs to your sidebar.) The tabs automatically turn into an accordion when the browser width gets too low to show the whole list of tabs.
While the standard plugin doesn't have too many customization options, you could install an add-on to the plugin called Tabby Responsive Tabs Customizer that will enable extra settings for your tabs.

While the feature list might not seem too extensive, one thing that Tabby Responsive Tabs has, is an active developer that actively keeps up do date with WordPress updates, and has actually solved 27/27 of the last support threads in the forum. And while this might be unnecessary when things are going well, it is absolutely invaluable if you run into bugs or incompatibilities in the future.
While the screenshot might look underwhelming compared to some of the other plugins, that's just because you need to fill it with your own content. I for one appreciate the minimal design, and think that it will work with most websites.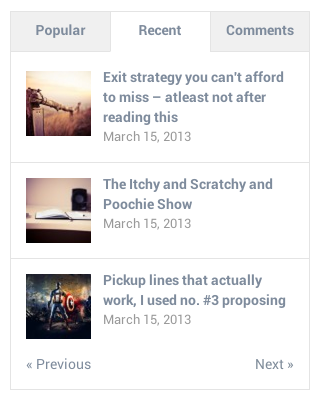 WP Tap Widget does a simple thing very well, it shows the most popular/recent and commented on posts in different tabs. This is the veteran and the most popular option by far. The design is clean and straight forward, and the user interface is simple and easy to understand.
While there isn't as much room for customization as with other plugins, you have control over most of the relevant areas of the widget (title length, thumbnails, posts per tab, excerpts).
Where this plugin really stands out, is it's sleek transition animations that happen when you change from tab to tab. This little addition to the design just makes it look and feel a lot more professional.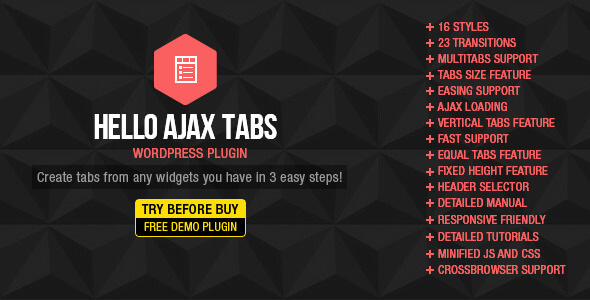 Hello Ajax Tabs is another great plugin for adding tabbed widget in sidebar. It comes with 16 predefined styles and 23 animation effects, which can be very useful if you want to highlight a particular widget. The design is clean and simple and the options are simple. The features are not excessive, and you can choose from 16 different themes to match the design of your site.
While the plugin doesn't have a lot of active installs, it's definitely an up-and-comer in this space if the developer keeps up the good work.


Instead of installing tabs in your entire sidebar, this is another plugin that just add tabs to your navigation. This is a recent posts widget, with a twist. You guessed it, it has tabs. A new kid on the block, with a pretty underwhelming amount of active installs, but this plugin sports some very impressive features.
For example, you can create different tabs featuring recent content in different categories. This makes it incredibly easy for readers who prefer specific types of content on your site to find the content fix that they're after.
You can also have multiple different instances of the widget in the same sidebar, making it possible to split up the categories between two widgets if your site covers a lot of different topics.
You can also choose whether or not you want to display thumbnails or snippets from the posts under the title.
The drawback here, is the very simplistic and slightly underwhelming design, with no included design options. (Though definitely a good match for minimalist websites.)
If you know some basic CSS you could always style it too match your theme better if necessary.

SB popular posts tabbet widget is another plugin that shines mostly in the design area. It's features are limited, and though it might seem like it's offering category based browsing, it only shows links to different categories when you click over to the categories tabs, although this might be the right choice of navigation if you have a bigger website.
The design is clean and looks professional. The user interface is very, very straight forward given it's limited options, making it incredibly easy to navigate, but at the same time it feels a little too empty. Of course if you don't need to change anything the amount of options could be zero and you wouldn't care. The quite neutral design means it would fit also fit well in the sidebar of many WordPress sites.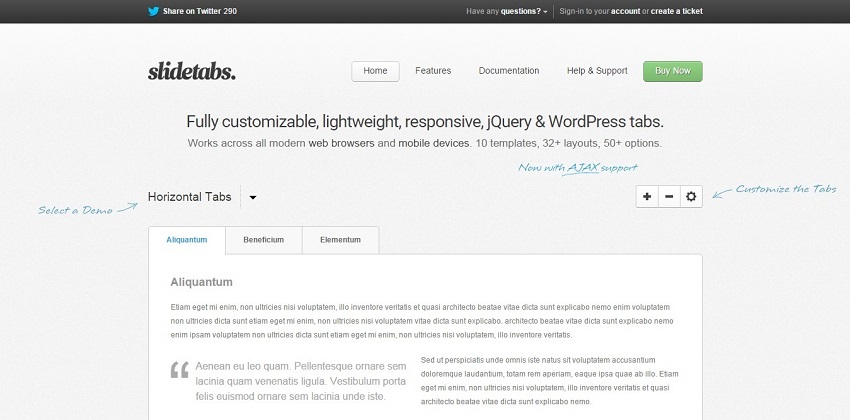 Slide Tabs lets you easily add tabs anywhere you want on your WordPress site. You could  It is the only premium plugin included in this list, because of it's great design and exhaustive list of features.
They include: different designs, vertical, horizontal transition animations and nested tabs plus 7 more designs and 32 templates on top of that. Your tabs can show any kind of content, including images, audio, and Ajax. There's a visual editor, and you can even customize the templates to make sure they look just right for your site. Several different animated transitions to choose from, and much more.
The user interface is clean and easy to navigate. And while the options might seem overwhelming at first, they are organized in a way that makes customization easy. But in the end the design is the biggest asset of this plugin. So if you want to really class up your navigation by using very good looking tabs, and don't mind paying a small fee to get them, Slide Tabs is the plugin for you.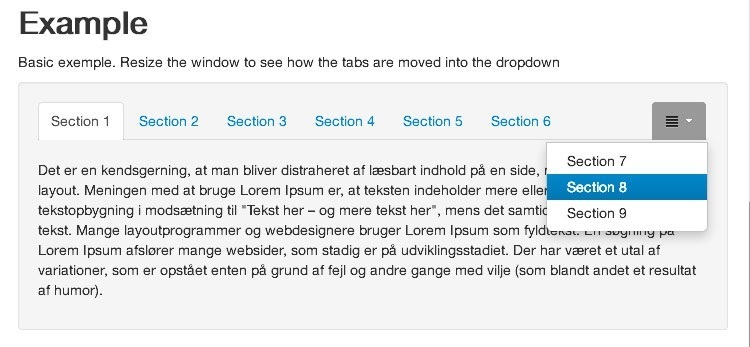 Easy Responsive Tabs is another plugins that focuses on helping you add tabs to your posts and pages, and it really lives up to it's name as far as usability is concerned. It inserts buttons into your post editor, which makes inserting tabs into a new post or page as easy as clicking a button.
The design is simple but sleek, as you can see above, and it's not weighed down by a lot of different functionality, making it a good choice for  for those that don't have a use for it in the first place. And for the CSS literate, you can style the tabs with CSS so they match the layout of your site.
If you want to add tabs to your site and that's all you want and need, Easy Responsive tabs are a great choice.
Conclusion and Our Choice
While all of these plugins are viable choices for anyone looking to put their recent content on display for all visitors to see, the best fit depends on your website.
The plugin we would recommend for most people is the Tabby Responsive Tabs plugin. Simply because what it lacks in design, and functionality it makes up for in ease of use, and the promise of actual hands-on-support from an active developer if anything were to go wrong.
Many tab widget plugins seem to have a focus on functionality, which align with the priorities of many website owners, but for us the simple design and ease of use of Tabby's plugin just goes the extra mile.
The fact that you're able to easily create a system for efficient navigation of recent posts for even the pickiest of readers, is what made this our choice.
But our priorities and necessities might differ. If you don't know any CSS and your biggest priority is the design, you should probably pick one of the other plugins, even if that means sacrifizing some flexibility.
Have you ever used a tabbed widget plugin before? Did you have any problems or would you recommend it?