Do you really need managed WordPress hosting?
Let's face it:
Running a WordPress blog or site is no easy game. You have to take care of all the content, marketing, site design, social media, and so forth. But before you do that, you have to make sure your WordPress site is running smoothly and your current WordPress hosting provider isn't giving you any headaches or issues.
Today, most of the web hosting companies out there focus on providing affordable solutions. It costs you less than $5 to get an account with a shared hosting provider. And that's a great solution if you're just getting started. But for a medium-sized or business site going for high-quality WordPress hosting is a better alternative.
By quality hosting, I mean managed WordPress hosting, which is specifically created for WordPress users. Managed WordPress hosting can help you get a faster-loading site and it also takes a load off your shoulders by handling a lot of the basic maintenance and performance optimization tasks for you.
Yes – it costs more than cheap shared hosting, but that extra expense is worth it for most WordPress users because you get a lot more value.
In this article, I am going to provide some basic information on the eight most trusted and best WordPress managed hosting services, so you can make an educated decision about what's best for you and your business.
In a Hurry? Our Top Two Picks for Managed WordPress Hosting
To get a detailed look at all eight hosts, you should keep reading the full article. But if you're in a hurry, here are the top three hosting providers I recommend (& why):
🥇 WP Engine — WP Engine is for those who want a bit of everything. They are perfect is for you if want to scale without compromising the quality of support or losing developer-friendly tools, all while not spending a fortune. Don't forget to use our special WP Engine coupon "wpkube20" to get 20% off. From $30 per month for one site.
🥈 Flywheel — Flywheel is the kind of host you wouldn't want to change. They are perfect for bloggers, agencies, and small businesses. Flywheel has a ton of unique features such as billing transfer, demo site, and blueprint (a tool that basically allows you to create sites with default theme & plugin configurations of your choice). WPKube is also hosted on Flywheel. From $15 per month for one site.
Want to see some other options? Keep reading to learn more about the benefits of managed WordPress hosting and get more detail on our eight recommended hosts…
What is Managed WordPress Hosting?
Managed WordPress hosting is specifically designed and optimized for WordPress websites. In other words, it takes care of all the technical aspects of WordPress for you, allowing you to focus on creating and sharing great content. You don't have to worry about site updates, site speed, up-time, or anything like that.
Many hosting companies use their own CDN and server-level caching, so you don't have to rely on cache plugins such as WP Rocket, W3 Total Cache, or WP Super Cache. This type of hosting is perfect for those who don't have any technical skills or time to manage a server.
The Pros of Managed Hosting for WordPress
Security – The main aim of premium managed hosting is to provide bulletproof security. They have a very tight layer of security on their servers, so you don't have to worry about hacking, DDoS attacks, malware, or other security issues.
Expert Support – It wouldn't be fair to say that shared hosting providers have poor support. In fact, most companies have excellent staff who are well-trained and possess a good knowledge of WordPress. But they can't assist you with things like performance, site functionality, WordPress errors, etc. With managed hosting support, you will get expert WordPress assistance, always.
Speed – Speed plays a significant role in site rankings and there a lot of things you can do to improve it like implementing a caching plugin, using a content delivery network such as StackPath, and reducing image sizes.
Most of the managed hosting companies out there enable content caching at the server level, so you don't have to rely on any external caching plugins.
If you're going with a normal plan, then you might need to use a content delivery network to improve site speed.
Daily Backups – They take a daily backup of your site including content, data, themes, and plugins, which you can then download from the dashboard. This can save you some money, especially if you are using a paid backup or maintenance service such as VaultPress or BlogVault.
They also create a restore point. In case something goes wrong, you can easily restore your site to a previously working version with just one click.
Automatic Updates – They will automatically update your WordPress Core files to the latest version, as soon as an update is released. You don't have to pay someone extra to update your site anymore—your managed hosting provider does it for you.
No Downtime – No matter how much traffic your site gets, it will never go down. That means, if you hit the homepage of Hacker News or Reddit, your site will still be up and running without any issues.
The Cons of Managed Hosting for WordPress
Expensive – There is a huge difference in the price of managed and shared hosting. An average shared hosting plan will cost you a mere $3.95 while a managed hosting plan will set you back $30 on average, though we'll share some budget options below.
Limitations – Basically, any plugin that consumes heavy resources isn't allowed. They also do not allow any cache plugins including W3 Total Cache and WP Super Cache. Here's the full list of disallowed plugins shared by most managed hosts.
No cPanel – If you are moving from shared hosting to Managed hosting, then you might find it difficult as they have a very different kind of user portal.
Best Managed WordPress Hosting Comparison
Here are the eight managed WordPress hosts that we'll take a look at: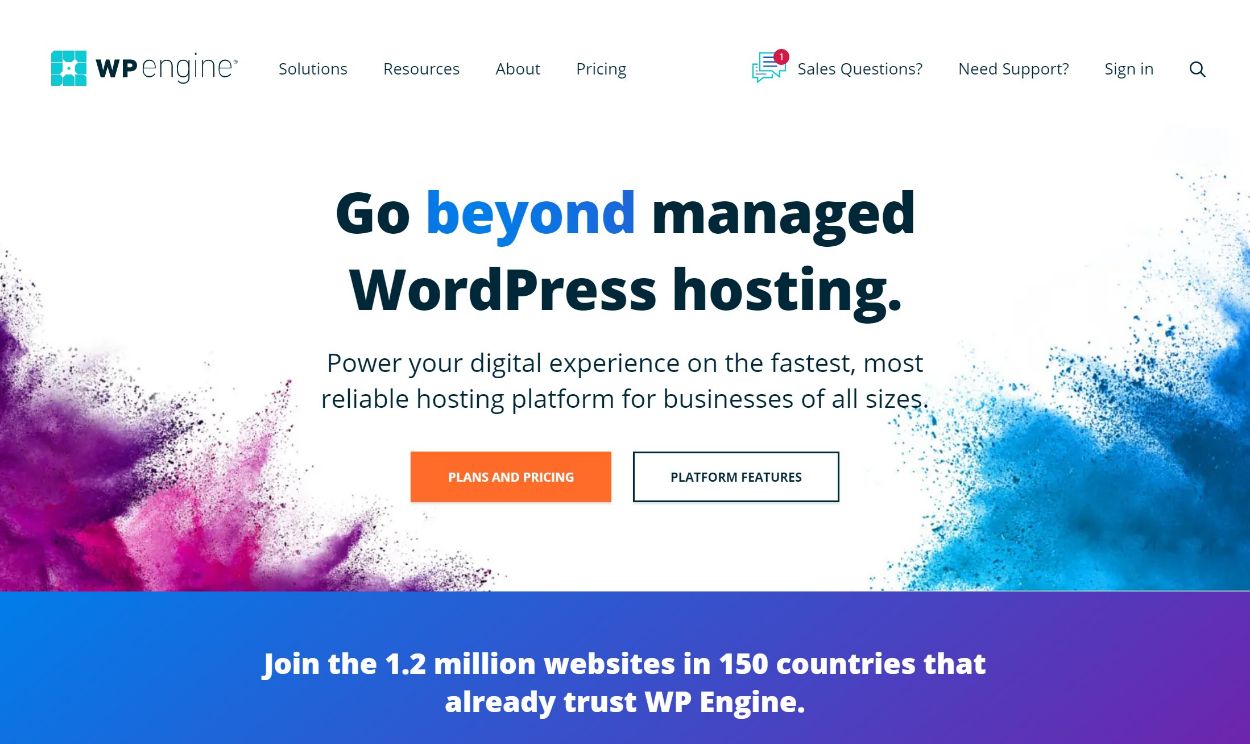 WP Engine hosting is one of the best managed options available out there. The price is a little bit higher compared to other managed hosting providers but that's because the company emphasizes providing great support, fast loading times, and more secure servers. It has a team of WordPress experts who will keep your site fast and secure and it's one of the most popular hosting companies. I mean, brands like Pandora, Reuters, and Yelp use it!
It also has a one-click backup and restore process included with all hosting plans. WP Engine will scan and monitor for hacking attempts and if your site does get hacked, the company will fix it for free.
⚙️ Key Features:
Fast performance – WP Engine gives you cloud infrastructure from Google Cloud, along with its own custom caching solutions and a built-in CDN.
Custom dashboard – WP Engine's custom hosting dashboard makes it easy to manage your site.
Staging area – It creates a copy of your live site, so you can test new themes and plugins before applying changes to your live site.
Automatic backups – WP Engine backs up your site every day. In case anything goes wrong with your site, theme, or plugins, you can use the one-click restore point to set things back to how they were when everything was working.
No need for any cache plugins – WP Engine's custom-built EverCache solution optimizes your site with Varnish and Memcached.
Malware scans — WP Engine runs regular malware scans and if your site gets hacked, the company will fix it for free.
Pricing: WP Engine's plans start at $25 per month (annual billing) or $30 per month (monthly billing) for one site, 25,000 visits, and 10 GB of storage. Prices go up from there and there are also enterprise plans.
👍 Pros:
Excellent performance with very fast load times even under scale.
Built-in caching and CDN.
Free access to Genesis Framework and StudioPress child themes (we use Genesis at WPKube).
High-quality support via live chat or phone.
👉 Read our full WP Engine review
💰 Use our WP Engine coupon "wpkube20" for 20% off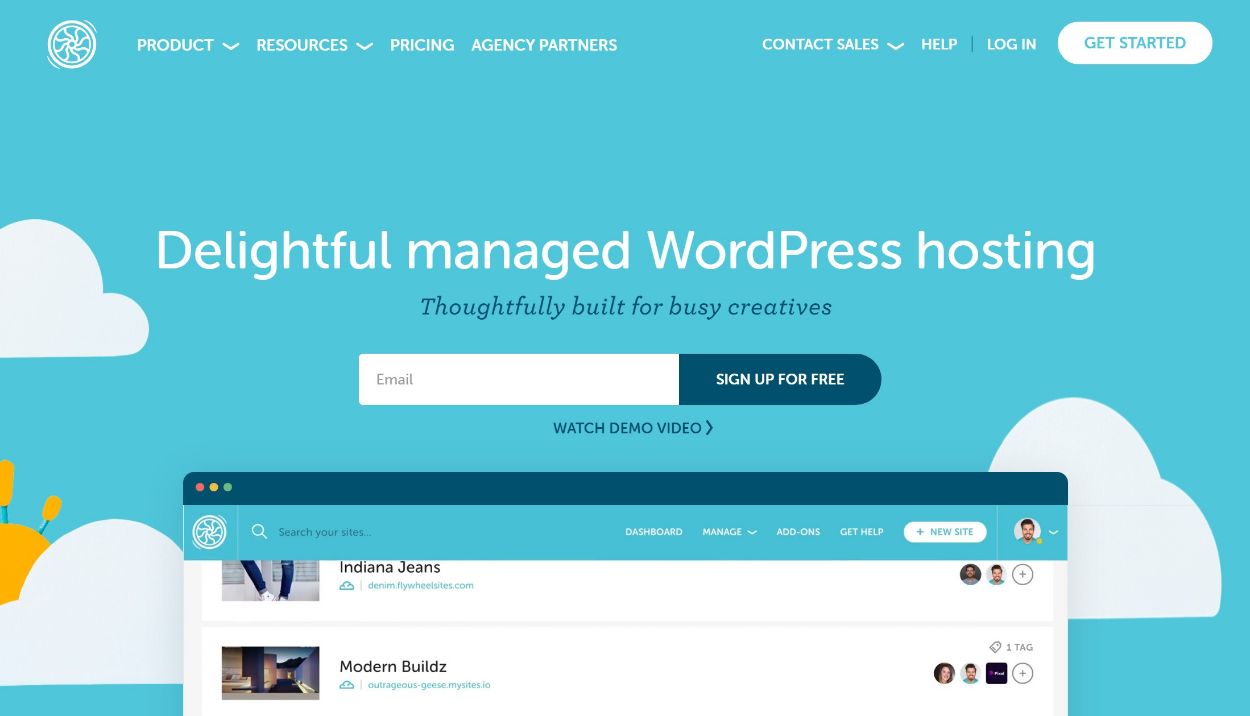 Flywheel was built with designers and creatives in mind, offering managed hosting that specifically suits their needs. It's more than just a hosting provider and instead focuses on streamlining the workflow for web designers everywhere. Some particularly nifty features include easy collaboration, billing transfers to your clients, and staging sites. Plus, you can manage all of your sites from within one attractive dashboard.
The Flywheel support team is staffed with WordPress experts, many of whom are designers so your biggest problems will always be entrusted to capable hands.
I host WPKube on Flywheel, so this is the managed WordPress host that I trust with my own site.
Note – Flywheel was purchased by WP Engine in 2019, so the two are now under the same corporate umbrella. With that being said, the two still run completely separately and have different features, with the exception of some pricing standardization and some shared features such as free access to Genesis Framework/StudioPress child themes and the Local development tool.
⚙️ Key Features:
Lightning speed – Designed specifically for WordPress sites so takes various factors that could affect speed into account. CDN is available.
Nightly backups – Your sites will be automatically backed up each and every night so you can rest easy.
Around-the-clock security – Flywheel constantly monitors your sites for hacking attempts and malware and will fix any discovered problems for free.
More intuitive SFTP – Collaborating with other designers and working on client sites has never been easier.
Agency features – Flywheel offers advanced features for agencies and freelancers building client sites, such as Flywheel's Growth Suite.
Pricing: Flywheel's plans start at $15 per month for one site, 5 GB storage, and up to 5,000 monthly visitors. There are also agency-focused plans for managing client sites.
👍 Pros:
Fast page load times.
Easy scalability.
Excellent support.
Useful features for agencies, like Flywhee's Growth Suite (which is quite unique).
Well-designed dashboard.
👎 Cons:
No email hosting.
Might continue to morph into WP Engine if standardization continues.
👉 Read our full Flywheel review
💰 Use our special Flywheel coupon "wpkubeisfly" for 20% off
Nexcess, a subsidiary of Liquid Web, offers dedicated managed hosting plans for both WordPress and WooCommerce. The managed WooCommerce hosting plans are especially interesting because Nexcess was one of the first providers to offer a truly "managed" experience for WooCommerce, but the regular WordPress plans can also be a great option.
The unique thing about the managed WooCommerce hosting plans are that they really are built for WooCommerce – they're not just the same "regular" hosting product like a lot of hosts do things. For example, Nexcess optimizes your store to use a custom database table for orders, includes lots of free WooCommerce plugins and themes, and even offers its own Store Builder experience.
⚙️ Key Features:
Performance features – get a built-in CDN along with caching solutions at the server level.
Daily backup – Nexcess backs up your site daily and stores them for 30 days.
Staging sites – easily create staging environments.
WooCommerce features – get optimized database tables, Elasticsearch, and free WooCommerce plugins/themes/tools.
Security – get free iThemes Security Pro to protect your site.
Unlimited email accounts – create unlimited free email accounts.
Pricing: Nexcess's managed WordPress hosting and WooCommerce hosting plans start at $19 per month with monthly billing or $12.67 per month with annual billing.
👍 Pros:
Very fast performance.
More affordable than other managed WordPress hosts.
Has dedicated plans for WooCommerce that make a great option for stores.
Still offers email hosting.
No arbitrary visit limits
👎 Cons:
None worth noting – it's a very well-thought-out offering.
👉 Read our full Nexcess Review
💰 Use our Nexcess coupon "KUBE40" for 40% off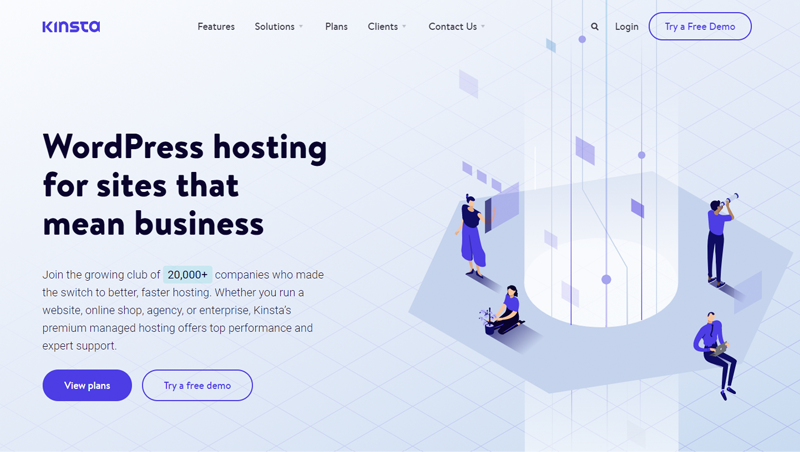 Kinsta is a performance-focused managed WordPress host that's rapidly shot up in popularity over the past couple of years.
Kinsta started as a high-end host, with the cheapest plan costing $100 per month. However, that changed in late-2017 and Kinsta has now become a lot more accessible to regular WordPress users with prices starting at just $35 per month.
So – why has Kinsta had so much success lately?
First off, it has all the features that you'd expect from a managed WordPress host like staging sites, automatic backups, server-level caching, etc.
Then, it's built on the Premium Tier of the Google Cloud Platform. Beyond giving you access to the same infrastructure that Google uses for its own products, this also means that you can choose from 28 different data centers available on every habitable continent.
⚙️ Key Features:
Custom hosting dashboard – Kinsta's custom hosting dashboard is super user-friendly and makes it easy to manage your site/server.
Smart staging/backup features – Kinsta automatically backs up your site whenever you move from staging to production which makes it easy to roll back changes if needed.
Performance-focused architecture – Kinsta is powered by the Premium Tier of Google Cloud Platform and includes the latest technologies like NGINX, PHP 7.3+, LXD containers, MariaDB, HTTP/2, and more. You also get free CDN powered by Cloudflare.
24/7 live chat support – Kinsta offers 24/7 live chat support through the always-present Intercom widget.
Solid security – beyond firewalls and DDoS detection, Kinsta also adds WordPress login hardening, free cloudflare integration, uptime monitoring, and plenty of other important security features.
Free migrations – Kinsta offers unlimited free migrations from any host. Otherwise, the number of migrations depends on your plan.
Pricing: Kinsta's plans start at $30 per month with annual billing or $35 per month with monthly billing for one site, 25,000 visits, and 10 GB storage. The entry plan is identical to WP Engine in terms of pricing and limits.
👍 Pros:
Very fast performance, especially under scale.
Well-designed custom dashboard with useful tools.
Excellent support available via the user-friendly Intercom widget.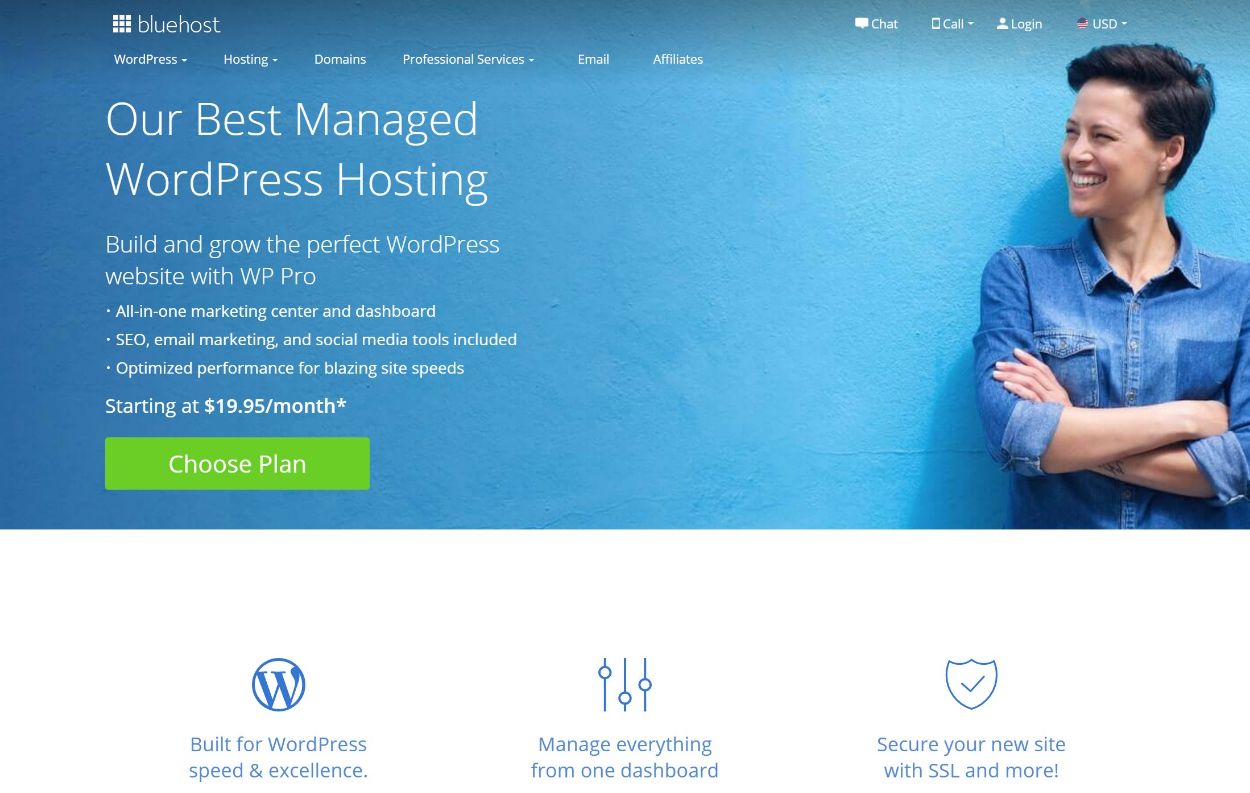 Most people probably know Bluehost for its cheap shared hosting, but Bluehost also offers managed WordPress hosting plans. These plans are more expensive than Bluehost's shared hosting, but still more affordable than most other managed WordPress hosts, especially if you need to host multiple sites.
Overall, Bluehost is probably not the best spot for mission-critical WordPress sites that need top-notch performance. But it is a solid budget option if you want to move beyond shared hosting but you're not ready to jump to paying $100+ to host multiple sites on a premium host like WP Engine or Flywheel.
⚙️ Key Features:
Unlimited resources – despite being managed WordPress hosting, you still get unlimited sites and unlimited storage.
Daily backups – get automatic backups every day.
Included Jetpack – get free access to Jetpack Premium or Jetpack Pro depending on the plan you choose.
Malware scanning and removal – Bluehost will check for malware and remove anything it finds.
Elasticsearch – the highest-tier plan offers Elasticsearch, which is great for improving WordPress site search performance.
Staging sites – get staging sites to safely test changes and updates.
Pricing: Bluehost's WP Pro plans start at $19.95 per month with a three-year commitment and have a starting renewal price of $29.99 per month. That plan supports unlimited sites, which is the big difference between Bluehost and other managed WordPress hosts.
👍 Pros:
Cheaper than most other managed WordPress hosts.
Allows unlimited sites, whereas most managed WordPress hosts have strict limits.
No monthly traffic limits, which is something most managed hosts limit you by.
You get access to premium Jetpack features at no extra cost.
👎 Cons:
Performance is better than Bluehost's shared plans, but still not as good as hosts like WP Engine or Kinsta.
Bluehost doesn't have the best reputation when it comes to support.
👉 Read our full Bluehost review
💰 Use our Bluehost coupon to get 30% off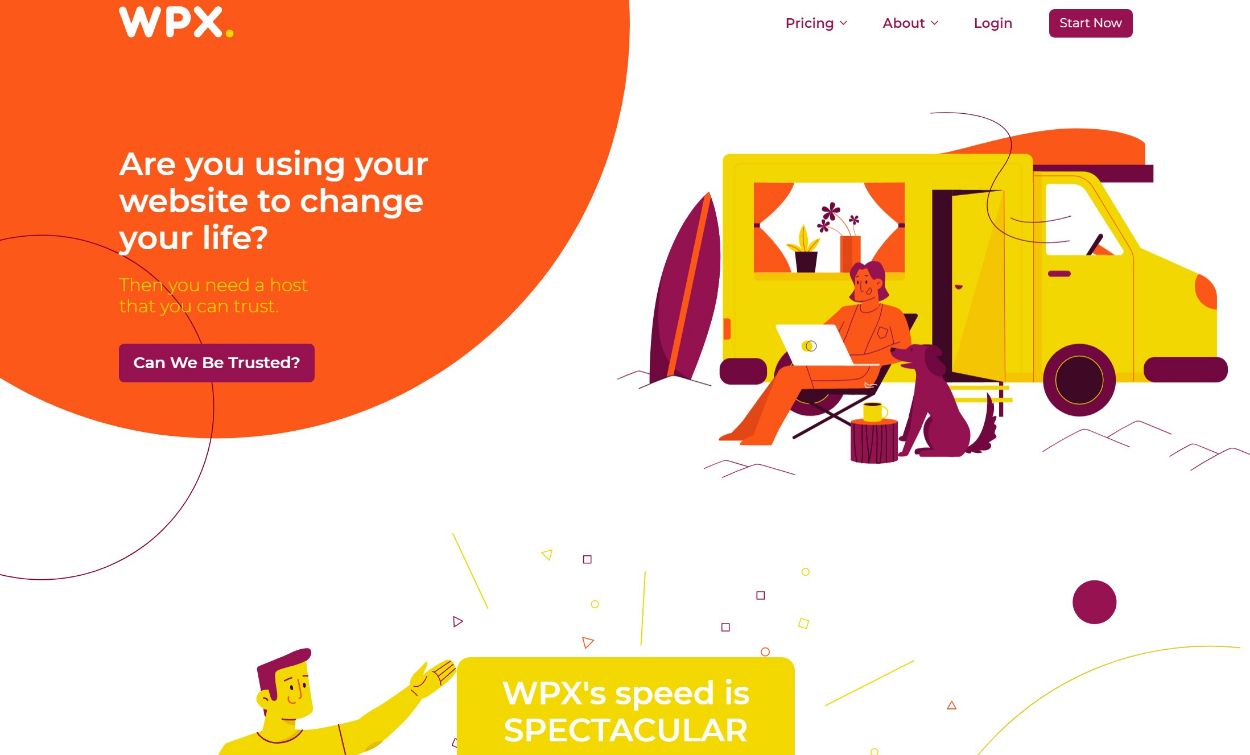 WPX Hosting is a managed WordPress host that's popular with its customers thanks to its excellent performance and above-and-beyond support (which has 30-second average response times.
WPX Hosting can be a lot more affordable than other managed WordPress hosts because it still allows multiple sites on its entry-level plan. But at the same time, it still offers support and performance that can compete with the big names.
⚙️ Key Features:
Excellent performance – WPX Hosting uses LiteSpeed Server and bundles in its own CDN.
Automatic backups – get automatic daily backups and easy restores.
Staging sites – easily create staging sites and push them live when you're ready.
24/7 support – get support whenever you need it with a 30-second average response time.
Email hosting – WPX Hosting still offers unlimited email accounts.
Malware scanning and removal – WPX Hosting runs daily malware scans and will remove anything it finds.
Pricing: WPX Hosting's plans start at $24.99 per month with monthly billing for five websites, 10 GB storage, and 100 GB bandwidth. If you pay annually, you can drop that down to $20.83.
👍 Pros:
WPX Hosting has great performance, especially considering that it's cheaper than some other hosts.
Even the cheapest tier allows multiple sites, which is rare for managed WordPress hosts.
You get email hosting, which is rare for managed WordPress hosts.
There are no arbitrary traffic limits – just bandwidth.
👎 Cons:
The dashboard isn't as nice as other hosts.
WPX Hosting counts staging sites as regular websites in terms of billing limits.
👉 Read our full WPX Hosting review
💰 Save up to 50% with our WPX Hosting coupon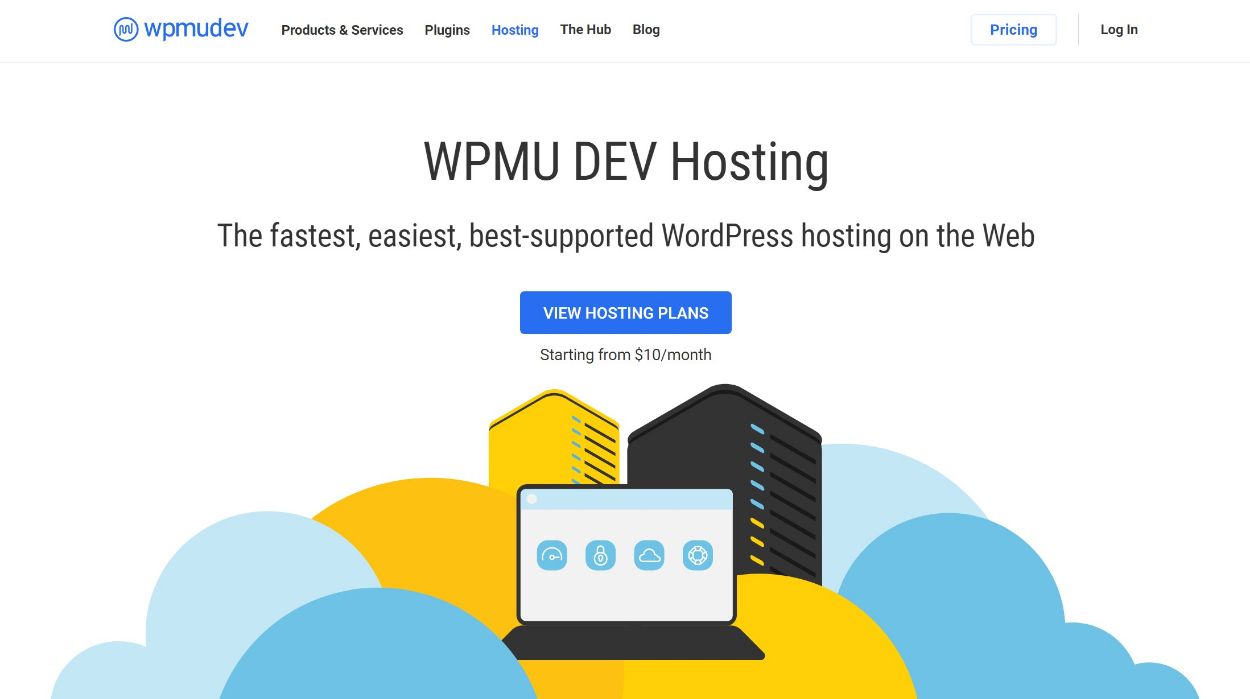 WPMU DEV is unique in the managed WordPress hosting space in that it got its start as a plugin developer with a popular "club" membership like Elegant Themes. If you're not familiar, WPMU DEV is the team behind popular plugins like Smush, Hustle, Forminator, and more.
In 2019, WPMU DEV moved beyond plugins and themes and jumped into offering its own managed WordPress hosting plans, all of which are backed by cloud hosting from DigitalOcean.
This isn't a surprise because, while consumers know WPMU DEV for its plugins, WPMU DEV has another project called CampusPress which helps major universities like Cornell and Penn State host huge multisite installs. Basically, these guys have a lot of experience hosting WordPress websites.
One of the unique things about WPMU DEV's hosting plans is that you get dedicated resources for your site and there are no arbitrary visitor limits, which is rare in the managed WordPress hosting space.
⚙️ Key Features:
DigitalOcean infrastructure – all of the hosting packages are powered by DigitalOcean, which has a great reputation as one of the best cloud hosting providers.
Performance features – get a built-in CDN and caching solutions.
Automatic nightly backups – WPMU DEV backs up your site every day.
Security features – you get a web application firewall (WAF), daily malware scans, free SSL certificates, and other security features.
Email hosting – you get 10 free email accounts, which is something most other managed WordPress hosts don't offer.
Staging sites – create staging sites to test changes.
Pricing: WPMU DEV's plans start at $10 per month for 1 vCPU, 25 GB storage, 1 GB RAM, and 1 TB bandwidth. All plans are for a single site.
👍 Pros:
Plans are quite affordable.
You get dedicated resources (CPU and RAM) which is rare for managed WordPress hosting.
There are no hard traffic limits, though WPMU DEV does provide "estimated" limits based on your resources.
You still get email hosting (up to 10 accounts).
👎 Cons:
You need to pay "per site" though you will get discounts if you bulk host 20+ sites.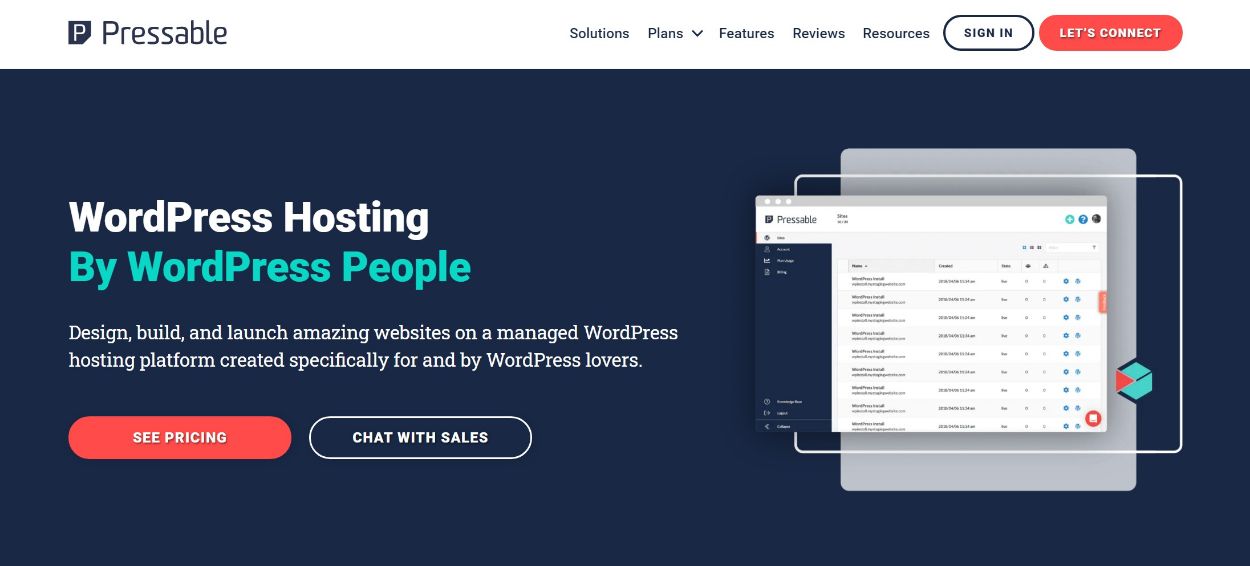 Pressable is a managed WordPress host owned by Automattic, the same company behind WordPress.com and WooCommerce. This gives it a fairly unique position as it's part of what is probably the largest business in the WordPress space.
It offers a stellar managed WordPress hosting experience with prices that come in a bit below competitors like WP Engine and Kinsta, which can make Pressable a good option for people on a budget.
⚙️ Key Features:
Built-in CDN – ensure fast global page load times.
Daily backups — Your content will always be backed up on-time and automatically.
SFTP access — Secure file transfer protocol so your data is safe even while in transit.
SSL support — So you can set up shop and keep your customers secure, too.
Malware scanning and removal — Never feel the effects of malicious hackers again. At the first sign or report of an intrusion, Pressable team will help investigate the issue.
Pricing: Pressable's plans start at $19 per month with monthly billing or $15.83 per month with annual billing. This plan supports one website with 5,000 visits and 5 GB storage.
👍 Pros:
Pressable is a bit cheaper than similar hosts like WP Engine and Kinsta.
Pressable's limits are also higher than those hosts, which further adds to the affordability.
Pressable comes from Automattic, one of the most experienced and largest WordPress companies.
Pressable does now offer email hosting, using Titan Professional email.
👎 Cons:
Pressable's caching solution isn't as flexible as other tools – for example, you can only exclude pages by adding code to your site's wp-config.php file.
💰 Save up to 15% with our Pressable coupon
Do You Really Need Managed WordPress Hosting?
It directly comes down to you and your needs. Managed WordPress hosting is perfect for both small business owners & enterprise / high traffic websites.
However, if you're just getting started with your site or if you're hosting more of a "hobby" site, you might be better off choosing a cheaper shared hosting provider.
These providers aren't as good as managed WordPress hosting, but they can be good enough for small sites or hobby sites.
In terms of shared hosting providers, InMotion Hosting offers pretty good performance for its price, which can make it a good budget option. You can make it even cheaper with our InMotion Hosting coupon.
You need to think about the big picture here. What do you want to achieve with your site? What's your top priority? If you anticipate building a lot of traffic to your site very quickly, then you'll definitely need to consider a managed host, since it will likely allow for greater traffic volume and offers greater stability for WordPress sites specifically. If you just want to dabble in building a site for the first time, a managed host might be overkill and InMotion Hosting might be a better option.
My Top Picks for Managed WordPress Hosting
If you do need managed WordPress hosting, let's talk about your best options.
Even within the managed WordPress hosting space, there's a lot of variation, so the best choice for you depends on whether you're looking for the "best of the best" or if you're willing to make some compromises to save some money.
If you want the best of the best, I recommend starting with one of these three hosts:
WP Engine (use our 20% off coupon)
Flywheel (use our 33% off coupon)
All three are top-notch providers with excellent performance, reliability, features, and support.
On the other hand, if you're on a budget, you might want to start in a different place.
Nexcess offers a very good product that's more affordable for a single site, so it's a good budget place to look for a single site.
On the other hand, if you're looking to affordably host multiple sites, you might want to consider:
Do you still have any questions about picking the best managed WordPress hosting provider for your needs? Let us know in the comments section!