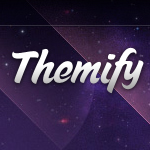 A few hours ago, Themify announced on their blog about the Themify Framework 1.2.2 update. The software that acts as the "engine" for all the Themify themes has been updated with a number of improvements.
The latest update includes fixing many bugs, adding wanted features, and cleaning up the code to be in compliance with the WordPress standards.
Themify Version 1.2.2 Updates List
Here are some of the highlights of updating to Themify Framework 1.2.2:
Hooks – Not something new, most of the popular theme frameworks already have this nifty feature. For those who don't know anything about hooks, it lets easily you add the functions & content without modifying the template.
New Image Uploader  – Nothing can beat the default Media uploader. Themify finally replaced its image uploader with the core WordPress media uploader.
RTL Support – The Themify panel now fully supports Right-to-Left, or RTL, languages.
Streamlined code – Themify updated the code for all of our themes, bringing them in line with the most up-to-date WordPress standards.
Sidebar changes – A small feature that lets make the sidebar name translatable.
How Do I Upgrade?
The upgrade process is extremely simple and painless. Upgrading to Themify framework won't take more then a few minutes. The first thing you need to do is to backup your sidebar widgets, to do that Go to Appearance > Widgets, drag all your active widgets to the Inactive Widgets panel and make sure to export the site settings.
Once you have backed up the widgets & theme settings, go to Themify panel page and you should see the upgrade message box above the Themify panel. Then click 'Update now' to upgrade the theme.