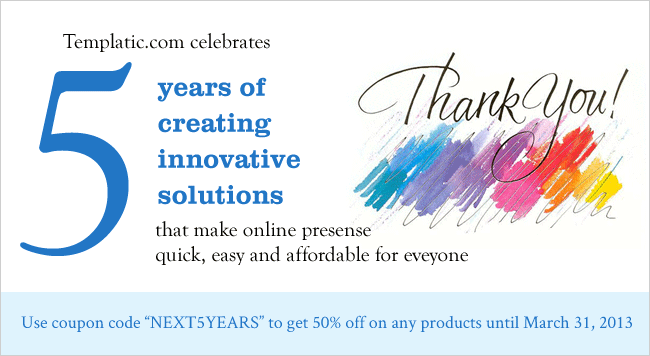 Templatic, one of the best theme shop and friend of the site, has turned five years old. I have been following templatic for last few months and their small crew of kids have done some amazing work.
The announcement also bought a 50% discount coupon to celebrate the success. "Templatic employs 21 people in 4 different countries and majority of us are located in very small city in India where there is no tech scene at all." said Vederan Fak Bhavesh.
What started as small theme shop has now become a company of 21 employees (& still hiring). It's good to see a company doing so well from a small city of India. There aren't many startups in India that makes it this far, congratulations guys.
To get the 50% discount use the coupon code – "NEXT5YEARS" and get discount on any product. The discount lasts till 31st March 2013, so perhaps now is the best time to purchase a theme from Templatic.
Birthdays are fun times for reflection and congratulations. If you get a chance, swing by Templatic blog and wish them another positive year.