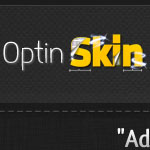 For the past few weeks, I've been testing a new WordPress plugin called OptinSkin. OptinSkin is a powerful and effective plugin that helps to get more subscribers.
You know getting subscribers is essential for blogs to sell products and stay in touch with the readers. Email Subscribers are one of the stable assets you can build for your WordPress blog.
There are ton of plugins available in the market specifically for getting more subscribers and leads. Few of them are Popup Domination, Pippity, WPSubscribers. All of them have one thing common – they all are popup plugins.
Introducing OptinSkin, a different kind of optin plugin to get more leads and subscribers.
Get the OptinSkin plugin for WordPress
OptinSkin Plugin
Optinskin plugin has a different approach to increase optins to your email list and increase the sharing of your content. The plugin is created by Glen Allsopp from Viperchill.
The plugin adds the Gorgeous optin forms and social media buttons to your WordPress blog in seconds.

1. Split Testing
This one is a useful feature. It enables you to fully-test all elements of your opt-in form. Change button colours, form text, eBook covers, box colours…you name it. It also tells you which form is convincing more of your visitors to give out their email address!
2. 18 Awesome Designs
The plugin comes with 18 beautiful and customizable designs.  Every single element of the default form designs can be customised with the editor. Change box gradients, the fonts you use, the color of your opt-in buttons and the text you use to talk to your visitors.
3. Fade Opt-in Forms
This is another great feature that come with OptinSkin, which is highly attractive. The 'Fade' feature allows your form to, simply, fade into your content to catch visitor attention, something that I haven't seen in any other plugin.
4. Impressions count
The feature only counts impressions when the optin form is actually displayed to a reader. This is useful to maximize your conversion rate on your blog.
5. Custom Designs
Not only does OptinSkin come pre-loaded with 18 customizable opt-in and social share designs, you can also use it to power your own designs.
6. Place skins anywhere
This is one of the awesome feature that optinskin plugin has. You can place the optinskin anywhere you want with just few clicks. The one-click placement feature means you can be up and running in minutes.
7. Make Money
The feature is mostly useful for bloggers who are just blogging for money. Personally I don't like this feature, because it distract your readers from signing up to your email list.
8. Works with all the auto-responders
OptinSkin works with all major auto responder email services like Aweber, mailchimp, google feedburner etc. To integrate your auto-responder, just copy and paste your webform code into the plugin form.
Pricing
Optin Skin is a premium plugin, so of course it comes with a premium price. The plugin cost $47.00 for a license, that can be used on unlimited sites.
It also comes with a 60 day money back guarantee, so you have nothing to lose.
Final Thoughts
OptinSkin is one of the essential plugins for WordPress, because it not just improve the conversion rate of visitors into email subscribers that goes up when using this plugin, the amount of social media shares of your content goes up incredibly as well.
Get the OptinSkin WordPress plugin
Disclosure: Glen did give me a free copy of Optin Skin to experiment with and I do receive a commission if a purchase is made through my affiliate link.