Planning to launch a site with the objective of making money through AdSense? Well, do not jump straight into the sea of competition where millions of sites are jostling for ranking and revenue. It might seem easy and lucrative to own a site and make money through Google AdSense but you need to work on your content and search engine optimization.
Reason being, this is going to bring you traffic and in turn, money from AdSense. Well, this is undoubtedly a task which can become lot easier if you choose to invest in AdSense optimized WordPress themes. These templates are very well integrated with ads positioning and weave them finely with your content.
Top Responsive WordPress Themes for Google AdSense
This is very important in making your ads clickable. You just cannot impose the ads everywhere as there is a restriction and it would never lead to results. The AdSense optimized themes understand this fact very well and give you a simple interface using which you can pin the ads at strategic points. You can also track their performance and make changes in size and locations accordingly. Well, all of you know about the ease and flexibility of WordPress and if it is combined with profitability, who would ignore such themes? So, here is a gallery of 40 such themes. Have a look.
Best ($35)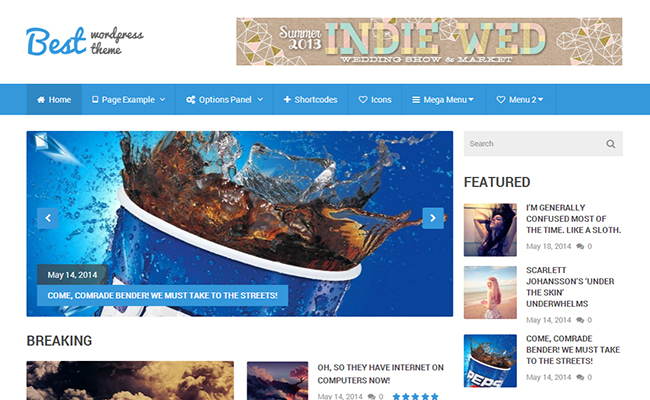 Best is really a well-named theme as it comes with the best of features. This responsive WordPress theme features an engaging design, cool speed and fully customizable layout. It is optimized for search engines as well as advertisers. It also includes an exclusive review system and support for the new MegaMenu plugin. Using it, you can easily make a good deal of money through the Google tool- AdSense and capitalize on its ease-of-use and energy.
TrueMag ($58)
TrueMag is a clean and elegant grid style WordPress theme designed specifically with keeping advertisements in mind. This is easily one of the best themes available in the segment, with two different skins (dark or light), depending on the style of your site.
There are plenty of advertisement areas in this theme and each of them blends perfectly with the content in a professionally looking online magazine.
Fraction ($58)
Made by OrangeThemes, Fraction is a fabulous theme that understands the nuances of AdSense quite well. It has its own Banner system, in which you can add images, text, videos or any other type of HTML code. The theme possesses 17 custom banners and blends the advertisements nicely with the content. It makes sure your click through rate rises and visitors take notice of the ads. A fine moneymaking proposition, you have got to check it out.
TrueNews ($49)
TrueNews is a content focused and responsive Magazine WordPress theme. It is well-tuned with Google AdSense and comes with easy ad management options. You can place the ad banners at any place depending upon their performance. This will enhance their visibility. The template is also friendly with search engines and comes with all the support that is needed to attract traffic.
Schema ($35)
SEO and speed are the two primary strengths of Schema. This fastest loading, ultra-SEO friendly WordPress theme from MyThemeShop is really a class apart from others. Featuring the homely custom options panel, best shortcodes, widgets, and a pixel perfect design, Schema easily furthers your ranking.
As far as AdSense goes, the template gives you a free hand to place the banners strategically. Since it is already SEO optimized, traffic is not an issue and you can capitalize on it with little efforts.
ReadMagazine ($48)
ReadMagazine is a fresh responsive WordPress theme crafted for blogging, magazine, and news website. It is completely responsive and the homepage is also widgetized.
The theme carries all the modern day features and you can also customize it to suit your requirements. It knows the tricks to impress AdSense and offers complete support for the same. You can manage the ad banners and monetize on them without taking any pains.
NewsWorld ($59)
Loaded with cutting edge technique and advanced features, NewsWorld is a wonderful WordPress magazine theme. A thorough professional, it can give your news website good ranking in less time.
The theme is very content focused and gives your audience a memorable reading experience. It is also AdSense optimized and brings you good deal of money. Your click through rate is definitely going to rise and the audience will also take note of the ads.
CTR Theme ($67)
CTR is one of the oldest themes available in the market, it aims to be the ultimate Adsense theme for WordPress. Unlike other themes, it doesn't come with any fancy features or landing pages, as its main goal is to increase the click through rates.
With CTR theme you can choose to randomize ads, so that visitors see the ads displayed in different sections, helping you earn more money.
Revista ($49)
Revista is an elegant and effective WordPress theme for bloggers. It is very nicely designed and comes packed with latest features that are sufficient to create a brilliant contemporary blog.
The template focuses a good deal on readability and offers you font awesome icon and post formats support. It is also compatible with AdSense. Revista gives you 3 ad areas in header, footer, and sidebar which can easily enhance your click through rate.
New Lotus ($50)
New Lotus is a creative and content-focused Magazine WordPress theme. It is very gentle and easy-to-use. You can operate it without any trouble and get going with great finesse.
The template is well optimized for Google AdSense. You can manage the ad banners for maximum benefits and earn a good deal of money from the Google tool.
Magazine ($49)
Magazine is a 3-column theme with the most advanced technology and cool features. It can create any kind of layout, from simple to complex, with fantastic ease.
The template understands how important ads are for magazine sites and thus, comes with adequate arrangements for the same. You can put any kind of ad at strategic points. The spots are very prominent and can easily attract clicks from visitors and readers.
DesignBlog ($59)
DesignBlog is a neat blogging theme especially suited for design, development, photography, inspiration and tutorial blogs. It is completely professional and brings maximum exposure for your content.
The theme is friendly with AdSense and mixes the ads intelligently with your content. It also gives you 7 different ad placement areas and a sidebar ad widget. You can utilize them for great benefits at a cost-effective price.
TruePixel ($35)
Especially developed for sites that focus viral content such as ViralNova or BuzzFeed. It is very exquisite and professional with some beautiful aesthetics and many styling options. The template is skilled at AdSense optimization and gives you great support to capitalize this moneymaking tool. It will yield good results for sure.
TruePixel was initially used by the website Viral Nova before they had a custom design built from the ground up. They managed to build an income of over $100k per week before opting for a different design.
Backbone ($49)
Built with fine attention to details, Backbone is a very flexible and fabulous theme. The theme is best fitted for designers who want to work on extending its functionality.
It gives you great level of control and you are the master at the backend. The template is well equipped to handle AdSense and you can easily earn money through this cool medium. You can arrange the ads at strategic locations and make sure they get clicked.
Spartan ($48)
Spartan is a super fresh theme that includes tons of great features to keep your readers happy. The template offers you 9 custom widgets and built-in ad banner spaces through which you can easily monetize your site. You can paste ad codes in the banner and easily place the Google ad links.
The ads are well integrated with the entire layout and sure to get clicks. This will make sense with Google AdSense and you are well on your way to receiving checks.
Pravda ($58)
Created by ColorTheme, Pravda is a powerful and pleasant theme fit for your blog, magazine and other content centric niches. It is very user friendly and gives you complete control.
You can alter any aspect without encountering the coding mumbo-jumbo. The template is also well armed to monetize Google AdSense. You just have to get the ads in spots and then it will get automatic clicks.
Hope ($49)
Hope is a new theme available at MojoThemes that is well-suited for magazine, news and blogging platforms. This WordPress template is designed with the readers in mind and offers you some very nice features such as unlimited color option, 500+ Google web fonts, drag and drop builder, and much more.
It is very customizable and capable of getting you high ranking. The theme is also packed with AdSense optimization options. The ads at your site can easily get views and clicks.
MagXP ($35)
MagXP, from MyThemeShop, is a sharp and strong Magazine WordPress theme. It is a nice combination of design and usability. The template puts great focus on content but does not miss other areas.
It is well-acquainted with AdSense and can easily make it wield money. The theme knows how to combine the ads with content so that they are seen by maximum viewers.
View Demo Download (35% Off Coupon)
WP-Radiance ($59)
The name says it all. WP-Radiance is a stunning WordPress theme with bright, clean and feature-rich layout. It is ideal for many purposes such as business website, blog, online magazine, etc. It knows how to harness the moneymaking capacity of AdSense. It offers multiple banner ad locations to carry your ads. With WP-Radiance, you can be sure of earning a fine amount of money.
Open Times ($50)
Open Times is a modern Magazine WordPress theme with a host of cool features. It is responsive, content friendly, customizable, retina ready and all those things that make a template coveted.
It is also well-adapted to work with Google AdSense and you can utilize the monetary tool quite easily. Your ads will certainly get clicked. Your task is limited to installing the theme and then your site is good to go.
Cuisine ($39)
Cuisine is a cool directory theme for restaurants with all the fine features needed to accomplish your objectives. The theme possesses curvy fonts and fancy graphics along with many other cool characteristics.
You can create and manage content with supreme ease. The monetization tools are also many and varied. Google AdSense is also a part of these tools and you can get on with it as soon as the installation is complete.
Scene ($58)
Scene seems to have configured AdSense quite perfectly. This magazine/blog theme gives you a nice chance to blend ads with the posts and content. You can manage the ads with the Visual Composer in the widget areas. The Archive Ads manager is completely equipped to handle ads.
The theme is also loaded with modern features such as responsive design, retina ready display, SEO optimization, blog options, rating system and much more.
Volcano ($48)
Volcano is a vibrant blog/magazine theme loaded with the most competent features. It has got the potential to attract a good deal of traffic and turn the same into higher click through rate.
This is to say that the template is also AdSense ready and knows the trick to conquering the Google tool. You can get it installed with a solo click and rest assured money will come trickling in. Also, the template is open to modification and you can make changes accordingly.
WP-Bold ($59)
WP-Bold is a sophisticated, modern WordPress theme meant to give you a strong online presence. Fit for an online magazine or news site, it is also capable of serving other niches.
The theme is aware of AdSense and comes packed with multiple banner ad locations. The template is also flexible and you can give it any kind of look you want. In fact, there is nothing that it lacks.
Novomag ($48)
Novomag is your ideal theme if you are looking to make money from AdSense. The theme is very well optimized for the Google tool and possesses its own Banner system, in which you can add images, text, videos, or any other type of HTML code.
It is a powerhouse of features with great deal of flexibility. You can make changes with simple clicks and drag and drop. With Novomag, it is super simple to find favor with your target audience and search engines.
GoMedia ($49)
GoMedia is abuzz with modern and useful features. This fresh magazine theme possesses a modern, elegant design and fully responsive layout. It is best for online magazines websites, news websites, personal blogs or community blogs.
AdSense compatibility is also a strong point of GoMedia and brings you cool money. The built-in ad spots are perfectly proper to increase the clicks.
Splash ($35)
Bring sunshine into your blog with Splash. This premium MyThemeShop merchandize gives you an option to review and rate products or services through the built-in review feature. Its sleek design, flexible layout and fluid grid give it a very distinct appeal. The template has also mastered AdSense and gives you great opportunity to earn money. It can turn the traffic towards ads and bring a rise in clicks.
Opinions ($79)
Want to build a community site based on magazine theme? Opinions will get you going. This premium WordPress template is finely integrated with BuddyPress and social media. It also possesses all the necessary features and customization alternatives. The theme has got the ability to deliver on AdSense and you can make a fine amount of money.
Muro ($49)
Here is a responsive blog theme from MojoThemes also suited for magazine sites. It is clean, responsive, versatile and spirited. The template has got the right mix of aesthetics and usability. It is very up-to-date and caters to search engines very effectively. AdSense is also well integrated in its DNA and you can easily capitalize on it.
Spraymag ($58)
A multipurpose theme, Spraymag is very well-designed and flexible. This fresh entry is quite user-friendly and knows
the way to impress AdSense.
Its ad banners are ready for viewers and you can see you CTR touching new heights. The viewers are sure to click on the ads. And they will never feel the ads are imposed or unnecessary.
WP-Visual ($59)
An eye-catching theme with focus on readers, WP-Visual is very modern and action oriented. It is content-friendly and also finds favor with search engines. The template has got the ability to get on with AdSense and make it yield money. Ads management is a matter of clicks and you can easily entice the visitors to click the ads.
Done with the post? Well, you must have seen that we have presented themes from all niches. So, we are quite confident that you would have found your ideal pick here. If you have, do not wait. Just get it home and rake in the profits waiting for you. AdSense is amazing and it is only about time you tested its true power. Good luck!