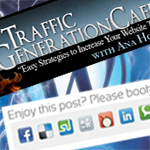 Today i was browsing my RSS and i come across an interesting post from my buddy Tristan, titled 26 Blog Design Tips for Non-Techies and Non-Designers.
The Post has some awesome design tips for non Techies, but he missed some tips like having a custom header, background and footer etc.
In this post i'm going to share 5 more blog design tips for non techies.
1. Get a Custom Header
There are so many benefits of having a custom header. I see many people ignore this but it is one of most effective way to make your blog look awesome. This is your chance to put a unique spin on your blog.

Above is the screen shot from TrafficGenerationCafe . Did you notice how awesome her blog looks with the custom header!
2. Don't use Dark Backgrounds
This is one the most common mistake people make (including me), i know it looks good but light colors are much better. After doing so many customization, i think white or blue colors looks awesome
3. Social Sharing Icons
If you scroll down your mouse bar, you will see we have a social media images instead of buttons. I think having social media images instead of buttons looks much better.

Using Social icons instead of count buttons can also increase your blog speed.
If you need any help on adding social sharing icons then read this post.
4. Remove extra widgets and badges
Too many widgets and badges can make your blog look very unprofessional. Stick to the essentials that enhance your blog's usability — such as categories, social media sharing buttons, RSS feed, top posts, etc.
5. Get a Custom Footer
Footer is another great design tip to engage your readers. You can include recent posts, top commenters, popular posts, Banner Ads,RSS icons, Contact Info, about us info etc.
Yeah, this blog don't have a good footer and I'm working on this.
If you need any help about WordPress customization then don't hesitate to contact us.
Do you have any tips you would like to add? What do you think about the design of WP Kube?