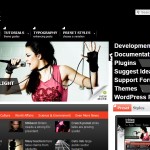 WordPress Music themes are becoming popular as more and more people (mostly musicians, producers, directors) are using Internet as a tool to promote their businesses.
A WordPress music theme is great for musicians who wants their own personal music blog or a professional website.
With so many WordPress themes available today, it's hard to choose the right theme.
In this post I'll show you the 20 very best music WordPress themes that you can use to build your personal music blog or a professional website to showcase songs, videos, concerts, events, etc.
The Best Music Related WordPress Themes
1. Musician
Create an Ecommerce site in WordPress for Artists to share/sell their work  This theme will hep you in creating a Ecommerce site that not only has plethora of options and functionalities but also looks neat, clean and focuses on content.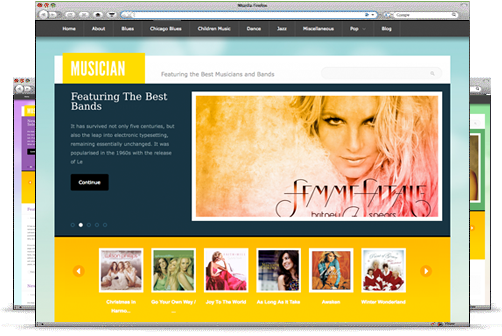 Features of Musician Theme:
Strategic design of the homepage
Product Details Page
Multiple Product types
Multiple Payment Gateways
Price: $65
2. Dark N Gritty Theme
Foxhound's Dark n' Gritty is built for bands looking for something to be as gritty as their tunes. Whether you're the next Gallows, August Burns Red, or erm…Metallica—this theme's got what you need.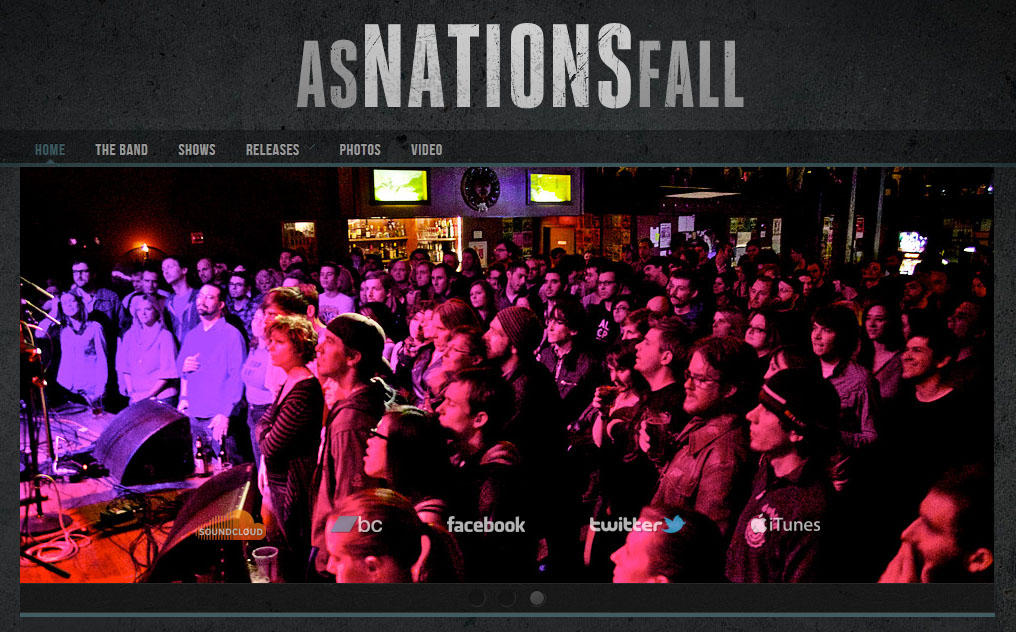 Features of Dark N Gritty Theme
It comes in 4 different colours (Turquoise, Blue, Red, Green),
The ability to upload your own promo pic into the header.
Link to your other social media hubs.
Updated social media icons functionality
GigPress styling
Price: $70
3. MultiMedia
Multimedia is a cool music wordpress theme but it is also great for other media types.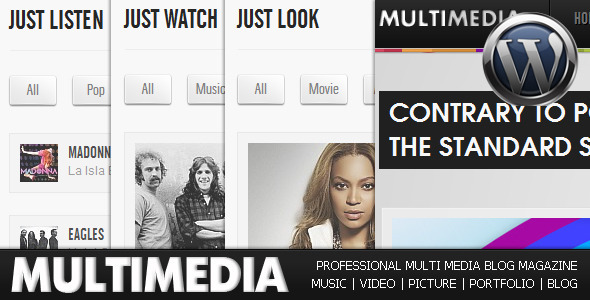 Features of MultiMedia Theme:
7 Theme Style
Option Tree (Wp Envato Admin Panel)
Easy Install and Ready Shortcode
Full Ajax Control
Popup, Iframe, Video, Link (Ajax)
Price: $45
4. The Grammy
Foxhound's Grammy Theme is for the band that wants their website as professional as they are.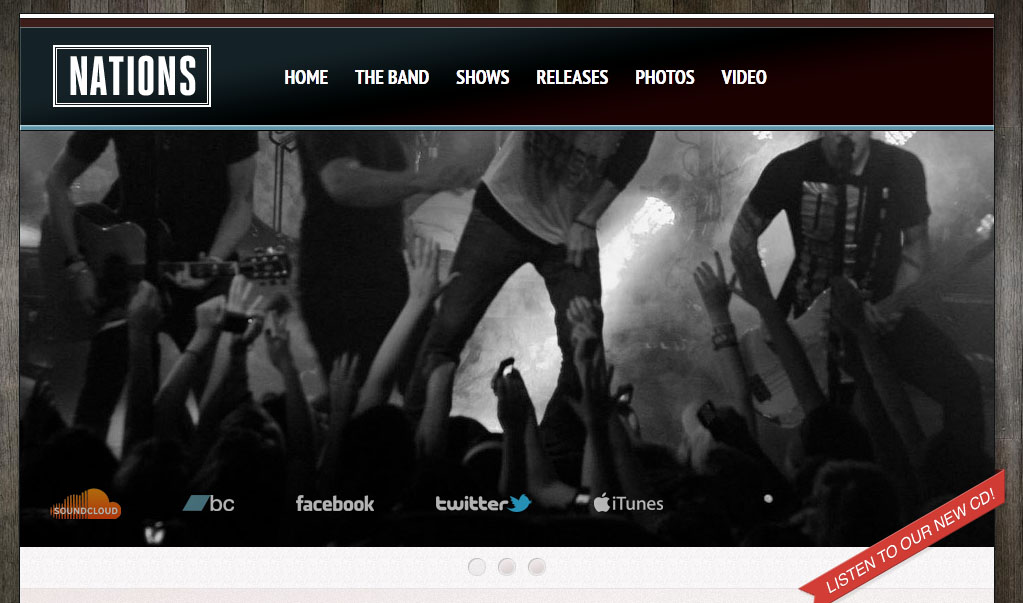 Features of The Grammy Theme:
 It comes with 8 background colours which completely change the vibe of the theme.
You have the ability to upload your own promo pic into the header or choose to have a slider which allows you to cycle through more pics or advertise your latest album.
This theme would also work great for labels or agencies that need a layout that would fit a wide-range of bands.
Price: $70
5.  Music WordPress Template – For Musicians / Artists
Music WordPress Template is a template geared at musicians needing a blog and an easy to use CMS .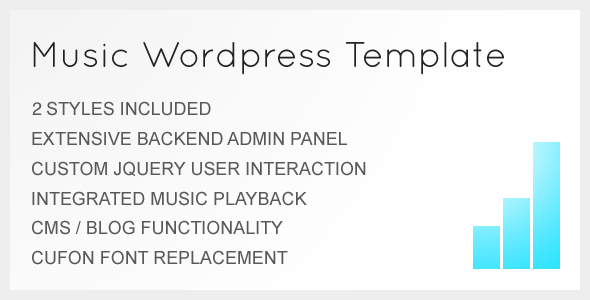 Features of Music WordPress Template:
Extensive CMS Functionality with an extensive Admin Panel
Three styles, light, dark, and minimal. See screenshots for other two designs.
Blog functionality with 1 level deep comment threading
Custom Jquery user interaction for song albums and photo albums
Flickr and Twitter functionality built in, and easily updated settings through the admin panel
Price: $35
6. Musaic
Musaic is a fun and clean template geared towards music/band portals or sites. However, the layout can be easily utilized in all types of sites.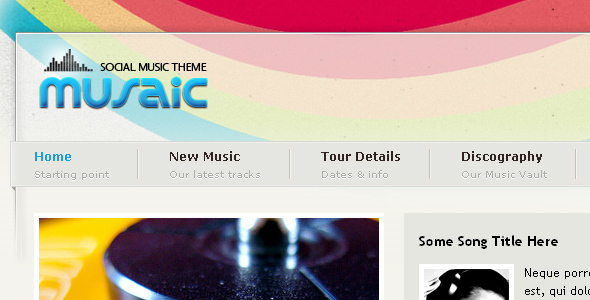 Features of Musaic Theme:
Clean navigation with subtext
Rotating header background image with fun transparency usage (can turn off the rotation)
Unitpngfix applied for ie transparency
Table-less design
Price: $20
7. Unsigned
Unsigned is a hugely powerful, cleverly developed, yet super easy theme to use for musicians and bands looking to showcase their music, tours, photos, videos and band members all from within WordPress. It even allows you to sell your albums and merchandise thanks to the WooCommerce integration. It truly is a massive theme that will cover your every need.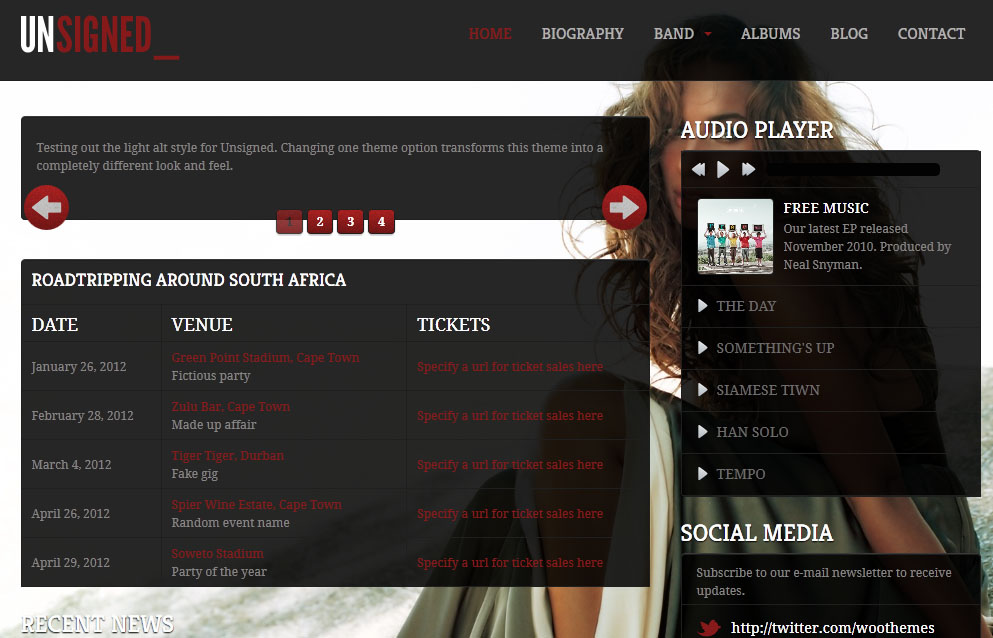 Features of Unsigned Theme:
Fully Responsive Design
Custom Homepage
Events Module
Discography & Photography Module
Featured Slider
Sound cloud Integration
Price: $70
8. Nocturnal: Premier Audio WP Theme
Nocturnal is an audio/music focused theme that is geared towards nightclubs and/or bands.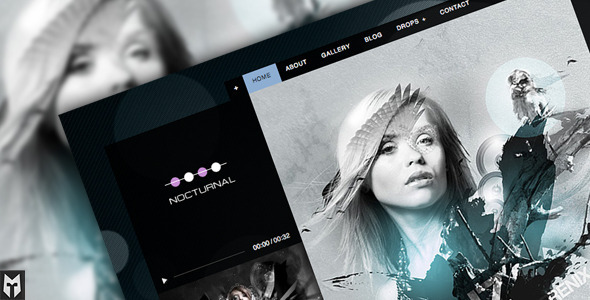 Features of Nocturnal Theme:
Left/Right/Up/Down arrow key support
Ajax pagination
Supports Google custom fonts library
Slideout widget panel
Full screen image backgrounds
Price: $45
9. Backstage
Backstage is a powerful niche theme design for musicians and artists showcasing their media, upcoming shows and music using hugely flexible custom widgets and audio players. This beautifully crafted layout was designed by Elliot Jay Stocks and boasts 7 alternate styles.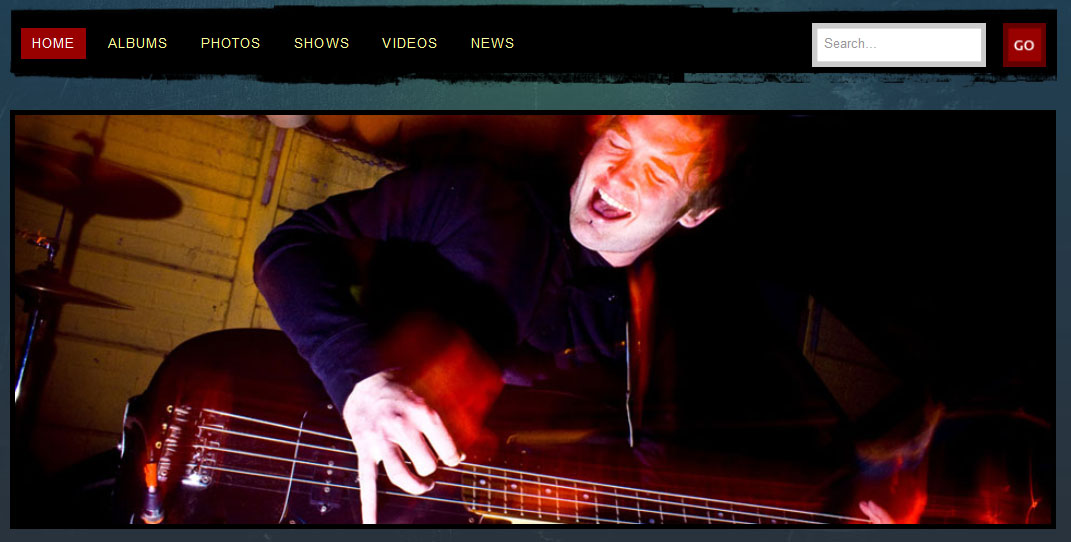 Features of Backstage theme:
A home page slider showcasing band/musician photography.
A home page dedicated module to the band/musician biography.
Unique page templates for your discography/music archive, and image & video galleries.
Neat theme integration with media attachments.
Price: $70
10. Indie Fest
This big epic visual band theme was designed for indie rockers, folk artists, grassroots pop stars, and outdoor music festivals. It's cheerful, ominous, moody, epic, laid back, summery — whatever you need it to be.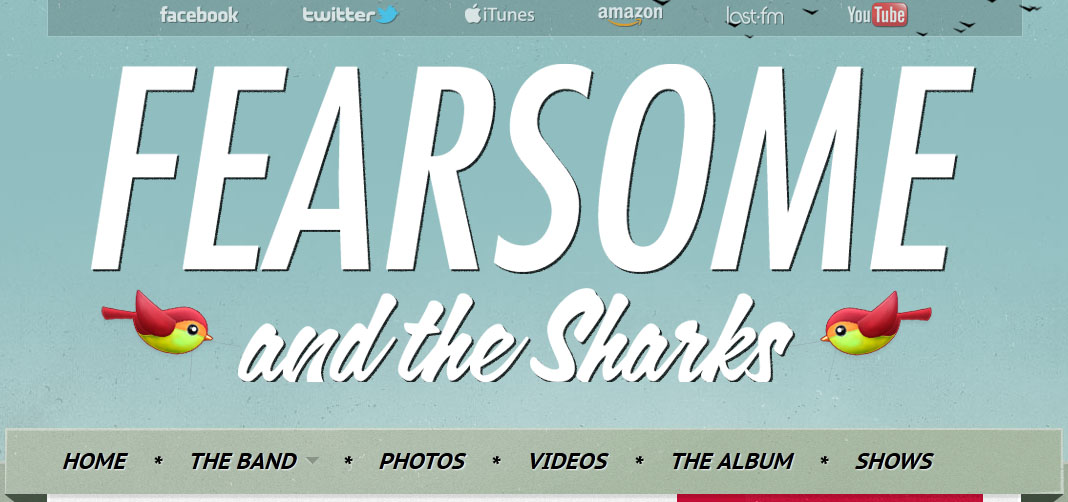 Features of Indie Fest Theme:
GigPress for your tour dates,
A Facebook feed, customized twitter feed,  SoundCloud player for your music, the option to upload mp3s, a newsletter sign-up.
Aside from all that, WordPress is the perfect platform for blogging, posting videos, showcasing band members, uploading photo galleries, and selling your merch.
Price: $99
11. SetList Theme
Setlist is a WordPress theme designed for Music bands, and artists in general that want to have a cutting edge design and  great features for their band website. Featured include a photo carousel slider for featured articles, event calendar for schedule shows or any kind of events with an extremely easy module to add-edit-schedule events and featured articles.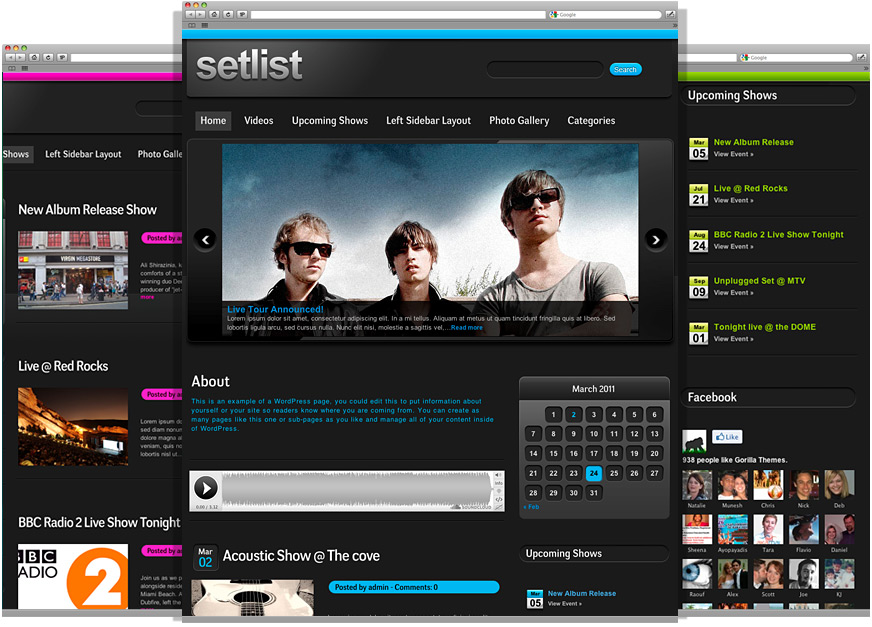 Features of SetList Theme:
Compatible with any music player
Add-Edit-Schedule Events
Facebook Widget
Twitter Widget
Price: $39.95
12. deLirium
deLirium is a dark-style personal blog theme. The cool design, the extensive layout options and the clean, well-organized code make it blindingly easy to set up your professional blog.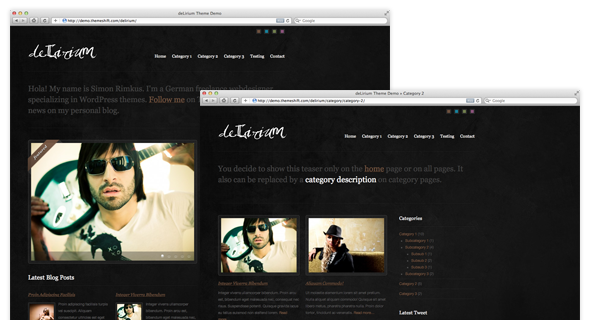 Features of delirium Theme:
Jquery Image Slider
Custom Background
Custom Menus
Button Shortcodes
Price: €39
13. Minuet
Minuet theme is the most efficient way for you to build an online identity. Minuet will publish your thoughts, ideas and most importantly, your music.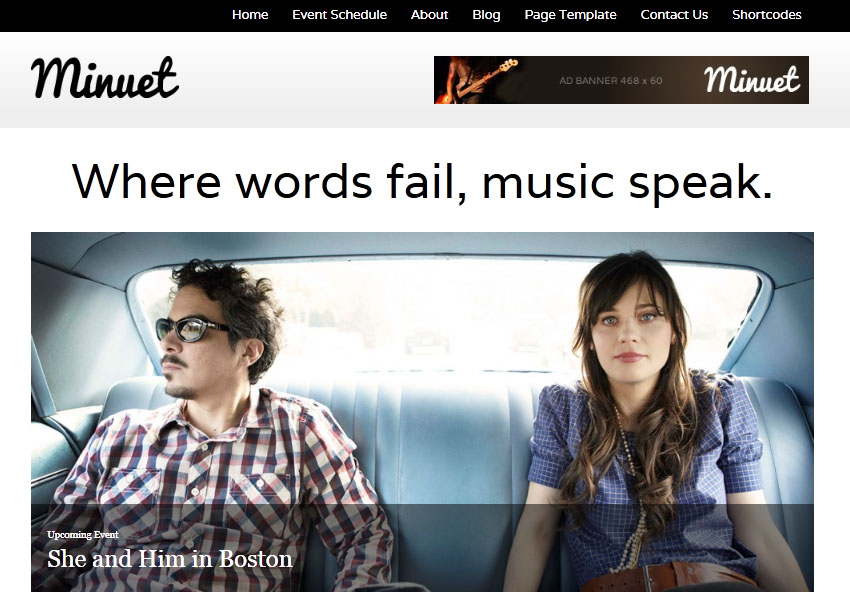 Features of Minuet Music Theme:
Responsive design layout
Custom Post types
Minuet comes with one sidebar positions and four custom post type: Music, Event Lists, Artists and Agents.
Price: $49-99
14. Pendulum
Pendulum – it is a modern template which was created for the people who love music: DJs, producers, musicians, music clubs and for everyone who is fascinated with music as well. It is also possible to use the template for construction of the modern portfolio.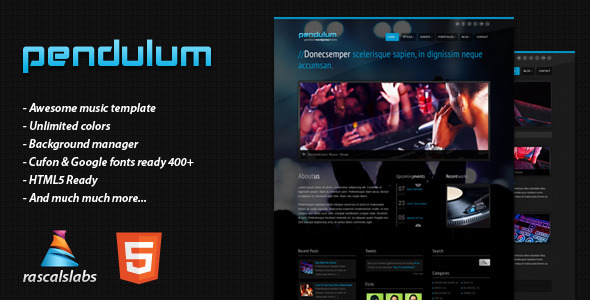 Features of Pendulum Theme:
Admin Panel & Shortcode Manager
Background Generator – Simple way to create a different background for each page, post…etc.
MP3 player compatible with Mobile Devices (iPod, iPhone…)
Price: $40
14. Media Store
Media Store is a reviews and downloads theme that is ideal for people who want to review items and also allow users to download files from each of these reviews, similar to how iTunes work.
Features of Media Store Theme:
Advance review options
Ability to sort posts by date, title, rating, downloads
Extensive admin panel Custom post/page options
Custom post types (reviews and slides)
Front-end login, register, lost password, download and profile pages
Price: $40
15. Stylico
Stylico is stylish music theme for DJs and producers. It includes everything that a Dj/Producer needs. You mange all your Gigs, Releases and Slides (Image Slider) with Custom Post Types. No need to learn the ropes of a new admin interface.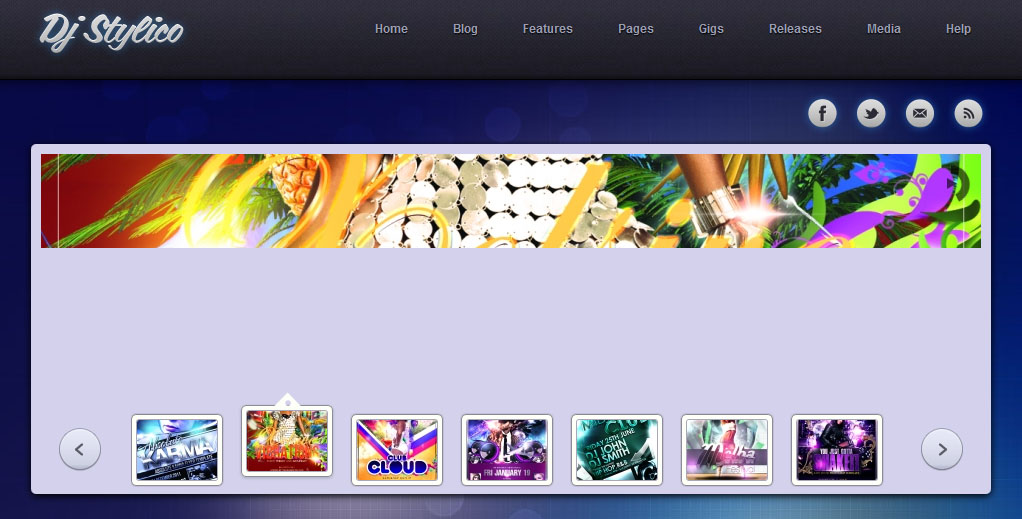 Features of Stylico Theme:
Custom Image Slider, Gigs Page, Releases Page with Custom post type
6 Custom Widgets & 7 Widgetized Areas
2 Outstanding Plugins & 2 Custom Menu Areas
Price: $40
16. Rockstar
Rockstar is Premium WordPress Theme, that will work either for music blog page or as your music portfolio page.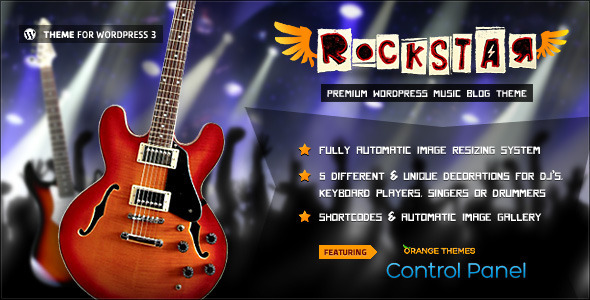 Features of Rockstar Music theme:
Orange Theme control panel
Simple & Effective Photo Gallery
Useful & Informative Post Elements
Simple & easy to use music player
Price: $40
17. Media Scene
MediaScene is a perfect music theme. The theme is provided with many option of customization and is very simple to use.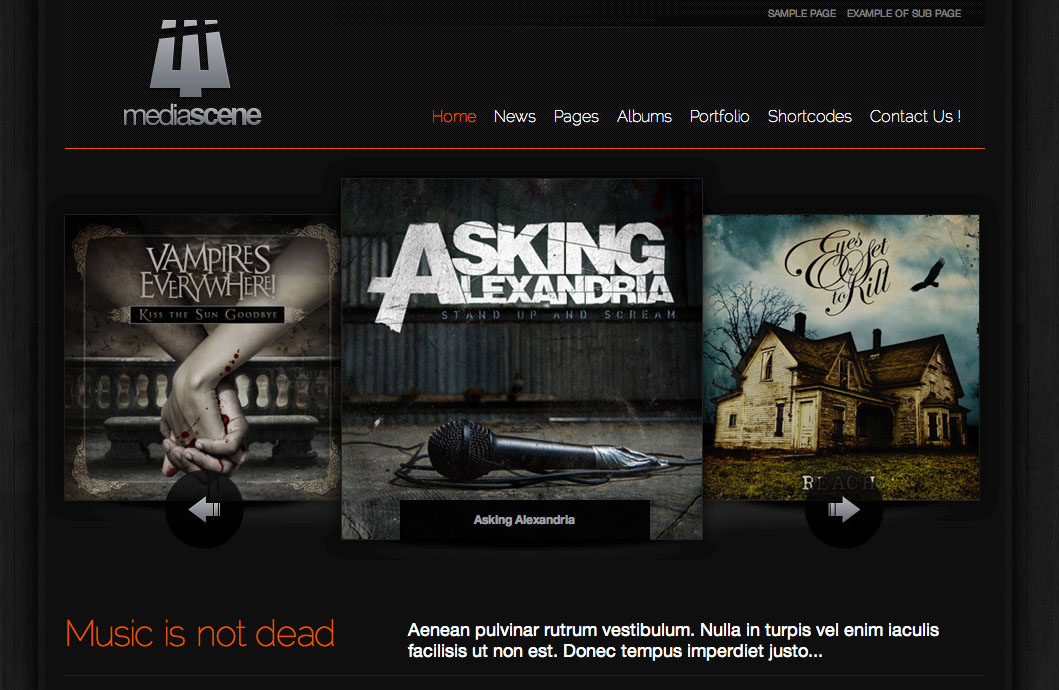 Features of Media Scene Theme:
Fully Customizable Homepage (blog, sliders, pages)
Portfolio for Photo sets
Full Translation Ready
.po .mo files
Easy to use Admin Panel
Price: $40
18. Eventure Music Theme
Eventure is a premier WordPress theme built specifically for events. This theme utilizes a custom calendar system unlike any other. With traditional calendars, there's a lot of wasted space showing dates that don't have any activity.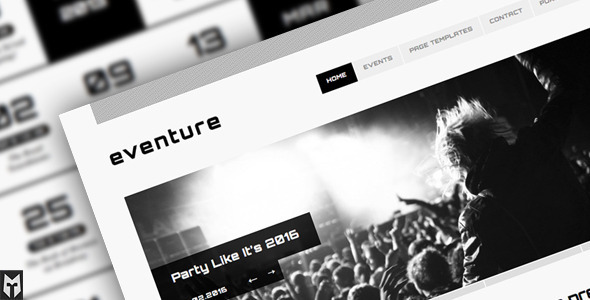 Features of Eventure theme:
Responsive layout
15 home page combinations
Layout control
Unique calendar layout
Supports Google custom fonts library
Price: $45
19. Amped
Amped was built to spotlight your latest video, showcase your music and the show dates you need to promote… all at your fingertips and built on the rock-solid Genesis Framework for WordPress.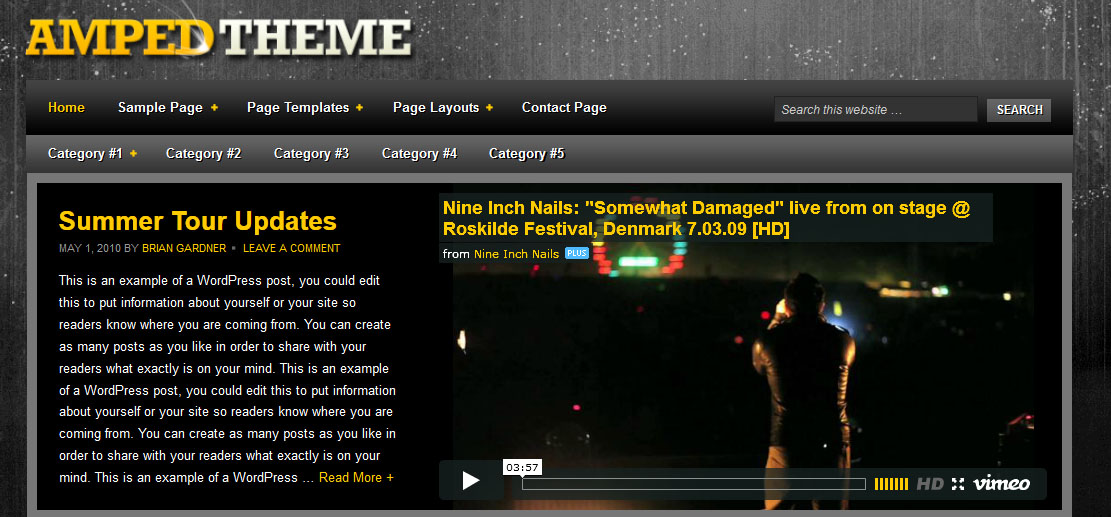 Features of Amped Theme:
Built on rock solid framework – Genesis
6 layout options
Theme options
Featured Images
Price: $79.95
20. Iridium
Iridium, is a theme bursting at the seams with features such as the 6 unique style variations, the sophisticated styling of various popular RocketTheme widgets, and the standard, high performance and adaptable framework.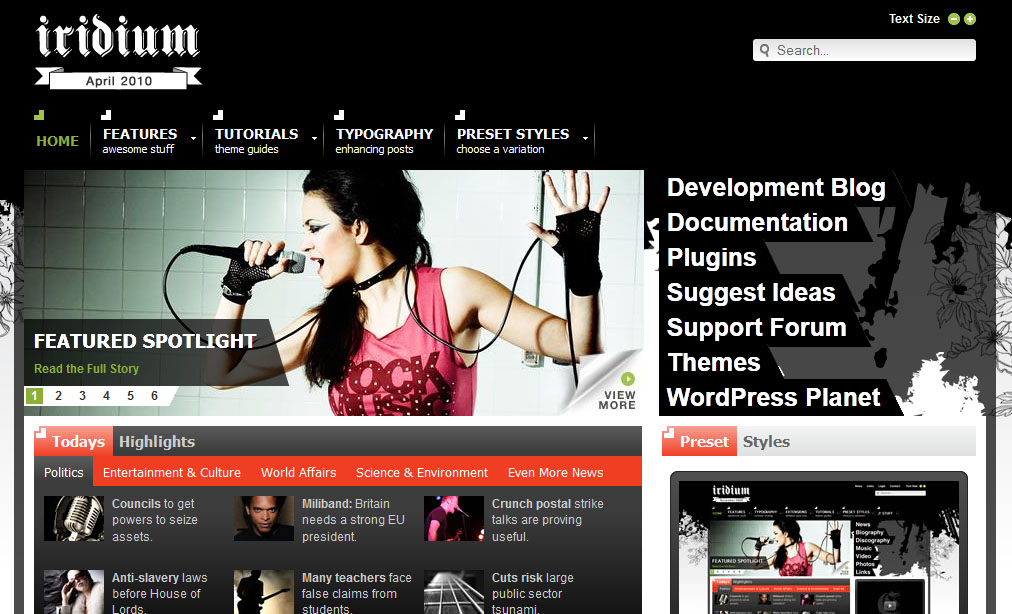 Features of Iridium Theme:
6 Style Variations
18 Background Combinations
SEO Optimised Layout
Fusion Menu
New Theme Settings Page
Price: $50